Description
Come and enjoy the festivities as Capoeira Angola Canberra celebrate their 10th anniversary FOUR days of Afro-Brazilian music, dance, workshops, seminars and concerts.
Delve in and explore the roots and branches of Capoeira, Maracatú, Maculelê, Batucada, African Drumming, Forró, Samba de Roda and handstand development + more!
With presenters from Brazil, The United States of America and Australia, this festival aims to enrich and empower the Canberra community to develop the mind, body and spirit using the art forms of music, dance, self defence and acrobatics.
Tickets for all events available ONLINE and AT THE DOOR.
The instructors are the founders of Capoeira Angola in Australia as they were the first to start teaching Capoeira and Brazilian cultural arts in Australia. They look forward to seeing you at one of the workshops or events as we all come together to make music, dance, meet new people and have fun!
FESTIVAL SCHEDULE:
FRIDAY 9th June
6:00pm - Handstand Development by ContraMestre Simon Le

7:30pm - Batucada Percussion by ContraMestre Loki Capoeira

SATURDAY 10th June
12:30pm - Maracatu Percussion by Mestre Anum

2:00pm - Maculele Percussion by Mestre Anum

3:30pm - SEMINAR - Perspectives on Capoeira from a Non-Brazilian by Dr Grey Downey *FREE*

4:45pm - Capoeira Workshop by Mestre Anum
CONCERT - 7pm - 10pm

SUNDAY 11th June
11:00am - African Percussion + Dance by Instructor Jesito & Marina Da Silva

12:30pm - Batucada Percussion + Dance by Mestre Jeronimo & Marina Da Silva

2:00pm - Capoeira Workshop by Mestre Jeronimo

3:35pm - Capoeira Roda - Performance & Demonstration *FREE*
MONDAY 12th June
11:00am - Kids Capoeira by ContraMestre Loki

12:15pm - Maracatu Percussion by Mestre Anum

1:45pm - Maculele Dance by Mestre Anum & Marina Da Silva

3:30pm - Samba de Roda Roda by ContraMestre Loki
For the full schedule, visit this event on Facebook.
INSTRUCTORS:
Mestre Telmo Anum (Angola Mae): Maracatú, Music of Maculele, Capoeira Angola.
Mestre Jeronimo (Capoeira Angola Bondi Beach Australia): Batucada Masterclass, Capoeira Angola.
Dr Greg Downey (Macquarie University + Capoeirista from Capoeira Angola in Bahia): Lecture on the life of a Capoeirista outside of Brazil
Instructor Calango McLennan (Capoeira Aruanda Newcastle): African percussion, Capoeira.
ContraMestre CM Loki Capoeira (Capoeira Angola Canberra): Samba de Roda do Atabaque, Kids Capoeira Angola Workshop, Batucada
ContraMestre Simon Le: Handstand development workshop
Special guests:
Professor Fabiano Paixão Bilia (Cipo) - Grupo Abada Australia)
Treinel Siobhann McCafferty (Madeira) - Mão No Chão Brisbane.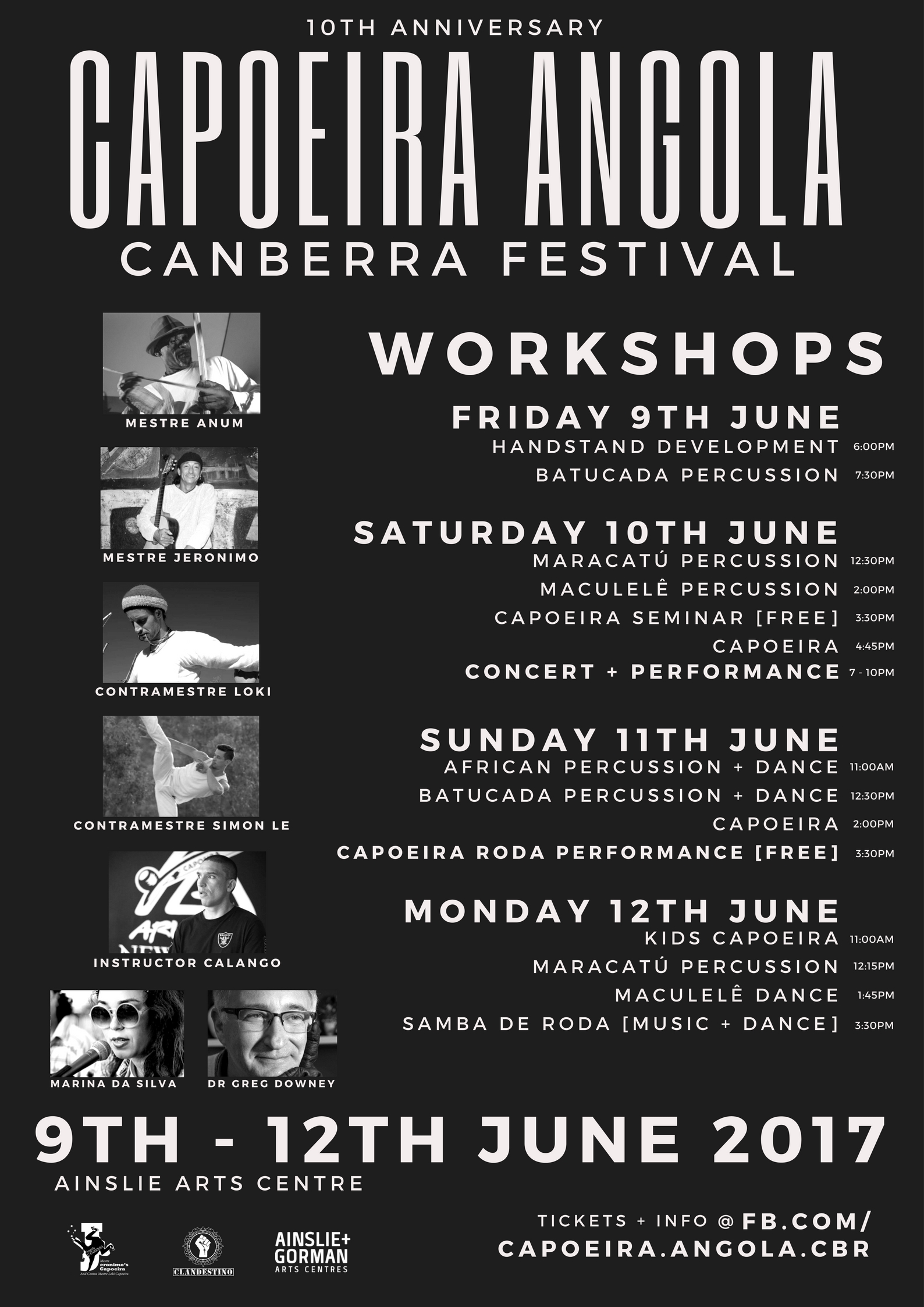 FAQs
What is the refund policy?
Refunds may be issued prior to the event at the discretion of the organiser. No refunds will be issued after the event has taken place, unless required by applicable consumer legislation.
Can I pre-book without paying a booking fee?
If you wish to avoid booking fees but would still like to book ahead, please call the Ainslie and Gorman Main Office on 02 6182 0000 to book over the phone using your credit or debit card. The office is open 9am - 5pm, Monday - Friday. Unfortunately phone bookings cannot be made outside these hours.