Canning Show 2019 presented by Make Smoking History
Description
With more than 15,000 early bird tickets snapped up in just a few weeks, the Make Smoking History Canning Show is set for a record-breaking community celebration like no other! With two nights of fireworks, two days packed with fun for all, and first release now exhausted, don't miss out on the action; save by grabbing Second Release tickets ASAP, now on sale from Eventbrite.
Hundreds of things to do, and thousands of things to see – most of them FREE, included in the price of tickets!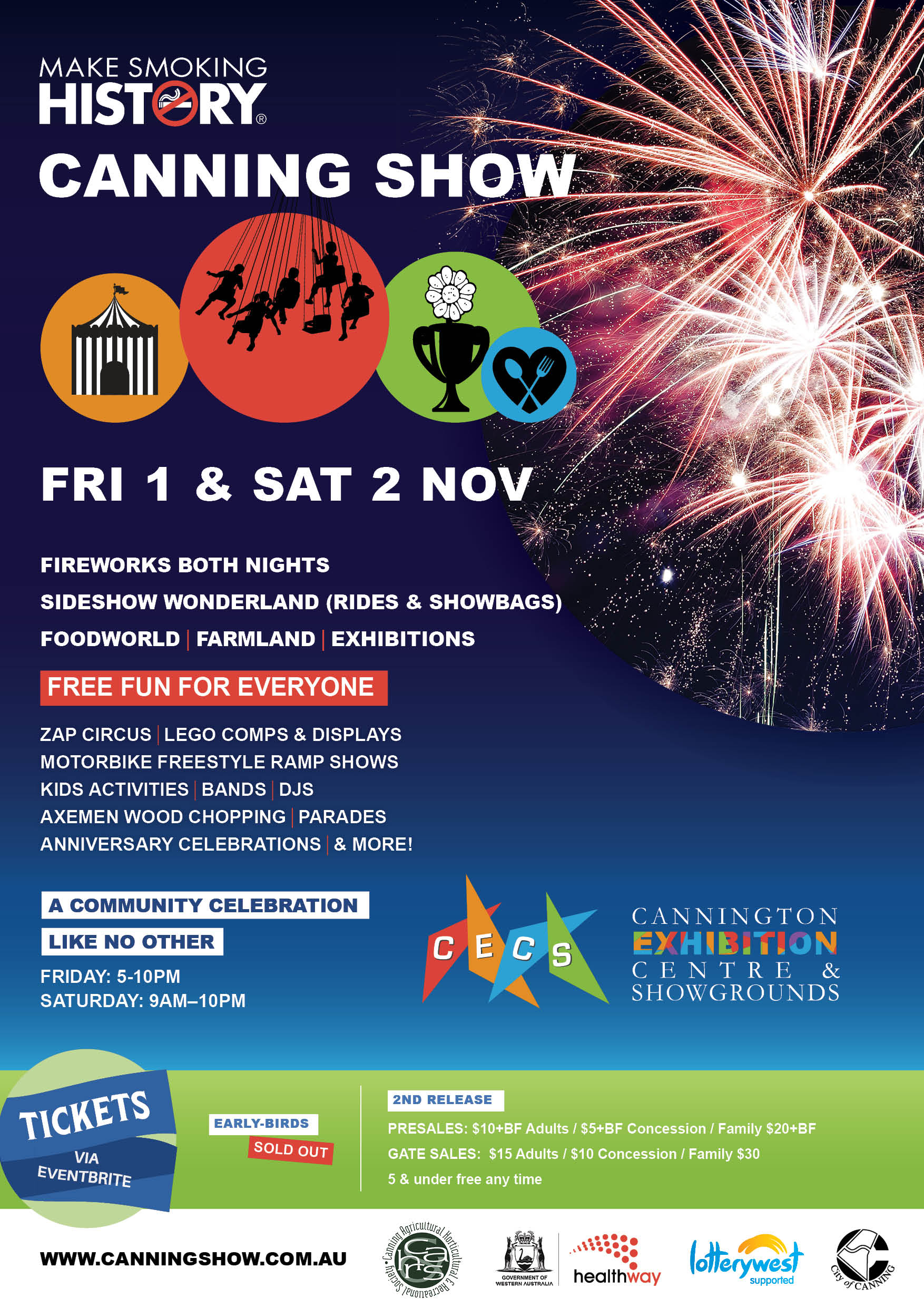 JOIN THE FACEBOOK PARTY: CLICK HERE
PREVIOUS ANNOUNCEMENTS INCLUDE


TWO NIGHTS OF FESTIVE FIRE
Always a highlight on the Friday, what better way to celebrate than to set imaginations alight than with two nights of fireworks!
Faves from last year's Canning Show's Friday night entertainment and our sold-out The Greatest Showman Free Movie Event, Zap Circus return for both nights to dazzle us with fire shows, as well

as holding a free workshop.
ENTERTAINMENT UPGRADES
In 2019 you can expect levels of fun to max at new heights, with an array of debut and exciting FREE entertainment planned, including:
A number of elements celebrating 2019 as the International Year Of Indigenous Languages, including Food World, selecting 12+ food trucks to take your taste buds on a global gourmet tour
An expanded Farmland offering plenty of new friends to make, including free pony rides and plays with alpacas, goats, chickens, rabbits, ducks, lambs, piglets, a dog and roving sheep live, plus camel rides
Sideshow Wonderland

, presented by the WA Showmen's Association, who recently celebrated their 50th year of providing hair-raising rides, discounted showbags and more to the best Ag Shows in WA

West Coast LEGO User Group

(responsible for the wildly successful Bricktober - Perth) offering fantastical displays, interactive building and free competitions for all to enter)

One10 Mini Style

motorbike free style ramp shows

Progressive Axe Men

–wood chopping demonstrations, along with chainsaw shows

Landslide

(playing the very best of Fleetwood Mac and The Eagles live)

Buskers Lane

highlighting local talent, from puppet shows to singer-songwriters

Festive music

ranging from DJs to live hip hop, an Indigenous choir and roving carnival big bands

Worm farm

making workshops for the kids (with takeaway results)
FREE ACTIVITIES GALORE
Of course, there will be a mix of the fascinating and fun fare you've come to expect from the Show, including FREE entertainment such as: Dave The Blacksmith, face painting, pony rides, roving sheep, roving entertainment, community group performances, school choirs, Old Mac Donald's Farm, Machinery Preservation Society, West Coast Remote Control Trucks, WA Police Historical Society, and many more...


ESSENTIAL INFO:
DATES: Friday 1 & Saturday 2 November
VENUE: Cannington Exhibition Centre & Showgrounds
Displays on Show Gates Open Exhibition Halls Open
Friday 1 5pm to 10pm 5pm to 9pm
Saturday 2 9am to 10pm 9am to 8pm

TICKETS:
2nd Release Presale: $10+BF Adults / $5+BF Concession / Family $20+BF – VIA EVENTBRITE

Gate sales: $15 Adults / $10 Concession / Family $30

5 & under free any time
Please note:
· Tickets valid for either day, but you can only use them once
· Concession prices are available to all concession card holders eg student (primary, secondary, tertiary etc), pensioner, disability etc. If you purchase these tickets, you will need to bring your card to show it at the gate upon entry
· Tickets valid for either day, but you can only use them once
· Concession prices are available to all concession card holders eg student (primary, secondary, tertiary etc), pensioner, disability etc. If you purchase these tickets, you will need to bring your card to show it at the gate upon entry