Event Information
Location
DT's Hotel
164 Church Street
Richmond, VIC 3121
Australia
BOOK A CANDEE SHOPPE CABARET PRIVATE FUNCTION NOW!
About this event
CANDEE SHOPPE CABARET functions are avaible via private bookings only. For more information please email functions@dtshotel.com.au or call the venue on 03 9428 5724.
CANDEE SHOPPE CABARET currently features drag icons, Miss Candee, Laura Gravity & Suzie Ridge! (See profiles below)
TICKET PRICES & BOOKING INFO
All tickets to shows subject to agreement (+GST & booking fee)
As per current Victorian Government regulations, all patrons will need to show proof of being fully vaccinated to enter DT's Hotel.
Mask wearing is subject to the current Government Covid restrictions at the time of attending the event.
*** For menu options please see below ***
CONDITIONS
Events are for 18+ only
Photo ID Required for Entry
Line-ups are subject to change
No refunds permitted unless the event is cancelled by the venue
The venue may be subject to COVID-19 patron limit conditions
Mask wearing is subject to the current Government Covid restrictions at the time of attending the event.
As per current Government regulations, all patrons must be fully vaccinated
Management reserves the right to refuse admission
Be sure to follow us on facebook for show updates and venue information.
*** Thank you for choosing to support DT's Hotel! ***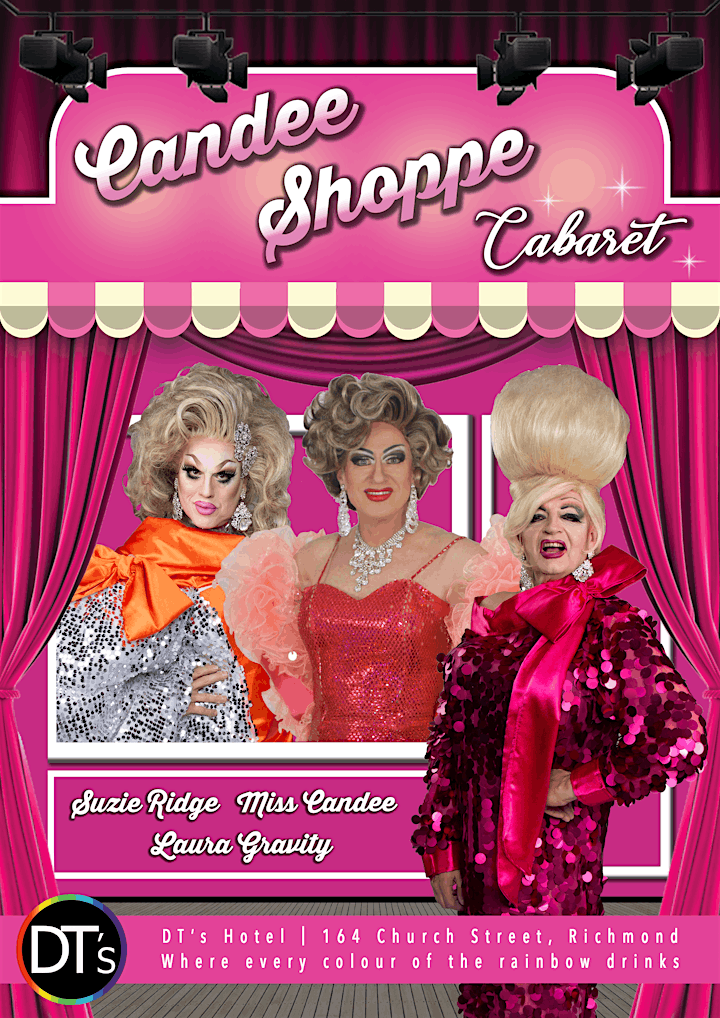 Miss Candee
Known as Mumma and the Matriarch of Melbourne Drag, no one thought that Miss Candee would still be doing shows at her age not even Candee herself!
Coin phrasing the term thrillseekers Miss Candee started doing drag at the age of 21 when she had that freshly minted coin look, working at, Inflation, The Xchange, 3 faces, The Cadillac Bar, The Market Hotel, Chasers, The Peel Hotel, The Greyhound and DT's Hotel (plus all the places she can't remember).
Having shared a bed with many famous people in her 47 year career, you never know what story she might reveal on stage. You have been warned!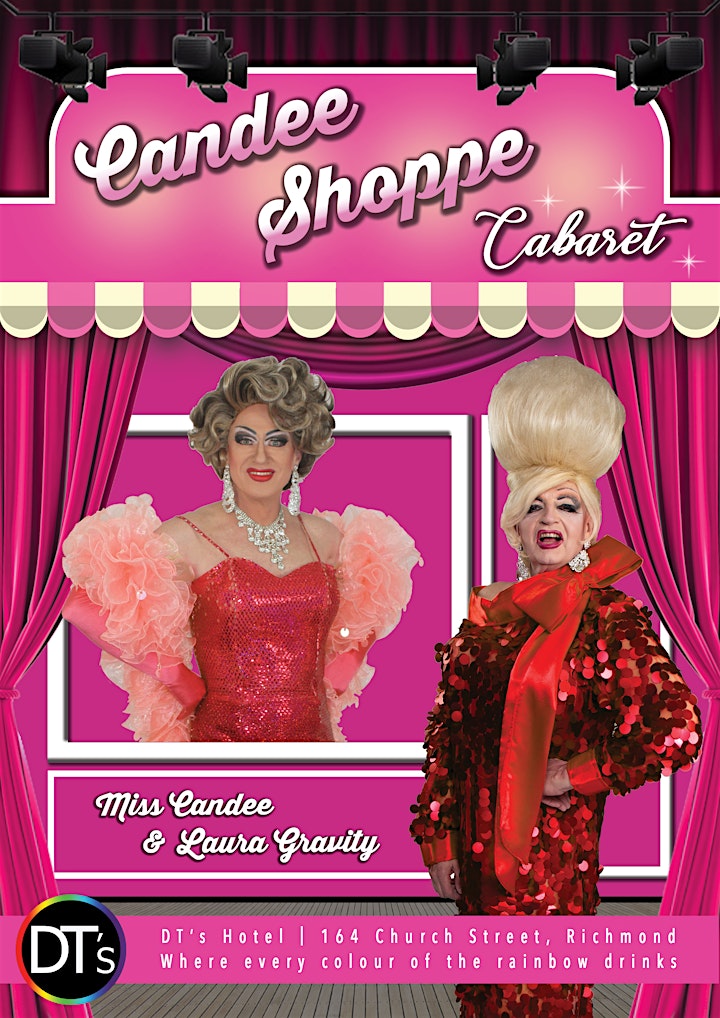 Laura Gravity
Laura's journey began with big city lights when she won Star Search in 1999 and the show queen was born! With a drag career of more than 20 years she draws her inspiration from Rhonda Burchmore, Caroline O'Connor & Julie Andrews. It's all about musical theatre and one of her favourite things is.... The Sound of Music.
As a lover of tennis she's not afraid of doubles and love(s) all and she won't be backward in giving you a serve!
Are you ready for drama!? High hair!? High kicks!? Then Laura Gravity and Miss Candee will give you a Saturday night like no other in town!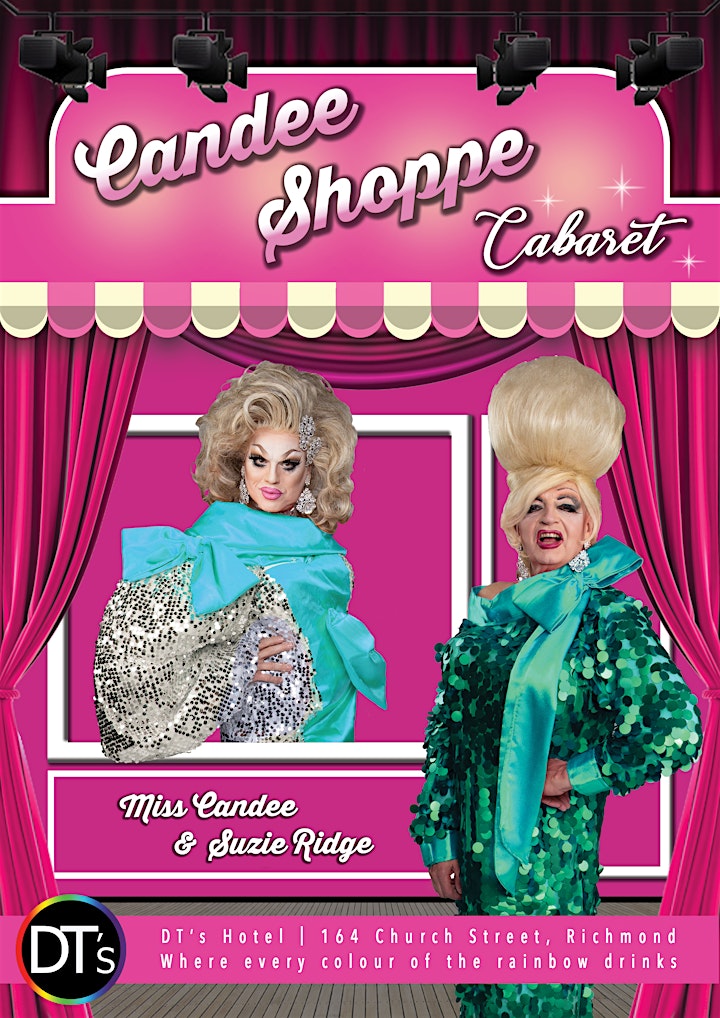 Suzie Ridge
Starting her colorful, camp and glamorous career at the sweet, tender age of 16, Suzie studied under professionals like Tony Bartuccio's School of Dance, handing out sandwiches. Later when applying for 'So you think you can dance', she was denied ("Ah dancing isn't that important anyway, she says").
She loves her country songs, Dolly Parton, Shania Twain and she really does put the "C" in country. For over 27 years now she has performed in every venue in Melbourne, as well as New Zealand and Tasmania.
Suzie the worlds Country Queen is available for weddings and bar mitzvah's but not funerals, she leaves that up to her gal pal Miss Candee.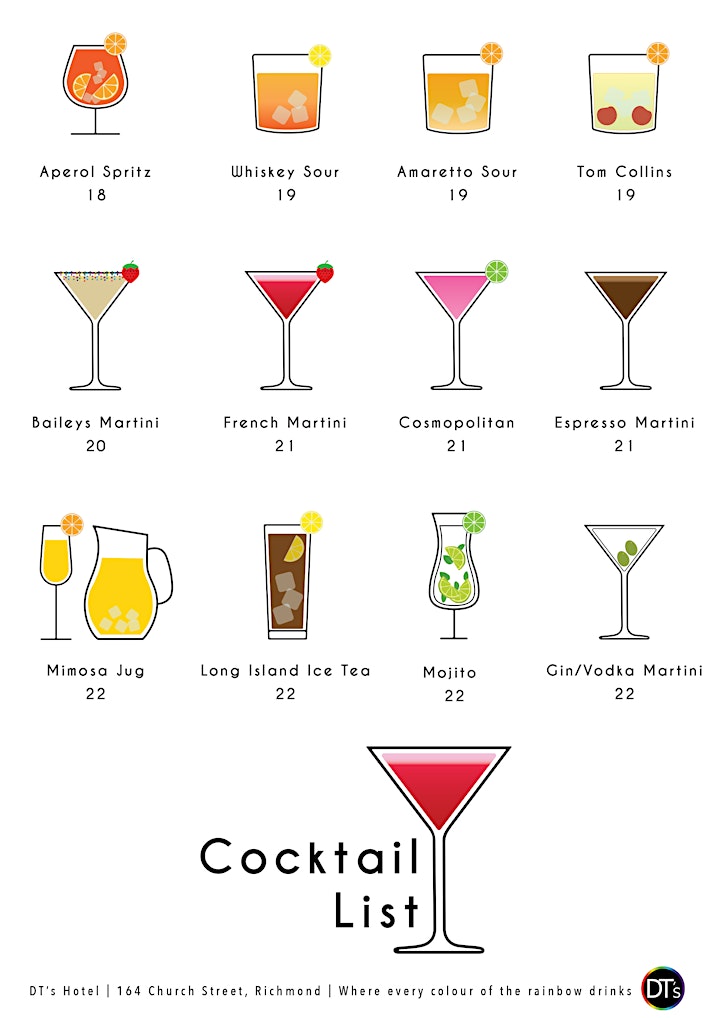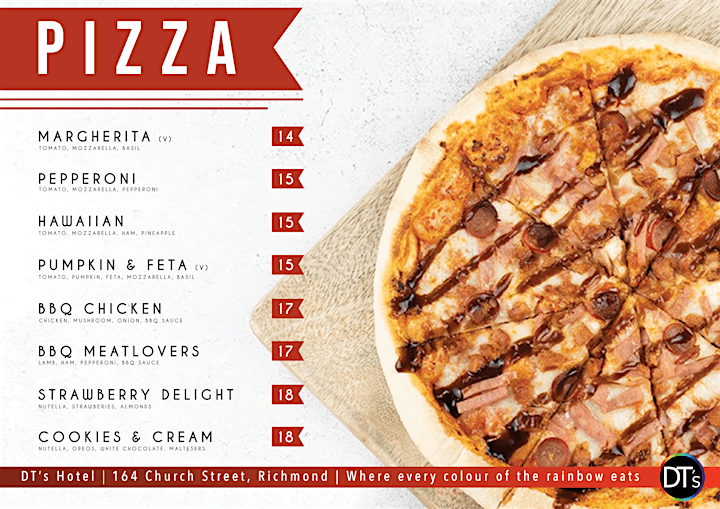 Snacks Menu - Salt & Pepper Squid, Onion Rings and HOT chips also available. (HOT chips come with a gluten friendly option)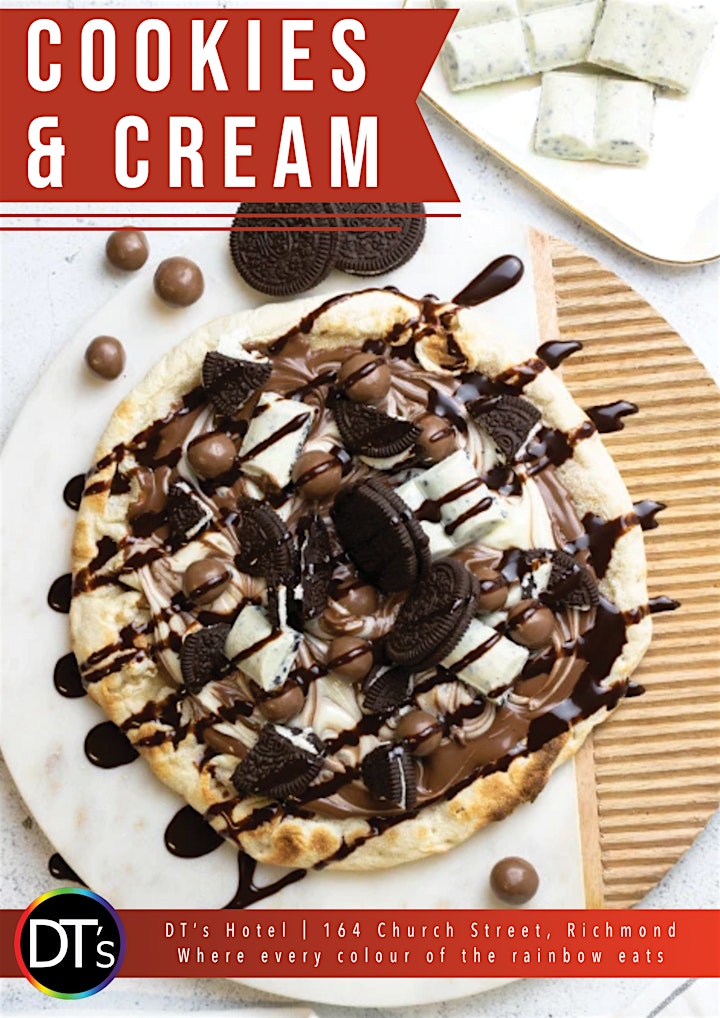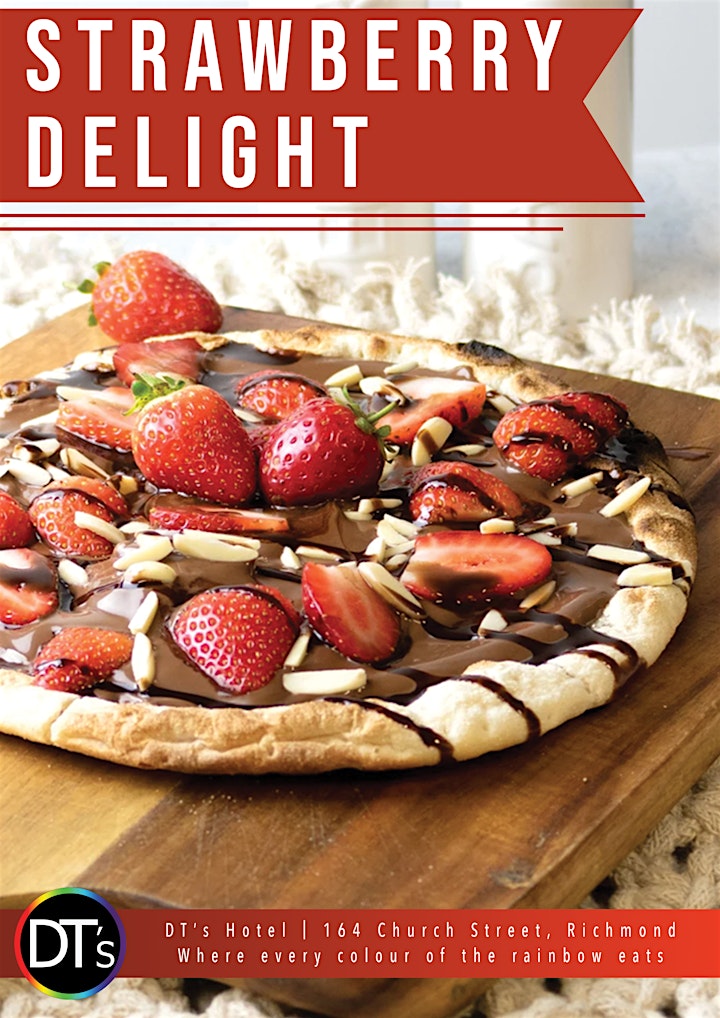 EVENTBRITE is the only authorised seller of tickets to these shows. DT's Hotel advises caution when purchasing tickets through unauthorised sellers or third parties such as Viagogo, StubHub, Ebay or Gumtree online auctions. These companies are onsellers of tickets and may sell tickets at an inflated price. Some dishonest sellers may also sell the same tickets multiple times meaning you will not be able to enter the Venue for your selected show. DT's Hotel and Eventbrite are not able to verify if your tickets are legitimate as they have not been purchased through the official ticketing agent.
Location
DT's Hotel
164 Church Street
Richmond, VIC 3121
Australia