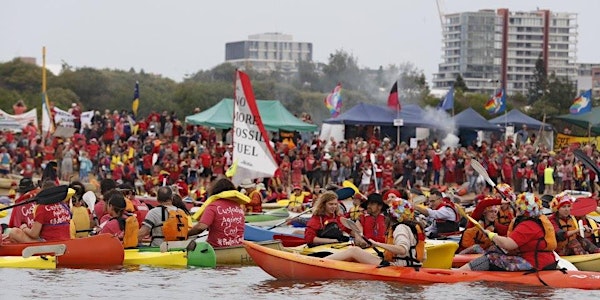 Cancelled/deferred - Advanced NVDA training - mass actions & more
Location
Pitt Street Uniting Church
264 Pitt Street
Sydney, NSW 2000
Australia
This is an advanced training session with Nicola Paris & CounterAct who will be sharing insights from two decades of NVDA & large actions
About this event
****IMPORTANT: This event has been deferred due to health. We look forward to re-booking it in the next 1-2 months. We will get in contact with ticket holders. HOWEVER, if you are interested, please register your details as an unpaid ticket, and we will ensure you get contacted when we reschedule *****
CounterAct have trained 1000s of people across many Aboriginal nations on this continent in the last decade, and we have learned a lot on the way. This workshop will share some of these lessons - and is pitched as an intermediate to advanced training for experienced activists, particularly those who want to build larger, mass actions.
It will include:
* Mass action organising - group dynamics, action awareness, "holding" a crowd, supporting people to step into informed and nonviolent civil disobedience - getting them over the line, powerful affinity groups, best practice in communications and decision making, logistics of mass actions, crowd "tone" and de-escalation
* Difficult decions and crisis response - how to make tactical decisions - smart and quick, responding to unexpected incidents - whether unintended arrests, activists being harassed, media targeting, or an internal incident
* Responding to repression - proactive and reactive responses to surveillance, infiltration, increased penalties & new legislation, building bridges to allies - as well as police and legal strategy
We will also have a Q&A session and make space for discussion on subjects prompted by participants
PLEASE RSVP and register ASAP. We have a limit on places and they are allocated partly on first come, first served.
As part of 'paying our rent' we offer free places to Aboriginal/torres strait islander people.
We are not providing child care but get in touch if this is a barrier, and your children may be able to attend with you.
This workshop will take place on stolen land. We acknowledge the traditional custodians, and that sovereignty wasn't ceded.
It is a closed event, invite only, with access for trusted folks. If you have not been directly invited, please contact us and advise who can vouch for you, or invited you.
We are providing the training for free, and are simply asking for contribution towards event costs.
WHO IS RUNNING THE TRAINING
CounterAct is running the training - with Founder Nicola Paris leading sessions, with assistance from new coordinator Miranda Gibson. This will be Nicola's last training in Sydney before retiring from frontline work (for now/forever tbc). She has played key roles in many of the largest mass actions on climate and other issues across the country in the last 15 years and is keen to share lessons from a range of case studies.
***
Aboriginal people are always welcomed to our events at no cost. We pay respects to the Traditional Custodians, on whose land this event takes place. Sovereignty was never ceded.
-