Working towards building WA's first post-consumer plastic reprocessing plant.
About this event
Let's lend a hand to the Greenbatch Foundation!
A small fee of $5 includes morning tea.
On Saturday, 9am - 12pm, 15 May 2021 we will sort plastics and help Greenbatch's assembly lines.
It is estimated by 2050, there will be more plastic than fish in the world's oceans. Greenbatch Foundation was founded by Darren Lomman (Rotarian) in 2017 with the focus on solving this problem.
Greenbatch Foundation is to Engage, Educate and Empower Western Australians to reduce plastic pollution and give waste plastic a new life. We are working towards building WA's first post consumer plastic reprocessing plant, turning the PET plastic bottles we put in our recycling bins into items such as:
3D printing filament for schools to build and create with;
textiles created out of bottles and recycled cotton; and
recycled material bottles.
To help fundraise for Rotary of Elizabeth please donate your empty plastic bottles on the day.
Rotary of Elizabeth Quay Container for Change Scheme ID: C10285102
Don't miss out on a spot and register now.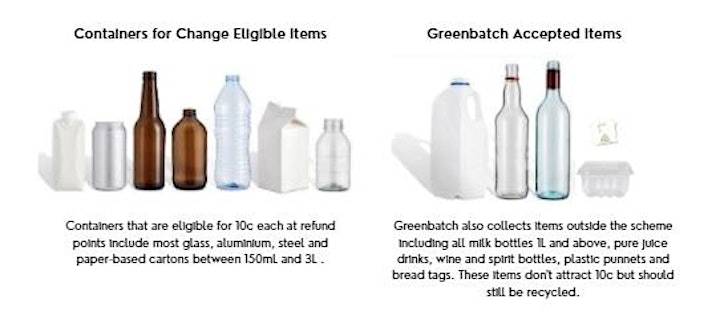 Organiser of CANCELLED EVENT - Greenbatch
Rotary is an international membership organisation made up of people who share a passion for and commitment to enhancing communities and improving lives across the world. Our members change lives locally and connect with other clubs to work on international projects that address today's most pressing challenges. Being a member is an opportunity to take action and make a difference, and it brings personal rewards and lifelong friendships in the process.
Based in the Perth CBD, Rotary of Elizabeth Quay aims to connect young leaders in our community who are passionate about making a difference. Our members join REQ because they have a real desire to make a difference and are looking for a way to give back to the community. We believe that philanthropy is not reserved for the wealthy and that everyone has the ability to make a difference. 
At REQ we are driven to;
Connect - Create change through community
Exchange - Altruism in the everyday
Empower - Amplify sustainable growth
Club meetings are held online on Wednesdays, follow us on Facebook to see the events. Or contact us if you're passionate about making a real impact in our community!