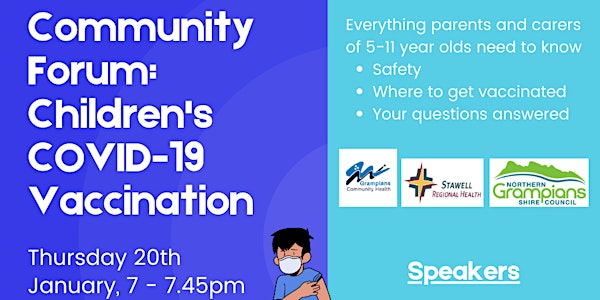 CANCELLED. Community Forum: Children's COVID-19 Vaccination
Everything parents and carers of children in Northern Grampians Shire need to know about COVID-19 vaccination. A free online event.
About this event
COVID-19 vaccination is available for children aged 5 - 11 from January 10 2022, with local vaccination clinics opening in Northern Grampians Shire later in in the month.
This free forum will give all the information parents and carers of primary school aged children need to know about decided to vaccinate their kids.
Topics:
Are COVID-19 vaccinations safe for children?
Are they necessary?
Where can my kids get vaccinated locally?
Speakers:
How to join:
Register (optional) via this page to be sent a direct link and reminder
Watch from a phone, computer or connected TV
You do not need a Facebook account to watch the forum
Ask questions in advance here or during the event in the Facebook Live stream