Community Diabetes Bengali- Lakemba 25/06/2021
About this event
This workshop is all about a healthier you, and will support you to increase your confidence in looking after yourself. Small lifestyle changes can lead to big improvements in your health, and prevent or delay some complications of diabetes.
During this workshop you will learn about:
Understanding diabetes
Making healthy lifestyle changes
Living with diabetes
This program is FREE for people who are at risk of, or have been diagnosed with type 2 diabetes (and are not using insulin).
Limited spaces available. Bookings are essential.
Translating and Interpreting Service: 131 450
This program is funded by Central and Eastern Sydney Primary Health Network and delivered by Diabetes NSW & ACT.
COVID-19 INFORMATION
We're here for you, and we're committed to keeping you safe at our upcoming events. Things are a little different now, but we've implemented new measures to protect the safety and wellbeing of attendees and staff at our diabetes education events.
COVID-Safe venues
We will only run events at venues who have registered as a COVID-Safe business and have provided us with a copy of their COVID-Safe Plan.
Physical distancing
Larger room size to accommodate a minimum of 4 square metres per person and at least 1.5 metres spacing between each seat.
Reduced capacities
We have reduced the capacity of most events to just 10 people. This means unfortunately partners or additional guests won't be able to attend for now, unless they are a carer providing essential support.
Additional COVID-19 safety screening
Diabetes NSW & ACT Health Professionals will conduct temperature checks and ask a few screening questions to everyone entering our events.
Recording contact details
Contact details including name, address, and phone number of everyone attending the event will be collected to assist health authorities with contact tracing if required.
Reduced contact
Frequently touched/shared items such as water jugs and glasses, pens etc. will no longer be provided at our events. A list of items you should bring with you is below.
Hand hygiene
Access to hand washing facilities and hand sanitiser.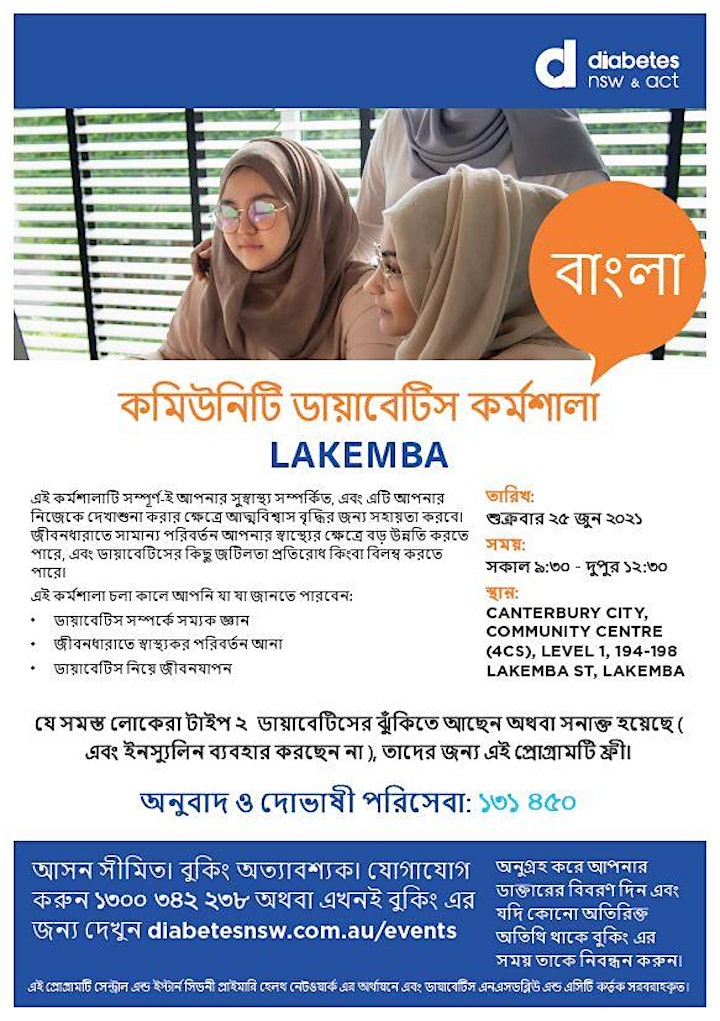 Organiser of [Cancelled] Community Diabetes Bengali- Lakemba 25/06/2021