Canberra Workshop: Three-Category Approach (Indigenous participation)
Description
This is a workshop to guide you in the use of your cross-cultural work through the Three-Category Approach. Hosted by the Clean Air and Urban Landscapes Hub, in collaboration with our Indigenous Advisory Group, the Three-Category Approach aims to increases communication, collaboration and co-design with Aboriginal and Torres Strait Islander people and organisations.
"Indigenous engagement is new to many of us, the Three-Category Approach was created by Indigenous researchers to provide guidance on how to do it respectfully."
For thousands of years, Indigenous knowledge systems have formed and shaped Australia's environment. To make cities better for people and biodiversity we need two-way sharing between Indigenous experts and non-Indigenous researchers and practitioners.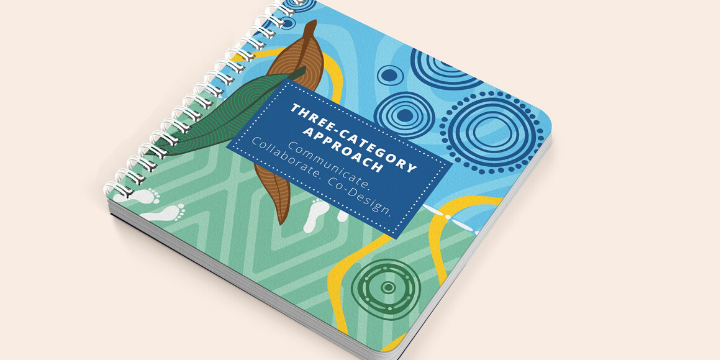 What: Join us for an afternoon of sharing, learning and co-design with a small group of attendees from a mix of sectors and disciplines, with a shared passion for making cities better for people and biodiversity.
You will be introduced to each category of the three-stepped approach: communicate, collaborate and co-design. You'll learn how to implement the category relevant to your project and measure and reflect on the results.
We will take some work outside, weather permitting.
Date: 9 December
Time: 1.45 pm for a 2 pm start until 5 pm
Cost: $50 plus GST (includes workbook and light snacks)
Venue: Yarramundi Cultural Centre (previously known as the Aboriginal and Torres Strait Islander Cultural Centre), 245 Lady Denman Drive, Yarramundi Reach

We will also be running workshops in Wollongong and Perth. Please share with colleagues and ask them to email their interest so we can invite them to an event in their city.
The workbook was produced by Jirra Harvey at Kalinya Communications, with illustrations and banner image by Dixon Patten, Bayila Creative. The circles represent community and the ripple effect our decisions create.
Photography and filming notice: The CAUL Hub will be taking photos and footage to support promotion of the Three-Category Approach workbook and of the CAUL Hub. The photographs and video will be used on various external communication channels, including social media and web. If you have any objection please contact: briena.barrett@unimelb.edu.au.