Sales Have Ended
Ticket sales have ended
Thank you for registering. Looking forward to meeting you on 16 August. Consider the environment by not printing tickets, thank you.
Sales Have Ended
Ticket sales have ended
Thank you for registering. Looking forward to meeting you on 16 August. Consider the environment by not printing tickets, thank you.
Description
Analytics Information Management Architecture Overview Workshop
Analytics Information management architecture is concerned with both the design and practice of integrated business analytics and information management environment.
This 1-day workshop provides an interactive forum to discuss and learn the fundamentals of a model-driven adaptive AIM architecture approach, that involves:
Analytics (statistical, visualisation).

Information integration (data vault, data virtualisation, dimensional).

Transactional information (relational, non-relational) models including information governance and quality.
Dr Gil assumes no prior knowledge to begin this so that you participants gain a practical understanding of the model-driven applied adaptive AIM architecture approach and industry best practices for AIM architecture modelling and strategic planning.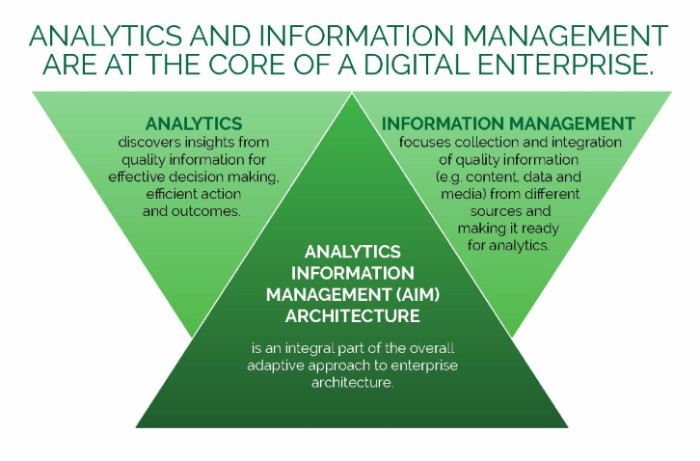 Course Outline
Adaptive Thinking

Adaptive AIM Architecture

When and how to take the initiative

Initiate, Discover, Implement, Adapt Cycle

Governance to stay on track
Intended Audience:
Analytics, Information and Data Architects
Business Change and Transformation Professionals
Data Analysts, Engineers, Scientist and Stewards
Directors and Head of Departments
Strategists, Policy and Law Experts
Portfolio, Program and Project Managers
Each participant will be provided with a set of workshop slides.
Speaker Biography:
Dr Asif Gill is a result-oriented adviser, inventor and trainer with extensive experience in delivering multi-million dollar projects across banking, education, finance, telecommunications, government, and the nonprofit sector.
Asif specialises in designing and implementing actionable adaptive or agile enterprise value chain for operational resiliency, business optimisation, transformation and innovation. He has developed a comprehensive adaptive or agile enterprise value chain design framework and is the author of Adaptive Cloud Enterprise Architecture, which explains the comprehensive Gill Framework® for enterprise level value chain design.
Asif has extensive experience in both agile and non-agile environments, and a deep appreciation of the different perspectives in a number of IT-enabled improvement, transformation and innovation environments of varying complexity
Training Vouchers: Our Lowest Ticket Price
Raedan Exchange Training Vouchers are available to flexibly purchase training courses online in lots of 10, 20 or 30 days. Training Vouchers allow individuals to register at any of the courses available, at any location, at our lowest ticketed price (Conditions Apply).
Please go to www.raedanexchange.com.au/vouchers to purchase the vouchers and receive the Training Voucher code.
Register for information about future events and promotions at www.raedanexchange.com.au/contact.
Membership of DAMA: The Professional Association for Data Managers
Given the increasing popularity of DAMA events, we will be reconciling registrations and enquiries for this course with our membership list. If you are considering membership and would like to receive a one-off member discount, please email the organiser at frontdesk@raedanexchange.com for a discount code for this event.
Individual DAMA Australia membership costs $100/year and Corporate membership $400. To find out about membership and become a DAMA member by clicking here.
DAMA Member Discount for current members
You will be asked to enter your membership no. when registering. Ensure your membership is current and the contact details entered in your registration match the details DAMA have for your membership. We will send you an invoice for the gap between the ticket purchased and the non-member ticket if we cannot verify your membership. A full list of corporate members is available here.
Payments and Refunds
We sometimes offer promotional discounts for particular events. Discounts and promotions are offered on full rate tickets only for the events specified only and are not cumulative. Only one discount or promotion can be applied per ticket or group registration.
We do not offer refunds if you do not attend the course or if you cancel within 7 days of the event. Refunds requested earlier than 7 days are available, less any non-refundable expenses we have incurred.
We may postpone or cancel an event at our discretion when the services cannot be provided satisfactorily. We will let you know as soon as possible if this occurs. No compensation is payable for postponement.
If you request an invoice, the full amount must be paid within 14 days, or no later than 48 hours before the event. Registrations will not be held after the invoice due date and may be sold to other customers.