Description


What Senior Managers (and Everyone Else for that Matter)

Need to Know about Data

Australia is waking up to the exciting world of data. But the data space is a confused mess--a cacophony of extravagant claims, dire warnings, and mixed signals. There is "data-driven this," "analytics that," "AI the other," and "manage data assets." There are concerns about security, privacy, and regulatory reporting. Quality is poor and there are not enough data scientists, let alone people manage them. How can a make sense of it all, understand his or her responsibilities, and sort out what to do?

This seminar is an extension to the two-day Data Provovarteur workshops in Canberra, Adelaide, Melbourne and Brisbane.

Bring your boss to this companion session to the Getting in Front on Data Quality: The Data Provocateur Bootcamp. In this session, we take a broad look at the data space. We'll explore the many ways to put data to work, what it means to manage data assets, why data quality matters, where it fits and the tough organisational choices that managers will face.

Read more about the role of a Data Provocateur in Dr Redman's Harvard Business Review article, "Assess Whether You Have a Data Quality Problem".
In this EXCLUSIVE Insider Seminar, you will hear some of the most effective ways to improve data quality and be among peers that are on the same path you are – or will be.
About Dr Thomas Redman
Dr Thomas Redman is known as the "Data Doc" as he helps companies and government to improve data quality. Tom has worked with many Fortune 100 and is known internationally as a leader in turning data into a solvable problem. His innovative approach leads to the many benefits of far better data, including far lower costs and the capacity better for decisions.
Tom authored Getting In Front on Data: The Who Does What and Data Driven. He is also a regular feature writer for the Harvard Business Review. His articles include How to think like a Data Scientist, Data Credibility Problem, Are you ready for a Chief Data Officer? and Does Your Company Know What to Do with All Its Data?.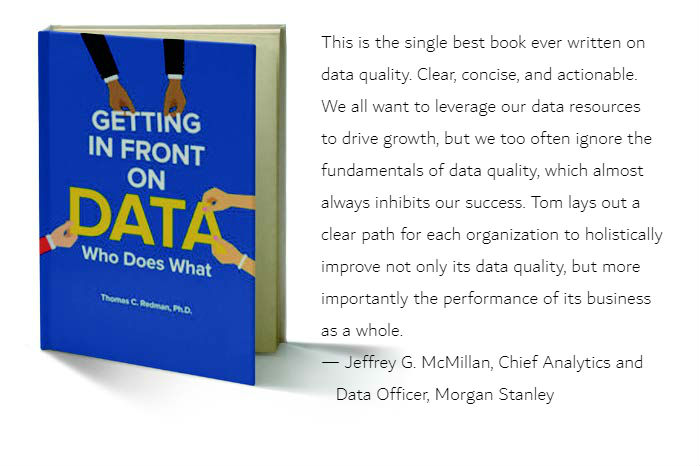 More information about Tom is at http://dataqualitysolutions.com/.
---


Training Vouchers: Our Lowest Ticket Price
Raedan Exchange Training Vouchers are available to flexibly purchase training courses online in lots of 10, 20 or 30 days. Training Vouchers allow individuals to register at any of the courses available, at any location, at our lowest ticketed price (Conditions Apply).
Please go to www.raedanexchange.com.au/vouchers to purchase the vouchers and receive the Training Voucher code.
Register for information about future events and promotions at www.raedanexchange.com.au/contactus.
DAMA Member Discount for current members
Register by selecting a member ticket and then enter your Association Member no when requested. Ensure your membership is current and the contact details entered in your registration match the details DAMA have for your membership. We will send you an invoice for the gap between the ticket purchased and the non-member ticket if we cannot verify your membership. A full list of corporate members is available here.
Payments and Refunds
We sometimes offer promotional discounts for particular events. Discounts and promotions are offered on full rate tickets only for the events specified only and are not cumulative. Only one discount or promotion can be applied per ticket or group registration.
We do not offer refunds if you do not attend the course or if you cancel within 7 days of the event. Refunds requested earlier than 7 days are available, less any non-refundable expenses we have incurred.
---