Canberra Readers, Writers & Storytellers Festival

Wednesday, 22 July 2015 from 9:00 am to 3:30 pm (AEST)
Event Details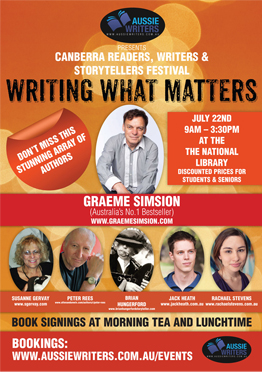 The Canberra Readers, Writers & Storytellers Festival is an annual event organised by Aussie Writers.
Aussie Writers is an organisation which inspires, informs and promotes talented Australian writers.
The program this year features an incredible line-up of talented writers.
The Theme this year is "Writing What Matters".
The program will entertain, educate and inspire future writers and introduce an array of exceptional writers to an enthusiastic reading audience.
Graeme Simsion
Australia's most recent, top selling author, Graeme Simsion is the author of the The Rosie Project & The Rosie Effect (Text Publishing). He is a most entertaning presenter and is currently on tour. Graeme seriously hones his craft and is very generous in sharing his knowledge and wisdom in relation to writing.
You can hear a recent interview with Graeme on our soundcloud channel here: https://soundcloud.com/aussiewriters/graeme-simsion 
Susanne Gervay
Susanne is a versatile and prolific author and has wriiten many, many books. Amongst them are Butterflies & Elephants Have Wings, as well as the I Am Jack series. She is instrumental in her role as SCBWI advisor, has been a Room To Read Writer Ambassador, a role model for Books in Homes, and even owns an amazing lIterary boutique hotel in Sydney called The Hughenden.
Peter Rees
Peter is a talented and prolific writer, film director and producer and he specialises in historical fiction. Many would recognise his book, Anzac Girls (the series of which was recently aired on television), and the Killing of Juanita: A Story of Murder & Corruption, as well as a number of books which capture the essence of our wartime history. We also interviewed Peter at the Jugions Festival earlier this year. You can hear it on our soundcloud channel here:
https://soundcloud.com/aussiewriters/author-interview-peter-rees-jugiong-writers-festival
Brian Hungerford
According ot Margaret Throsby (ABC) Brian is one of the world's finest storytellers. He is a superb writer and can make you laugh and make you cry in the same sentence! He has had an incredibly colorful career, writing and performing all over the world and teaches the art of storytelling.
You can hear one of Brian's stories here: https://soundcloud.com/aussiewriters/grandma-n-me-episode-1-tram-ride-by-brian-hungerford
Jack Heath
An award winning author of many sci-fi young adult novels, fast paced and enjoyed by thousands of young readers around Australia. His books include, The Lab, Money Run, Hit List, Replica, and just recently The Scream Series. He was our very own nominee for Young Australian of the Year in 2009!
Rachael Stevens
Rachael Stevens is an emerging writer who has already achieved so much. She has been nominated for a number of awards and her book, The Skeleton Diaries, is about her battle with Anorexia as a teenager. Rachael is committed to helping young girls "shine" and avoid falling into the trap of this terrible illness. She runs a prgram called "Shine" and visits schools to spread her positive messages of hope. She is a fine writer and will write many more books in the future. 
The Festival will have book signings at morning tea & lunchtime, and refreshments/lunch can be purchased at the Bookplate Cafe on the day.
When & Where

National Library of Australia
Parkes Pl W
Canberra, ACT 2600
Australia

Wednesday, 22 July 2015 from 9:00 am to 3:30 pm (AEST)
Add to my calendar
Organiser
http://www.aussiewriters.com.au