Description
Getting in Front on Data Quality: The Data Provocateur Bootcamp
Most companies and government agencies address data quality reactively, after errors are made and, as a direct result, suffer from bad data. The toll is enormous, think 20% of revenue. To date, it has taken a special person, to challenge the status quo within his or her work team to address data quality by "getting in front" of the issues, making is a huge improvement, and, in effect, showing the rest of the company what is possible. This person the "data provocateur."
You can "bring your own" data to work with during the workshop. This 2-day workshop:
Explains why data quality is such an important problem.
Provides all the "how-tos" needed to become an effective data provocateur.
Gives just enough of the underlying thinking.
Features a sequence of exercises.
Features a sequence of on-the-job assignments, stemming from in-camp exercises.
Calls out the organisational, social, and political issues that will come up.
Empowers and emboldens you to move forward.
Read more about the role of a Data Provocateur in Dr Redman's Harvard Business Review article, "Data Quality Should Be Everyone's Job".
Register now and receive 2 passes to the DATA DOC'S EXECUTIVE SEMINAR on 11 October 2017:
About Dr Thomas Redman
Dr Thomas Redman is known as the "Data Doc" as he helps companies and government to improve data quality. Tom has worked with many Fortune 100 and is known internationally as a leader in turning data into a solvable problem. His innovative approach leads to the many benefits of far better data, including far lower costs and the capacity better for decisions.
Tom authored Getting In Front on Data: The Who Does What and Data Driven. He is also a regular feature writer for the Harvard Business Review. His articles include How to think like a Data Scientist, Data Credibility Problem, Are you ready for a Chief Data Officer? and Does Your Company Know What to Do with All Its Data?.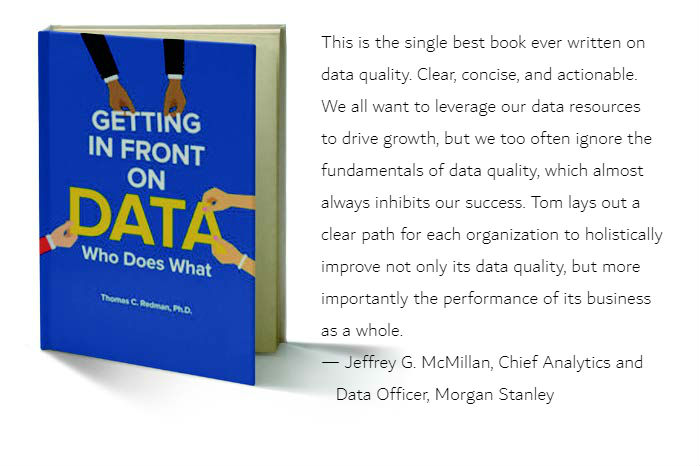 More information about Tom is at http://dataqualitysolutions.com/.
---


Training Vouchers: Our Lowest Ticket Price
Raedan Exchange Training Vouchers are available to flexibly purchase training courses online in lots of 10, 20 or 30 days. Training Vouchers allow individuals to register at any of the courses available, at any location, at our lowest ticketed price (Conditions Apply).
Please go to www.raedanexchange.com.au/vouchers to purchase the vouchers and receive the Training Voucher code.
Register for information about future events and promotions at www.raedanexchange.com.au/contactus.
Membership of DAMA: The Professional Association for Data Managers
Given the increasing popularity of DAMA events, we will be reconciling registrations and enquiries for this course with our membership list. If you are considering membership and would like to receive a one-off member discount proves, please email the organiser at frontdesk@raedanexchange.com for a discount code for this event.
Individual DAMA Australia membership costs $100/year and Corporate membership $400. To find out about membership and become a DAMA member by clicking here.
DAMA Member Discount for current members
Register for the course by selecting a member or corporate discount ticket and then enter your Association Member no when requested. Ensure your membership is current and the contact details entered in your registration match the details DAMA have for your membership. We will send you an invoice for the gap between the ticket purchased and the non-member ticket if we cannot verify your membership. A full list of corporate members is available here.
Payments and Refunds
We sometimes offer promotional discounts for particular events. Discounts and promotions are offered on full rate tickets only for the events specified only and are not cumulative. Only one discount or promotion can be applied per ticket or group registration.
We do not offer refunds if you do not attend the course or if you cancel within 7 days of the event. Refunds requested earlier than 7 days are available, less any non-refundable expenses we have incurred.
---