Event Information
Location
Greenwood Hotel
36 Blue Street
North Sydney, NSW 2060
Australia
BIGGEST CANADA DAY PARTY IN THE WORLD...again!
About this event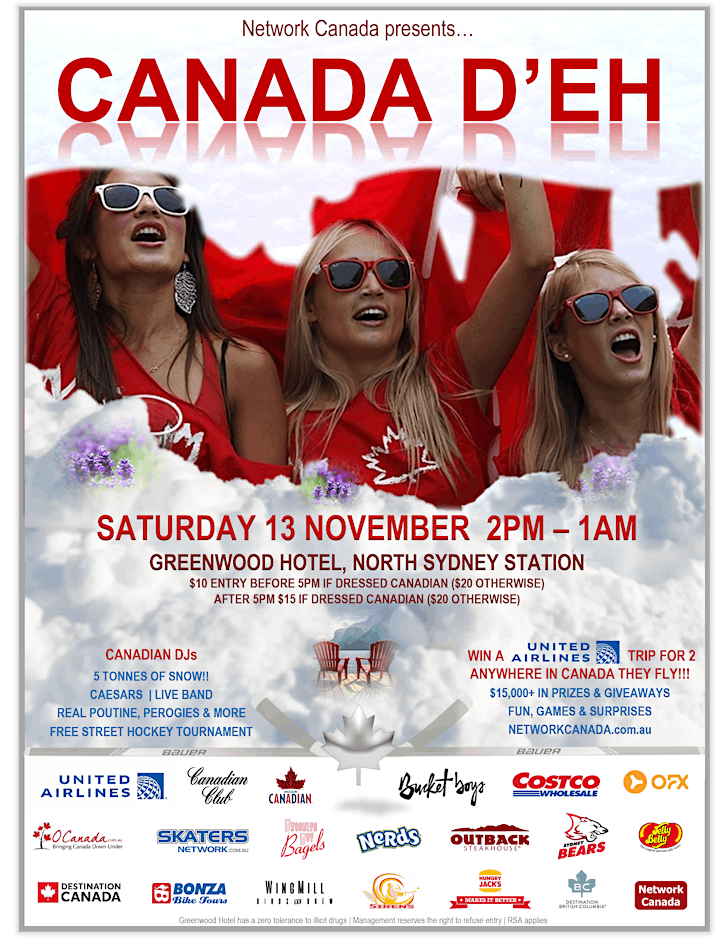 We're out of the penalty box and back in the game baby! Time to celebrate all things Canadian but instead of a winder wonderland, it'll be more of a SUMMER SESSION
★ $15,000+ in prizes & giveaways inc a RETURN TRIP ANYWHERE IN CANADA UNITED FLIES thx to United Airlines
★ STREET HOCKEY TOURNAMENT
★ Canadian & RnB/Soul DJ's, Live Canadian musicians
★ Caesars, Molsons, Poutine, Perogies, Wings & more
★ Trivia comps, game shows & surprises
★ oh yeah.. and 5 TONNES OF SNOW... well this one probably won't happen in our new November date ❄️
★ Huge indoor & outdoor spaces + 2 DJ areas!
So much happening. But basically, we're doing again the true Canadian way!!
Note: you don't need to buy tix to this party if you know you'll be there early enough. BUT, this party tends to get busy from the start so if you're not sure what time you'll make it then tickets are the best way to make sure you're secured entry to Canadian heaven for the night
Link to FACEBOOK EVENT and our INSTAGRAM where we're doing some free giveaways!
~ EVENT OVERVIEW ~
🎉 2pm doors open.
🎉 Free STREET HOCKEY TOURNAMENT starts 2pm (sign-up details below)
🎉 Bar opens with CAESAR specials
🎉 Kitchen opens with REAL POUTINE, PEROGIES, FATBOY BURGERS, CHILLI DOGS, WINGS, AWESOME CANADIAN DESSERTS and other Canadian favourites
🎉 Dine & Discover Vouchers can be used!!!
🎉 Kids also welcome during this time if accompanied by a parent. There'll be some kids meals. However, things will get a bit racy after 7pm so no kids after that
🎉 2:30pm, 3:30pm, 4:30: Trivia Comps & Game Shows with over $2,000 of prizes, giveaways and other fun challenges!
🎉 5:30pm LIVE ACOUSTIC SET - East Coast Canadian Music Legend Tony Ronalds is doing an all-Canadian set and taking requests!
🎉 7pm - 10:30pm: lots of giveaways, some surprises, plus our friends at Canadian Club Whisky will be helping us run some silly fun & games.
🎉 7pm til late, late, late: 2 DJ areas
🎧 MAIN STAGE.. starts 2pm with all things Canadian, some classics early in the day and getting VERY dancy as night progresses
🎧 CHAPEL.. this beautiful old church kicks-off around 8pm starting with amazing RnB, Party Jams, Hip Hop, Disco, Soul, Funk and everything in between 🤘
🎉 9:00pm & 10:30pm: Charity Raffles & Free Door Prize Draws including a RETURN TRIP TO ANYWHERE UNITED FLIES thanks to the amazing UNITED AIRLINES (I say amazing cause they're being extra awesome about flight restrictions)
🎉 Charity raffle tix available at the party. Proceeds from charity raffle supporting United Way's local community projects of Indigenous Women at https://www.baabayn.org.au
🎉 Things could move around a bit so keep checking back! Also forgive us if things don't run perfectly to plan, the world is a crazy place.
~ ENTRY ~
❄️ Before 5pm: $10 if you're dressed "Canadian" ($20 otherwise)
❄️ After 5pm: $15 if you're dressed "Canadian" ($20 otherwise)
❄️ so dress up and come early! What does dressing "Canadian" mean? We're not sure but putting on a red hat or shirt doesn't count.. you gotta make at least some effort
❄️ No tickets required, if you know you'll be there early enough. BUT, this party tends to get busy from the start so if you're not sure what time you'll make it then tickets are the best way to make sure you're secured entry to Canadian heaven for the night)
~ TRIVIA COMP & GAME SHOWS ~
🎁 2:30pm, 3:30p & 4:30pm
🎁 over $2,000 in prizes & giveaways
~ FREE STREET HOCKEY TOURNAMENT 2PM-6PM ~
🏒 It's free to play & the amazing people at Skaters Network are supplying all sticks, nets, balls, etc. We'll also have $2,000+ of prizes for the tourny (and some fun games)
🏒 REGISTER as an individual or register a team by email to info@networkcanada.com.au before 20 June
🏒 we'll also accept some walk-ins on the day if you get there by 2:30pm
🏒 teams can be up to 9 people but must have diversity! That is, they must have at least 2 people not of the same "gender" (at least 1 person of a different gender must be playing at any point in time). This is an INCLUSIVE tournament so all walks of life should feel very welcome. Some games will be 5 on 5, some will be 4 on 4
🏒 Prizes not just for winners also best team uniforms, spirit awards, etc. Our Commissioner of Hockey will post more soon!
🏒 for all specifics of the tournament check back here as well as the Rules & Waiver: http://networkcanada.com.au/images/Canada_Day/Street_Hockey_Tournament_Rules_2021.pdf
~ TABLE BOOKINGS ~
🍟 Limited table bookings available for 2:30pm-5:30pm and 6:00pm seatings. Note some tables will need to be moved later in the evening to make room for dancing! Request a table online: https://greenwoodhotel.com/table-booking/
🍟 We're also keeping lots of tables open for walk-ins and there's plenty of space for eating, drinking, dancing, fun, games and some surprises of course!
~ FREE PARKING ~
First of all, you shouldn't drive cause (a) we're gonna party hard and (b) this place is right above North Sydney Train Station!! But if you do, parking is max $10 all day (you can leave any time up to 4am) but it's also free any time after 4pm with validation from the venue!!!
~ VOLUNTEERS HAVE MORE FUN! ~
🙋 We're looking for some very fun volunteers on the night for an hour or so. Message us if interested
~ HOW CAN SO MUCH HAPPEN AT ONE PARTY? ~
Thanks to our amazing sponsors! They don't ask for much and genuinely want to show their support and thanks to the Canadian community so they deserve some mention and our support in return:
❄️ United Airlines
❄️ Canadian Club Whisky
❄️ Skaters Network
❄️ Costco Wholesale
❄️ Hungry Jacks
❄️ Outback Steakhouse
❄️ Brooklyn Boy Bagels
❄️ Bucket Boys Craft Beer Co.
❄️ OFX
❄️ Wingmill
❄️ Jelly Belly
❄️ Bonza Bike Tours
❄️ Nerds Candy
❄️ O Canada - one stop Canuck Shop!
❄️ Destination British Columbia
❄️ Sydney Bears Ice Hockey
❄️ Destination Canada
❄️ Sydney Sirens Ice Hockey
❄️ United Way
~ FAMILY FRIENDLY TIL 7PM ~
👨‍👧‍👦 Under 18's are welcome til 7pm. They'll get in free. After 7pm it's adults only!
~ MORE ABOUT GRAND PRIZE ~
✈️ UNITED AIRLINES RETURN TRIP FOR 2 ANYWHERE IN CANADA UNITED FLIES!
✈️ Winner must be resident of Australia only aged 18 years or over. Prize: 2 return Economy flights from Sydney to anywhere in Canada United Airlines flies (inc Vancouver, Calgary Toronto, Montreal and possibly more) and excludes all taxes. A Prize Voucher / Electronic Certificate will be provided to the winner with details of how to book and full T&Cs.
✈️ United Airlines are being amazing about this! These flights are valid for up to 1 year AFTER they open things up! Prize value is dependent on the timing of booking. No accommodation, hospitality or transfers are included in this prize. All prize travel will be subject to United Airline's general terms and conditions, and conditions of carriage, to view visit www.united.com. Prize cannot be used in conjunction with any other special offer
Date and time
Location
Greenwood Hotel
36 Blue Street
North Sydney, NSW 2060
Australia
Refund policy