Description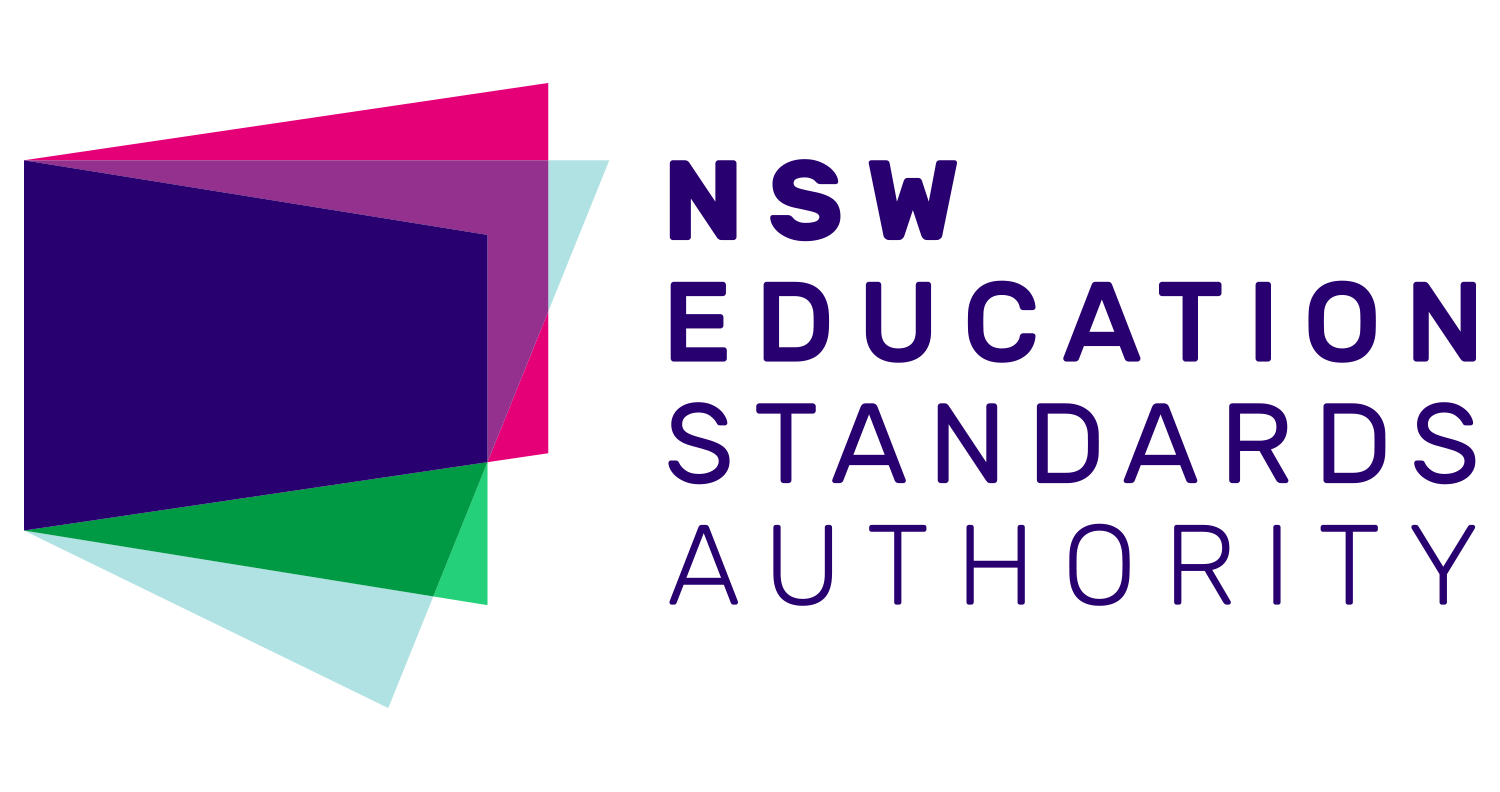 Completing the Minds Wide Open Design Thinking Across the Curriculum: Deeper Learning through Real-World Projects course will contribute 5 hours of NESA Registered PD addressing 2.2.2, 2.3.2, 3.2.2, 3.3.2, and 6.2.2 from the Australian Professional Standards for Teachers towards maintaining Proficient Teacher Accreditation.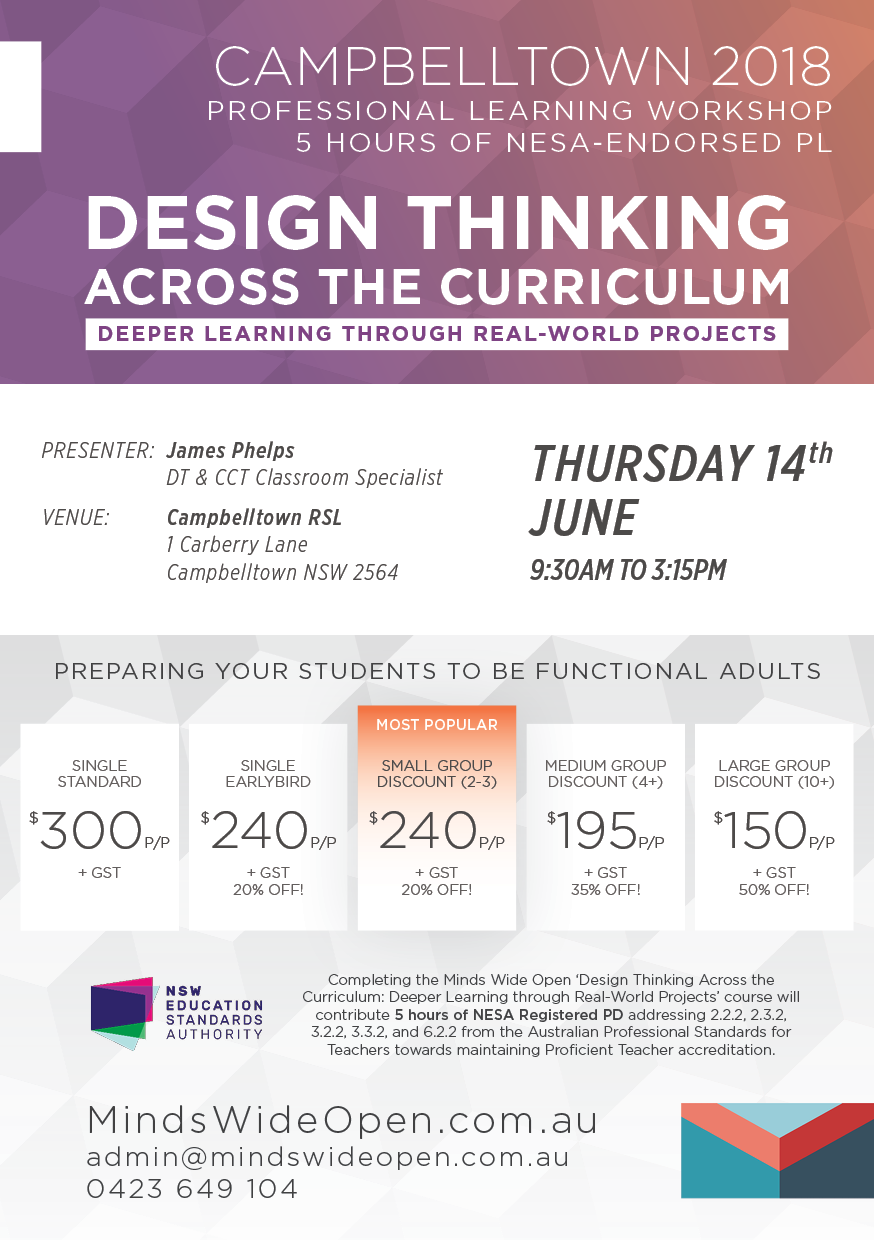 SUMMARY OF THE COURSE
This course will help busy classroom teachers and school leaders build their capacity to implement future-focused Project Based Learning (PBL) in their school by instructing their students to work collaboratively, manage projects and solve real-world problems using the Design Thinking process.
This course will:
1. Reveal best theory and practice for a successful Project Based Learning (PBL) and Design Thinking experience.
2. Identify opportunities and mandates in national and state curricula for the teaching of PBL and Design Thinking.
3. Scaffold teachers and schools with a flexible framework so they can plan for and implement Project Based Learning and Design Thinking within and across learning areas.
4. Show teachers how to instruct their students in the problem solving/design thinking process so that students can engage meaningfully in collaborative problem solving and design thinking projects with increasing confidence and independence.
5. Show teachers how to assess students' design thinking and collaborative problem solving skills.
6. Provide teachers with comprehensive curriculum–linked PBL and Design Thinking planning and teaching resources.
7. Assist teachers with implementation of the new Design and Technologies curriculum.


PROFESSIONAL LEARNING OBJECTIVES AND STANDARDS
Select and use relevant teaching strategies to develop knowledge, skills, problem solving and critical and creative thinking (3.3.2).
Design and implement learning and teaching programs using knowledge of curriculum, assessment and reporting requirements (2.3.2).
Organise content into coherent, well-sequenced learning and teaching programs (2.2.2).
Plan and implement well-structured learning and teaching programs or lesson sequences that engage students and promote learning (3.2.2).


RATIONALE FOR THIS TEACHER PROFESSIONAL LEARNING
TO BUILD TEACHERS' CAPABILITY AND CAPACITY
"Teachers should be given the opportunity to develop 21st century skills themselves and to experience how these skills can be brought into the classrooms." (Voogt, Dede & Erstad, 21st Century Learning: Call to Action, EDUsummIT, 2011)
TO MAKE THE IMPLEMENTATION OF PROJECT BASED LEARNING SIMPLE(R)
"The overlapping, wide-ranging, and changing demands of PBL management and instruction are difficult to master, and novice PBL teachers frequently experience dilemmas and difficulties." (Mergendoller & Thomas, 2005)
FOR TEACHERS TO ACQUIRE TIMESAVING TIPS AND STRATEGIES
"Researchers have reported that teachers experience frustration with the amount of time it takes to plan for and implement problem-based learning." (Ertmer & Simons, Scaffolding Teachers' Efforts to Implement Problem Based Learning, 2005) (Simons et al., 2004)