Sales Have Ended
Registrations are closed
Sorry! This type of ticket is no longer available.
Sales Have Ended
Registrations are closed
Sorry! This type of ticket is no longer available.
Description
Program details:
Mon 13 Jan: 9am-1pm

Tues 14 Jan: 9am-1pm

Wed 15 Jan: 9am-1pm

Thur 16 Jan: 9am-1pm

Sat 18 Jan: Market day runs 9am-3pm, each child will be allocated a 2hr shift (shift allocation will be provided by Camp Coordinators prior to the event)
Market location: Rundle Mall
Address:

2/7 James Pl, Adelaide SA 5000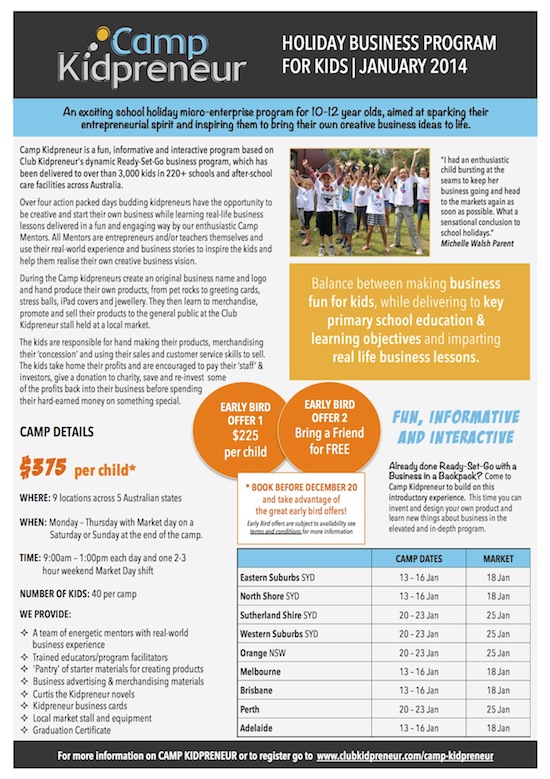 Organiser of Camp Kidpreneur -Adelaide (13-16 Jan + 18 Jan)
The Club Kidpreneur Foundation is a not-for-profit social enterprise existing to encourage entrepreneurial thinking in children on an international level.
Our ambition is to make having your own business 'cool' again. We want to reach every primary school kid across the globe, to spark their entrepreneurial spirit and build business acumen, confidence and resilience, so they can choose entrepreneurship as their future career and use business as a force for good. We are committed to assisting kids start and grow their own micro-enterprises in order that one-day they may choose entrepreneurship as a career.
Club Kidpreneur launched in September 2010 and engages a large and dynamic network of volunteer entrepreneurs who work in schools, in the community and online to deliver interactive business programs for 8-12 year olds that are innovative, practical and inclusive of all kids regardless of background. 
Our activities have the potential to reach as many as 2 million primary school kids, and provide the inspiration, tools and support for them to develop their entrepreneurial spirit. We are excited about our ambitious plans to expand the breadth and depth of our programs and make them available nationally and internationally.
Through our programs we:
Give perspective on business and the value of money
Have kids consider entrepreneurial endeavour as a career choice
Develop business literacy 
Integrate and supplement standard learning objectives with our real-world experiential programs
Provide safe and secure opportunities to practice business skills
Embrace all learning styles
Encourage creativity and experimentation
Reward achievement 
Foster initiative, responsibility and learning from success and failure in the entrepreneurial journey
Build motivation, confidence and resilience
Harness entrepreneurial spirit for social and environmental good