Description
About Camp David
Camp David is a non-denominational gathering of teenagers for a 4-day intensive physical, academic, psychological and spiritual development program. It is an overnight camp for teenage boys and girls ages 12-19 that combines non-stop action of sports and games, with opportunities for worship that will allow teenagers get closer to God while making new friends from different parts of the country. Teenagers will be led by counselors and other adult leaders who model servant leadership, and who will encourage teenagers to pursue relationships with Christ and make healthy decisions amid the challenging teen years.
At Camp David, your teen will
Get to know and grow in Christ,
Witness Christian leaders and counselors who walk the talk,
Participate in faith-building activities to help develop godly character and values,
Make new friends that share similar foundational values,
Discover new things about themselves, faith and purpose,
Build team spirit and self esteem through team and individual games and tasks
Have fun!
To access the online registration form, please click here.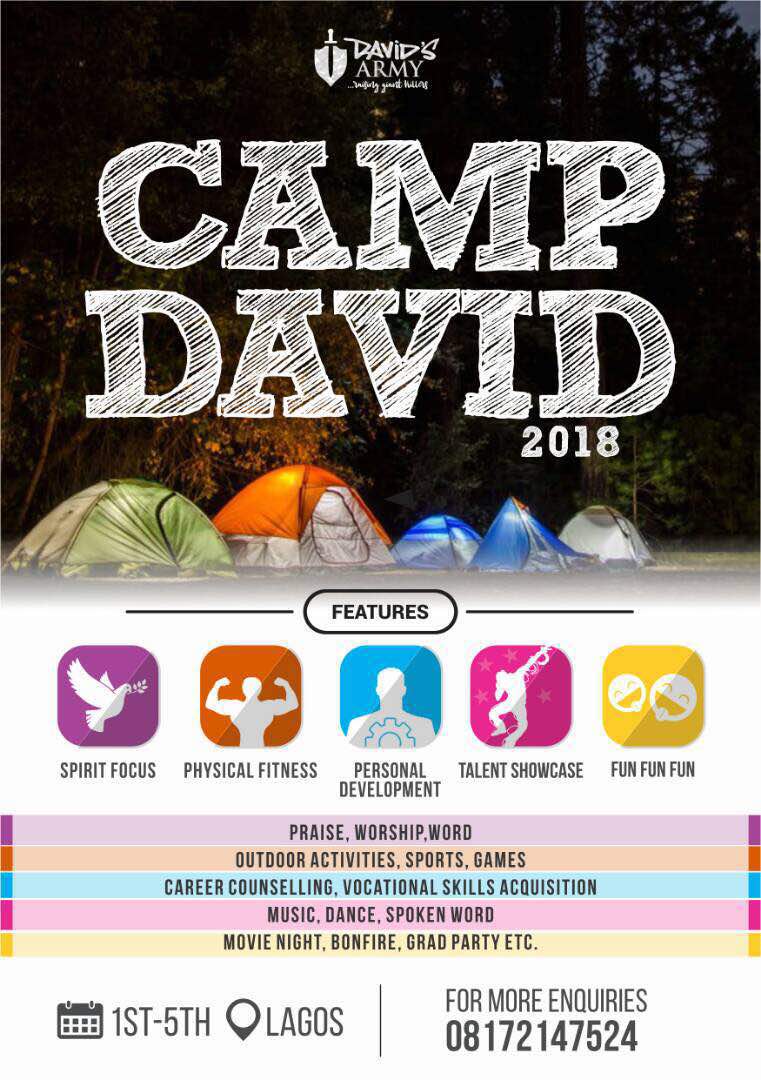 Tickets
Ticket price includes accommodation, feeding, David's Army T-shirt, and resource materials. There are three ticket types:
General Ticket - N15,000 - General tickets open on April 1st and close on June 15th.
Late Ticket - N18,000 - Late registration begins on June 16th and close on June 30th.
Payment Information
Registration Payment: Participants have to pay within four weeks of signing up/registering on Eventbrite. Payment must be made in order to secure a space at Camp David. Note: You do not have to pay at the point of registration, however, you need to pay within four weeks of registration or else your registration will expire.
Installmental payments: You can make installment payments over the period of four weeks, but up till June 15, 2018. Payments not completed within four weeks will result in expired registration and the teenager(s) will no longer be registered for the camp. A fresh registration will need to be completed at the applicable ticket rate, and full payment must be received to reserve your space for the camp. Installment payments not completed by June 15 will result in a late registration fee of N1,000 which will be paid in addition to the ticket amount up till June 30. If full payment is still not received by June 30, the amount paid on behalf of the participant up till date (June 30) will be fully refunded to the participant and the space will be forfeited.
Payment Methods
Bank Teller: please write the name(s) of your teenage child(ren) on the bank teller.
Bank Transfer: please put name(s) of your teenage child(ren) in the comments section when making a bank transfer. Screenshots of payment should be sent to campdavid.dcc@gmail.com and a confirmation email will be sent within 48hours of payment.
Note: If a teenager is unable to attend, the camp fee will be refunded if you notify us two weeks before August 1, 2018, which is the Camp start date . Registration and acceptance are on a first-come-first served basis, and space is limited to 150 teenagers.
Account Information
David's Army
Guaranty Trust Bank (GTB)
0246487286
If you have any questions or are unclear about the above information, see the Frequently Asked Questions here. For further inquiries, contact campdavid.dcc@gmail.com or 08172147524
Connect with us on Instagram: @dccdavidsarmy