Description
Calling bright minds aged 18-40 with a passion for innovation and social change, the China Australia Millennial Project (CAMP) is on the hunt for young leaders and innovators to join our award-winning bilateral program in 2018.
充满创新和创业激情的青年们, 中澳创业营正在招募年轻的创新和创业领导者,加入我们2018的多次获奖的创业营项目。
DOWNLOAD THE CAMPx2018 PROSPECTUS HERE
The CAMPx2018 Program is a 100 day experience for 100 people under 40 made up of 3 components; a 5-day face-to-face summit in Beijing, a 90-day online program and finally a 5-day face-to-face summit in Sydney. Over the 100 days, participants co-create new businesses and business solutions, level-up their professional skills and networks and forge deep friendships. CAMPers are globally connected, hyper-skilled and will change the world.
CAMP是一项独一无二的项目,它将充满活力的杰出青年聚合在一个双边创新孵化器中,提供应对全球性挑战的工具。2018年,我们将聚集50位澳大利亚和50位中国新兴未来领导人、创新者、企业家新星!每个人年龄都在18-35岁之间,平均年龄为27岁。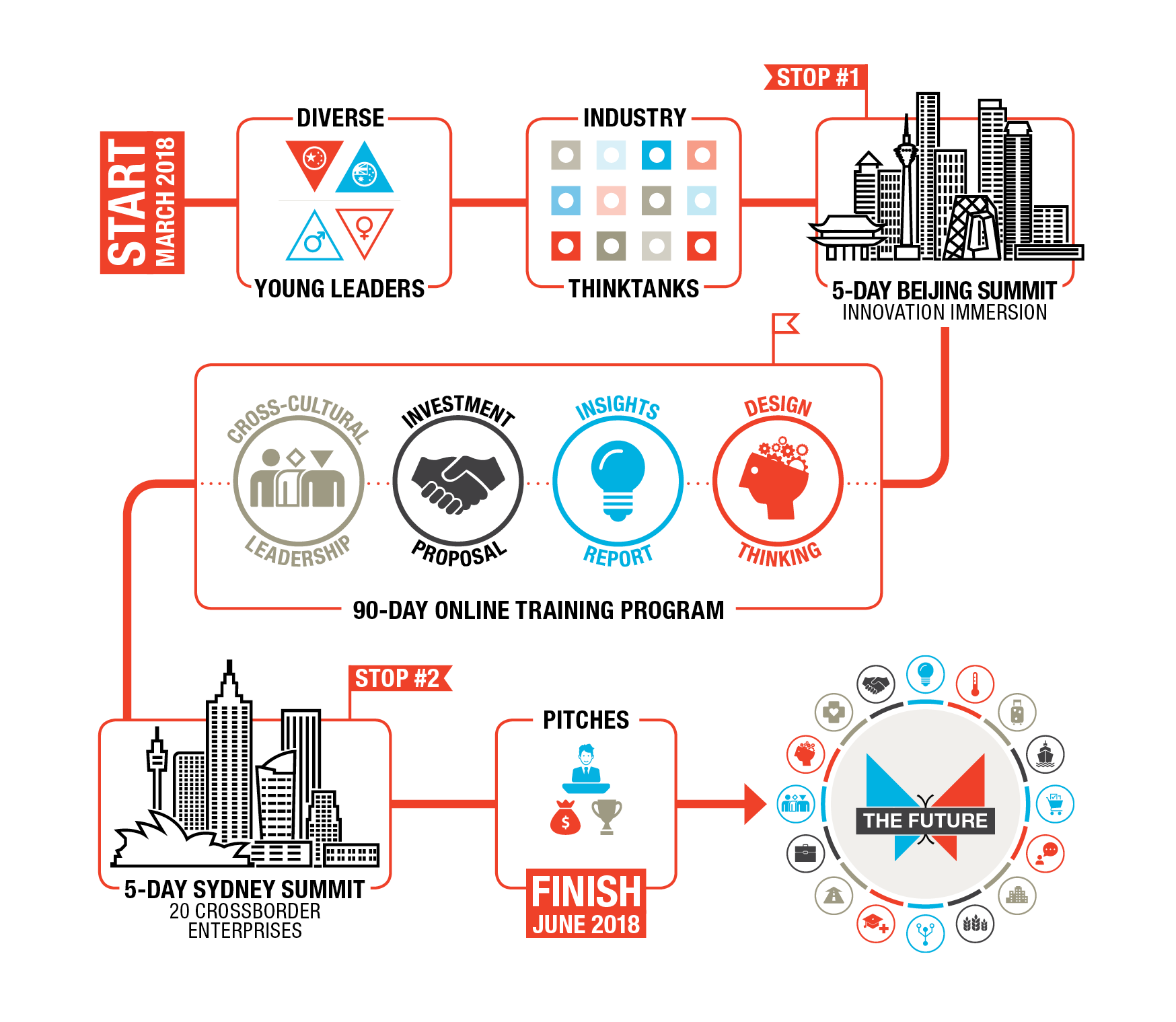 The 21st Century toolkit. 21世纪的工具箱。
Advanced intercultural collaboration, innovation and entrepreneurship.
深层次跨文化协作、创新精神和创业精神。
The program incorporates three distinct frameworks across the learning experience for every participant:
INTERCULTURAL LEADERSHIP – Build the skills needed to forge high performing teams located in Australia and China.

INNOVATION

via Stanford University's d.school's design thinking methodology.
ENTREPRENEURSHIP – A blend of lean startup methodology and project management, experience what it takes to start something amazing.
我们的项目在每位参与者的学习体验中都纳入了三个不同的框架:
跨文化领导力 发展能在中澳两国组建高绩效团队的技能。
创新精神 通过斯坦福大学设计学院的设计思维方法。
创业精神 结合精益创业法和项目管理法,体验成功开启令人惊叹事物的必要条件。
Program Fee: AUD $5500 + GST
Includes:
Return international economy airfares, all accomodation costs during 2 x Summits, most meals, worldclass 90-day online innovation training program, EY expert mentors, access to resources and pool of networks, introductions to corporates, government, investors and thought-leaders.
---
NOTE: Submitting your application through eventbrite to the CAMP 2018 is free. Program fees will apply for successful applicants.
Click here for more info 申请渠道.