Description
The Cam Attree Studio Lighting Workshop, organised by Brisbane Camera Group, will focus on basic lighting and camera techniques and shot composition for photographing models. It will appeal to novice, mid-level and advanced photographers who want to expand their knowledge, or fine tune their composing skills, with expert tutelage from an award-winning photographer of the human form.
There will be four professional models (3 female and 1 male) in attendance throughout the Workshop as well as assistants in all setups as required. Note: this is not a fine art nude workshop.
The workshop will comprise 3 lighting workstations including a variety of lighting setups ranging from a Godox battery/speedlite 3 light setup, an Elincrom D Lite mid-level setup, and a large Elincrom Professional setup capable of shooting multiple models at a time.
"Expect to walk away with amazing images from a variety of setups and scenarios and compositions you may never have thought of".
Participants: The Workshop will be limited to 21 participants.
Cost: $95. This is a huge discount on the normal cost for a Cam Attree four-hour lighting/model workshop.
When: Sunday 30 July 2017 10am – 2pm
Where: Albion Peace & Community Centre, 102 McDonald Rd, Windsor.
About Cam Attree
Over a career spanning some 20 years, multi-award winning professional photographer Cam Attree has explored many facets within the photographic industry.
After leaving high school, Cam completed a 2-year Diploma of Photography course at the Queensland College of Art. At the time, his love was landscape and wildlife photography and in 1998 won the Australian Wildlife Photographer of the Year award.
In 2002 Cam changed direction and began his love affair with photographing women, and specialising in the art nude genre. Cam also loves to explore different lighting techniques, both in studio or outdoors using flash or constant light sources, and his favourite style of art nude images involves combining the human form with the landscapes, commonly referred to as Nudescapes.
Over the years Cam has worked with a variety of different cameras, both analogue film and digital. Large format cameras using wet plate collodion, large format black & white, medium format, Polaroid, 35mm to the latest digital cameras. All have their own look, feel and allow Cam to be creative with their own unique characteristics.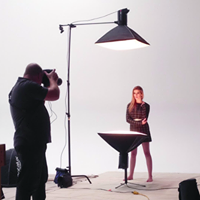 Cam runs a variety of workshops each year and it is his goal to expand those workshops to include regular, multiday live-in events to different destinations with some of the best models from around the world.
Awards and Achievements:
• Associate Diploma of Arts in Applied Photography
• 1998 Australian Wildlife Photographer of the Year
• 2008 Qld AIPP Portrait Photographer of the Year
• 2012 Creative Asia Landscape Photographer of the Year
• 2013 RAW Australia Photographer of the Year
• 2016 Qld AIPP Fashion Photographer of the Year
• AIPP Accredited Photographer
• AIPP Master Photographer III
There are many avenues to follow Cam including:
Instagram - @camattreephoto
Facebook - https://www.facebook.com/camattreephotography
Website - http://www.artisticnudes.photography/
Patreon - https://www.patreon.com/camattreephoto