CACC Melbourne Presents Embracing Disruption as an Opportunity, Powered By...
Description

Opportunity resides in uncertainty - a conversation about the importance of innovation and embracing disruption in the midst of the 4th industrial e-revolution.
C2 have reinvented how we experience conferences. CACC are delighted to partner with this Canadian organisation to explore the questions of disruption and innovation. This is a panel discussion, but not as you know it. You will experience a taster of the innovative approach that C2 have created to challenge our assumptions of the corporate event. You will be involved; not as a passive observer, but as a part of the dialogue.
C2's "raison d'être" is to transform the way people think about the role of creativity in business. And in turn, how this creativity leads to innovative, actionable ideas to meet the ever changing challenges of modern times. In this exclusive breakfast event tailored for CACC members and Melbourne business community we explore trends, opportunities, disruptions and major shifts on the horizon.
C2 designs the perfect playground for reinvented collaborations. Participants from diverse industries and disciplines come out feeling re-energised and retooled to take on what's coming next.


We encourage you to register for this event if you are looking for a new way to network, engage and explore ideas that will make a difference in your working world.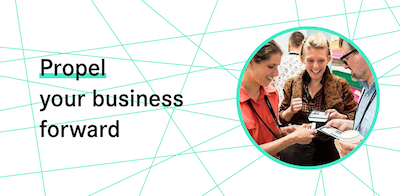 WHAT THE MORNING LOOKS LIKE...

7:30AM - Check-In/Networking (coffee/breakfast served)
7:55AM - Opening Remarks
8:05AM - Experiential Panel Discussion
8:45AM - C2 INTERACTIVE LAB EXPERIENCE: BAROMETER
In a collaborative environment specifically designed to provoke collisions and spark new ideas, C2 inspires participants across all industries to challenge their biases, shift their perspective and explore completely new ways of doing business.
9:25AM - Final Take-Aways / Draw Prize Winner Announced
9:40AM - Closing Remarks
HEAR FROM THE FOLLOWING PRESENTERS: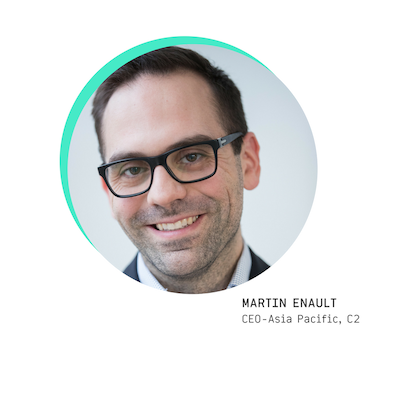 Martin Enault, CEO-Asia Pacific, C2
An executive with over 15 years of experience in entrepreneurship and events, Martin is known for creating innovative concepts involving business, entertainment and technology. As C2's Chief Operating Officer, he now leads the company's day-to-day operations, and oversees its business, technological and operational development.
In 2010, he co-founded and headed Intellitix, which became the award-winning leading global provider of RFID access control and cashless payment systems for live events. He has been involved in thousands of events over the years spanning across the globe. (LinkedIn)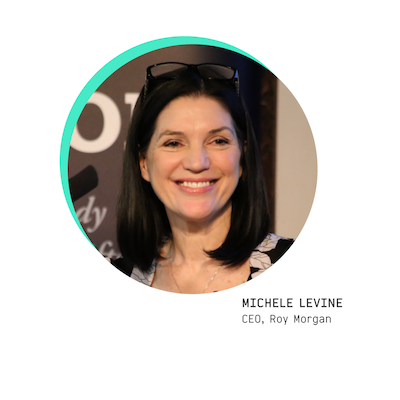 Michele Levine, CEO, Roy Morgan
Michele Levine was born with a passion for people and what makes them tick, social justice and an insatiable curiosity about life.
With over 30 years' experience as a researcher, Michele has been responsible for thousands of surveys, including many of the largest research projects ever undertaken in Australia, many of which continue to play a critically important part in shaping our society today.
With a fundamental belief in the empowering value of information, Michele was instrumental in the development and refinement of Roy Morgan Single Source, the world's leading consumer study (based on over 50,000 interviews a year) and, in 2010, the introduction of the Roy Morgan Business Survey.
Michele was ahead of her time in foreseeing the exponential growth of Big Data and, consequently the need for software (like ASTEROID) which can manage and order massive volumes of data – as well as the need for highly trained analysts who can help make sense of it. (LinkedIn)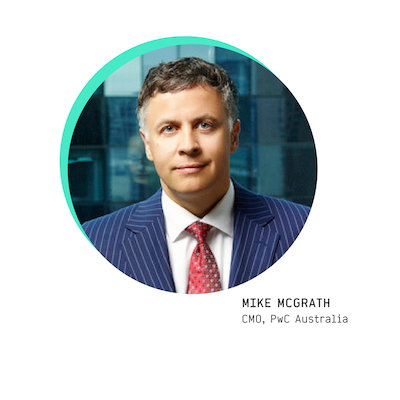 Mike McGrath, Managing Partner - Chief Marketing Officer, PwC Australia
Mike is currently Managing Partner – Chief Marketing Officer and the Global Relationship Partner for Telstra. Mike has also served as Managing Partner of Clients and Markets where he was responsible for PwC Australia's Priority Accounts and Industries Programs, Clients Experience and Networks Programs, Market Propositions and Strategic Marketing, Communications and Brand. In this capacity Mike was also an Executive Board Member, a member of the Firm Executive. Prior to this Mike was the National Markets and Industries Leaders for PwC Consulting. Mike has also lead the Growth Strategy Practice in Consulting and has worked in the Financial Services, Energy and Utilities, Transport and Logistics, and Government sectors.
Mike has more than 25 years of experience in the telecommunications sector across the North American, European, and Asia Pacific regions with key focus on development and delivery of consulting services and solutions around Market Entry Strategy, Operationalising Customer Insight, Channel Strategy, Channel Performance Improvement, Sales Excellence, Customer Value Management, Revenue Integrity and Reward Performance Alignment. (LinkedIn)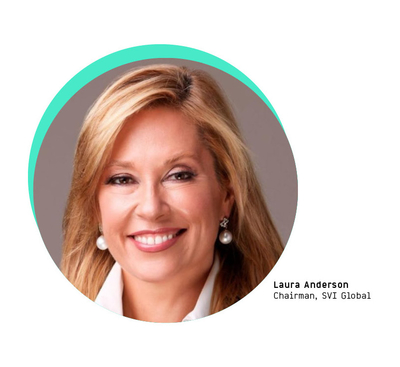 Laura Anderson, Chairman - SVI Global
Laura Anderson is an International Company Director, Entrepreneur and Global Philanthropist. Laura has worked extensively across governments and industries locally and globally as a senior adviser on global governance, strategy transformation and risk optimisation. Her professional speciality is harnessing the power of big data and its effect on global supply chains, trade, investment and infrastructure development.
Laura is Chairman of SVI Global Pty Ltd, OneGlobalVenture Pty Ltd, LaunchVic and Chairman of the Foundation for the Advancement of Science and Technology in Schools. Laura is on the Board of the Australian Grand Prix Corporation, Epworth HealthCare, the National Basketball League, Defence Science Institute,the Fulbright Commission,and is a Director of several private investment companies. Laura is a global thought leader on the development of the creative economy and its impact on the future of industry structures, social cohesion and economic innovation.