Cabernet Dinner at Mediterraneo Charcoal Grill

Thursday, 5 June 2014 from 7:00 pm to 10:00 pm (AEST)
Event Details
When the two greatest
food & wine pairings come together,
All is right in the world!

Chargrilled Porterhouse Steak & 10 taste-tantalising Cabernets.
PERFECT.

Announcing Top Australian Wines Cabernet Dinner
at Mediterraneo Charcoal Grill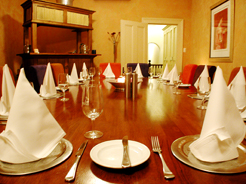 WHAT: Cabernet Dinner at Mediterraneo CHarcoal Grill
WHEN: Thursday, June 5 at 7PM
WHERE: Mediterraneo, 116 Bridport St, Albert Park, Victoria
AVAILABILITY: Seating limited — RESERVE TODAY!
EXCLUSIVE DISCOUNT PRICE: ONLY $85 per person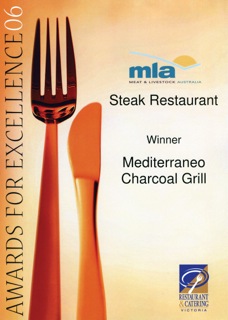 This dinner will feature the wine-food pairing that tops them all. The one that's a must for anniversaries, birthdays, and career promotions. Cabernet and tantalizing steak.
While Top Australian Wines will bring the perfect mix of nine uniquely satisfying cabernets, Mediterraneo brings the perfect flame-kissed Porterhouse Steak.
STARTER
You know the meal will be delicious when you begin with these delicacies:
MARINATED OLIVES, EXTRA VIRGIN OLIVE OIL, and FRESH BREAD.
                  Served with your starters will be two unique, highly acclaimed Cabernet Merlots:
1. 2010 AMELIA PARK CABERNET MERLOT (MARGARET RIVER, WA) 
2. 2010 CHATEAU TANUNDA "BAROSSA TOWER" CABERNET MERLOT (BAROSSA VALLEY, SA)

 ENTRÉE
Here's a menu tip: When you see "Balkan Style", you're in store for mouth-watering cuisine.
                  CEVAPCICI is char grilled Balkan skinless beef sausages served on Balkan style CABBAGE
                  SALAD, freshly sliced SPANISH ONION and SWEET POTATO CRISPS.
                  To perfectly pair with your entrée, we proudly serve:
1. 2009 LES JAMELLES CABERNET SAUVIGNON (FRANCE) 
2. 2011 TWO HANDS "SEXY BEAST" CABERNET SAUVIGNON (MCLAREN VALE, SA)
3. 2010 SHINAS ESTATE "THE VERDICT" CABERNET SAUVIGNON (MILDURA, VIC)

MAIN
A delicious Porterhouse steak, Just wait until you have it prepared the Mediterraneo way.
CERTIFIED PORTERHOUSE STEAK, chargrilled to your taste and served with savoury ROASTED POTATO, STEAMED BEANS and RED WINE JUS.
Since this is the star of your meal, we serve 4 (yes, FOUR!) CABERNET SAUVIGNON WINES.
1. 2013 HENTLEY FARM CABERNET (BAROSSA VALLEY, SA)

2. 2004 BANKS THARGO COONAWARRA CABERNET SAUVIGNON (COONAWARRA, SA)
3. 2008 KENWOOD "JACK LONDON" CABERNET SAUVIGNON (SONOMA VALLEY, USA)
4. 2007 HUTTON "TRIPTYCH" CABERNET SAUVIGNON (MARGARET RIVER, WA)

DESSERT
I bet we know your favourite dessert: Anything with chocolate! We have you covered with a TRIO of CHOCOLATE.
You'll love every bite of your CHOCOLATE TRIO dessert. It starts with CHOCOLATE and RUM FLOURLESS CAKE, DARK BELGIAN CHOCOLATE SAUCE and CHOCOLATE ICE CREAM.
To compliment your dessert, we serve PENFOLDS BLUESTONE GRAND TAWNY.


 What's special about Cabernet wine is that it's bold, delicious, and flavourful — from first sip to last glass. The same can be said for this lunch. From first bite through dessert, you can expect a symphony of bold flavour.
Reserve your seat today and enjoy 10 unique and exceptional Cabernets in one of Australia's most award-winning steakhouses — Mediterraneo.
When & Where

Mediterraneo
116 Bridport St W
Albert Park, VIC 3206
Australia

Thursday, 5 June 2014 from 7:00 pm to 10:00 pm (AEST)
Add to my calendar
Organiser
Martin Peston has been actively involved in the wine industry for the last 10 years and is the director of Top Australian Wines Pty Ltd which trades under the name of Wine Tasting Events.
He specialises in selling & showcasing boutique wines from Australia and around the world.
His wine website is www.topaustralianwines.com.au
For further details of upcoming events please visit his events website at http://winetastingevents.com.au