c4SMC Roundtable - Sustainability through Digitalisation
Centre for Smart Modern Construction's construction conversation roundtable - 'Sustainability through Digitalisation'
About this event
Accelerated by the global pandemic, it's time to rethink digital transformation. Leadership and strategy must leverage technology to generate sustainable value and shared success, where trust is a key. It's time to shift gears and add purpose to digitalisation. In keeping with the emergent term, 'The Great Reset' coined by the World Economic Forum, the Centre for Smart Modern Construction is back with the Joining up Construction Conversation Roundtable and this time it's themed around 'Sustainability through Digitalisation'.
Certificate of Participation will be issued. AIQS and RICS will recognise this certificate for claiming CPD points.
Come be a part of the conversation, listen to stellar industry keynotes, and insightful research presentations.
Save the date: 15th September 2020
Main Speakers:
Prof Denise Kirkpatrick, Senior Deputy Vice-Chancellor, Western Sydney University
Prof Mike Kagioglou, Dean of Engineering and Acting Dean of Built Environment, Western Sydney University
Prof Srinath Perera, Director, Centre for Smart Modern Construction, Western Sydney University
Keynote 1: Laszlo Peter, Head of Blockchain Services, Asia Pacific KPMG Australia
Keynote 2: Davina Rooney, CEO of Green Building Council of Australia
Panel Members:
Joe Karten, National Sustainability Manager, Built
Alex Sommer, Manager Sustainability and Research, Landcom
Prof Vivian Tam, Western Sydney University
A/Prof Mary Hardie, Western Sydney University
Dr Sepani Senaratne, Western Sydney University
A/Prof Sarah Zhang, Western Sydney University
Refer to the Event Agenda for more details;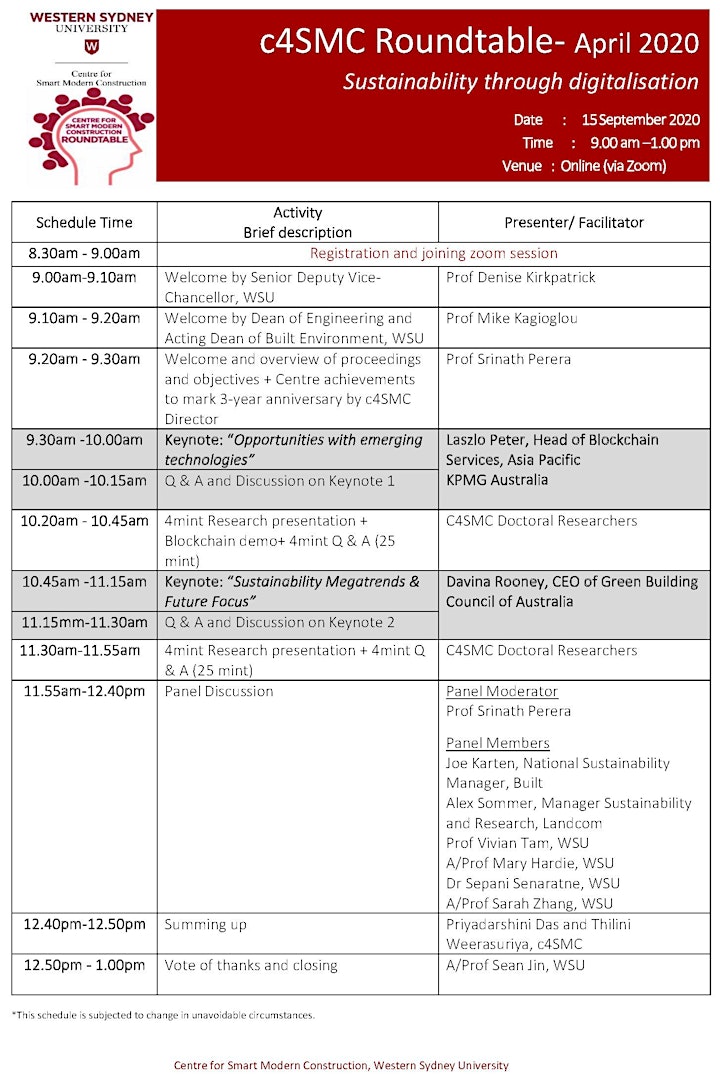 Organiser of c4SMC Roundtable - Sustainability through Digitalisation