BWA - Feminine Power is the New Power - Perth WA

Wednesday, 6 June 2018 from 4:00 pm to 6:00 pm (AWST)
Event Details
Feminine power is an energy we all have, no matter what gender we are. It uses inner resources for direction and guidance. It includes feminine qualities that are often overlooked in empathy, expression, honesty, love, nurturing. It is those experiences we have with creativity, kindness, understanding, intuition, compassion, flexibility, inclusiveness, community, vulnerability, empathy, patience and humility.
Join us at the Business Women Australia Boardroom Banter at HHG Legal Group with Diamond member Vida Carlino, author of "My Power Statement" to hear how to redefine power.  Let's focus on more than the traditional masculine ways of "doing and wielding command." To be authentic and exceptional leaders we must value both our masculine and feminine qualities.
In our world where masculine qualities of the outcome, productivity, logic, aggression, drive, independence, arrogance and competition have dominated, many individuals are unable to fully thrive and succeed.  A new paradigm of feminine power is emerging.
Be part of this important conversation and grow our collective wisdom to discover a deeper understanding of feminine power.
o    Learn how to be powerful in a feminine way.
o    Find out the path to source your feminine power
o    Awaken your feminine leader
o    Join the conversation with supportive, successful women in business 
Refreshments, wine and cheese will be provided.
Attendees will also receive a copy of
"My Power Statement" written by Vida Carlino.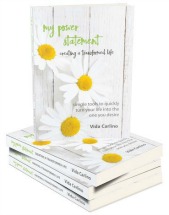 Simple tools for being resourceful and helping your lift your game.
Vida will also offer a discount to attend Twin Realities event in Bali form the 14th to 17th July and Women's Wisdom 14-16th September 2018
Vida is a Published Author, Speaker, and leader in conscious evolution, inspirational mindset, and authentic accountability. Vida is honoured and privileged to be a member of the Business Women Australia Advisory Board.
Vida is a skilled social entrepreneur who began her career in accounting. Bringing 30 years hands-on experience in business as an owner and consultant, Vida connects a unique way of integrating human potential with strategic outcomes that change the fundamental relationship between self and enterprise for holistic prosperity. Her years of practical experience, gained from applied learning in the area of human potential, has enabled Vida to merge alternative practices with core business principles to deliver results that help individuals and entrepreneurs step up and be their own greatest asset.
Vida travels extensively to guide, coach and facilitate. She believes we all have what it takes to realise our dreams, achieve greatness and live a fulfilling life, we sometimes just need a little help.
Vida's mantra is Authentic, Inspirational, Experience. She loves exploring and expanding global awareness that lifts the human spirit. She is passionate about, family, life, nature and meaningful contribution along with creating opportunities to experience sacred space and the reclamation of feminine and masculine wisdom.
SHOULD YOU BOOK? Yes!
BWA experiences provide professional development, knowledge sharing and connections for all Ambitious Businesswomen!
business owners

entrepreneurs

executives and managers

professionals

women on boards

emerging leaders

women who desire growth and real connections
Business Women Australia is a like-minded community offering support and encouragement so you can thrive!
Leadership Development

Business Improvement

Personal Growth

Influencers
When & Where

HHG Legal Group
16 Parliament Place
#1
West Perth, WA 6005
Australia

Wednesday, 6 June 2018 from 4:00 pm to 6:00 pm (AWST)
Add to my calendar
Organiser
Business Women Australia is a national collective of leading women across professions, sectors and states.  
Be collaborate to deliver opportunities and experiences that help women in business achieve their goals, build communities of influence and make a real impact.
 "Together we can achieve so much more"
TESTIMONIALS
"PERSONAL l PROFESSIONAL l COLLECTIVE"
I have been a member of Business Women Australia since first speaking on a panel at one of their fabulous flagship events.  I've encouraged my Co-Directors and employees at Mi Casa Property Boutique to join too as it is such a supportive, professional collective of women in business.  I love the fact that it attracts high-level women from all sectors and professions. and I've enjoyed emceeing for BWA events.  Attending the boardroom banters and Circles has been good to tap into the expertise of specialists. As an owner of three busy companies, I cannot stress how important it is to expand your network and develop close relationships with like-minded people. The Soiree has been the best event this year I have to say – champagne, oysters, and great friends – it doesn't get better than that!
Sue Pember - Mi Casa Property Boutique

"OPPORTUNITIES TO FLOURISH"
Being a part of BWA has been enriching and a lot of fun, it is an asset to have so many genuine connections and conversations with other female entrepreneurs that are also on the journey of female leadership and business ownership. BWA has provided opportunities for me to establish many personal and professional relationships that have influenced the way I do business. I look at BWA as a magnet that attracts the modern business women and then offers her resources, and opportunities to flourish within a thriving community. I am grateful to be part of a team of women who genuinely care and contribute to each other's success. I am proud to be a member of BWA, a collective of women who walk their talk.