BUTCH is a one-night only event celebrating masc-identifying women , non-binary and trans-masc people through fashion, music and community
About this Event
BUTCH will strut into the Sydney Town Hall after the Mardi Gras flag raising ceremony on February 19 from 6:45pm.
Featuring gender defying designers CharlieBoy, Punkuture, Shane Ave, Spunky Bruiser+Jeff McCann + hair by Sarah Wall Industries on the runway.
With performances by BVT + Kings, Kim Sheehy [The Voice/The Sappho Show] and more to be announced!
Plus twenty four community models who will raise the roof!
Hosted by Walkley Award winning journalist and ABCQueer Content Lead - Mon Schafter.
This is a one night only premiere event not to be missed!
PROGRAM
6:45pm PRE SHOW - featuring live music and showcasing our Partners on screen
7:30pm DESIGNER RUNWAY - our four designers take to the runway
9:00pm BUTCH COMMUNITY RUNWAY - our twenty four community models do their thang!
IMPORTANT BOOKING INFO: NSW Health orders have capped venue capacity at 75%. There will be an empty seat separating your party with other parties. Please purchase tickets for your party in one single purchase.
If you have any questions or requests e-mail butchfashionparade@gmail.com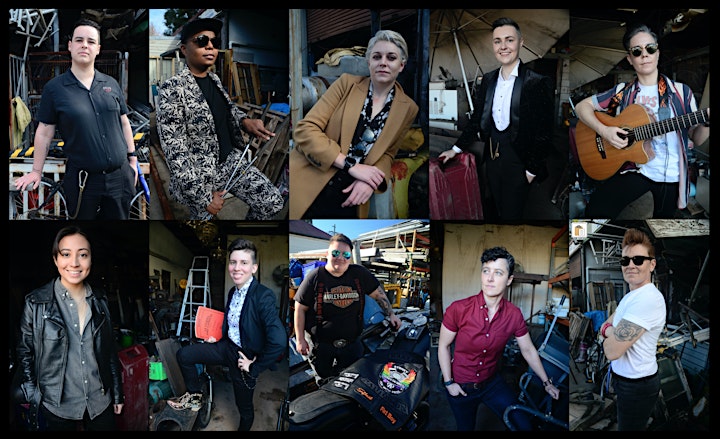 COVID-19 SAFETY
A series of COVID-19 Safety Protocols will be in place and ticket holders must comply with these. These include:
Masks are mandatory as per NSW Health Orders
Contact details registered for all ticket holders
ID checks on entry
Stay at home if you have been to a hotspot or self-isolating
Stay at home if you are sick or have any cold or flu symptoms
Physical distancing at all times
Avoid physical greetings such as handshaking, hugs and kisses
The practice of good hand hygiene. Hand sanitiser and hand wash stations will be available
FEM Presents and Lip Lesbian Events will continue to work closely with NSW Health and other government agencies in the lead up to the event and will adapt COVID Safe Protocols as required.
______________________________________________________________________________________________
By defying gendered aesthetics, BUTCH expands the possibilities for women and gender diverse people of all abilities, ages, cultures, sizes and backgrounds. We are committed to accessibility and encourage inclusion for all people.
If you have any questions about access, participation or would like to attend the event but it's cost prohibitive please contact us at butchfashionparade@gmail.com to discuss.
BUTCH is an Auslan interpreted event.
Age restriction: 15+ - strong language and themes
Presented by Lips Events and FEM Presents and supported by City of Sydney.
______________________________________________________________________________________________
FEM Presents and Lips Lesbian Events acknowledge the Gadigal People of the Eora Nation, who are the traditional owners of the land on which our events, productions and celebrations are held on. Always was, always will be Aboriginal Land.