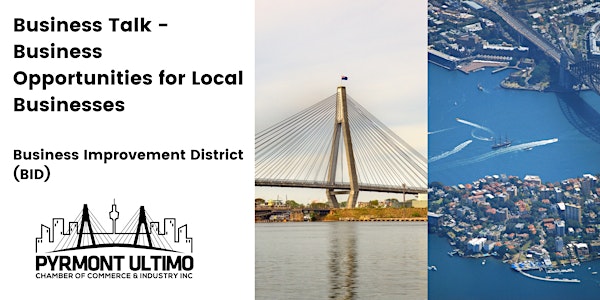 Business Talk - Business Opportunities for local businesses
Event Information
Refund policy
Contact the organiser to request a refund.
Eventbrite's fee is nonrefundable.
An online roundtable networking event to brief local businesses on the Sydney Western Harbour Business Improvement District story.
About this event
Business Talk - Business Opportunities for Local Businesses
Business Improvement District (BID)
The Chamber invites its members to an online roundtable networking event that will provide an update about the local Business Improvement District (BID) and the business opportunities available for local businesses in Pyrmont-Ultimo.
We will be joined by key speakers from the Sydney Western Harbour Alliance BID, PwC, Smile Marketing and the Pyrmont Ultimo Chamber of Commerce.
Megan Higgins and Dominic Smith from PwC in London will share the key wins and learnings they experienced when implementing the BID program in London. This is a great opportunity to hear about a success story and what we can learn from their experience to maximise the benefits of a BID program in Pyrmont-Ultimo.
Date: Thursday11 November 2021
Time: 5:00pm
Place: Zoom platform – virtual meeting
Why Attend?
-Learn about the success of the BID program in London - What worked and how it helped local businesses there.
-Hear about the opportunities that the BID program can provide local businesses in the Pyrmont-Ultimo business precinct.
-Gain key insights into how the BID program can benefit your business.
What is a Business Improvement District (BID)?
A business improvement district (BID) is a defined area within which businesses contribute to fund agreed projects within the district's boundaries. The BID is often funded primarily through local businesses and draws on other public and private funding streams. These districts typically fund services and activities which are perceived by the businesses as being inadequately performed by the government with its existing tax revenues. There are over 3,000 BIDs across the work in Canada, United States, United Kingdom and New Zealand.
Speakers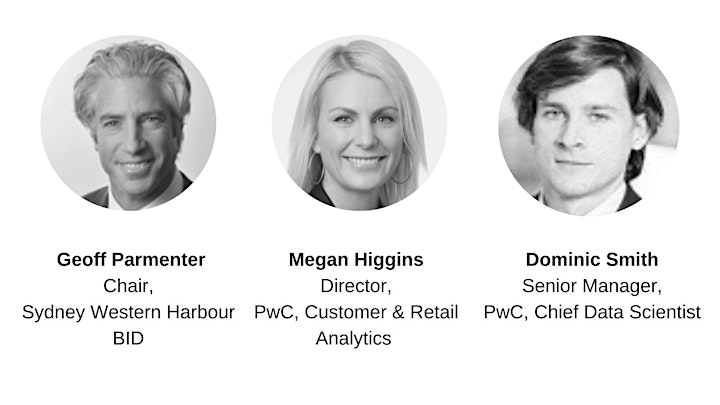 Geoff Parmenter, Chair of Sydney Western Harbour Business Improvement District Company
Geoff has more than 25 years of executive and general management experience, leading diverse teams in tourism and events, hospitality, entertainment and sport – in Australia and internationally.
From 2007-2011, he was Chief Executive of Events NSW Pty Ltd, responsible for developing the first structured annual events calendar for Sydney and New South Wales (Events NSW was the precursor to Destination NSW). There he establishing new exclusive events such as the Vivid Sydney festival and Opera on Sydney Harbour. He also served as a director of Business Events Sydney during that time.
For six years up to January 2019 Geoff sat on the Group Executive Committee of The Star Entertainment Group where he led the Marketing, Tourism, Partnerships, Corporate Affairs and Media and Communications functions.
For 12 months prior to joining The Star Entertainment Group, Geoff ran his own consultancy business, working for clients including the Istanbul 2020 Olympic Bid Organisation (in Istanbul), the New South Wales Government, and the Dubai Government.
He resigned from The Star at the end of 2018 to return to focus full time on passion projects in the Olympic Games, destinational brand strategy and place-making spheres. He has Chaired the Sydney Western Harbour Alliance since 2020, and the Sydney Western Harbour Business Improvement District company since its inception in January 2021.
Megan Higgens, Director, PwC, Customer & Retail Analytics
Megan leads the Customer and Retail Analytics team at PwC UK. She has worked in retail for c.20 years covering the end to end data and insight ecosystem in both online and bricks and mortar retailing. Megan is obsessed with customer centricity and the optimisation of product and marketing through making data driven, customer led decisions.
The customer team specialise in creating the single customer view and develop rich segmentation using innovative machine learning techniques in big data technologies. They leverage vast external data sets to understand customers' preferences and behaviours to drive better brand engagement, increased spend, effective marketing and customer loyalty.
Recent projects include delivering a customer insights programme with the New West End Company for over 600 businesses in London's West End, and development of a single customer view and machine learning based customer insights product for a global furniture retailer to support their omnichannel customer strategy.
Prior to PwC, Megan has held senior roles industry side across myriad multi-channel, global FMCG, fashion, electronics and entertainment retailers including Burberry, ASOS, Tesco.com and Best Buy.
Dominic Smith, Senior Manager, PwC, Chief Data Scientist
Advanced analytics expert with 11 years of experience working with clients to help them make evidence-driven decisions. Dominic has led award-winning performance and risk analytics projects across a range of sectors, including insurance, asset management, banking, retail and high-performance sport, in both consulting and product development contexts.
Webinar - Zoom - Download Zoom on Your PC, Mac or Phone
We will be using Zoom for this Virtual Meeting. Please make sure you download Zoom at:
Step 1: https://zoom.us/support/download
Step 2: Follow the steps of the setup.If you need more information about downloading Zoom go to:https://support.zoom.us/hc/en-us/articles/201362233-Where-Do-I-Download-The-Latest-Version-
How to Join and Participate in a Virtual Meeting - Zoom
For more information go to: https://support.zoom.us/hc/en-us/articles/115004954946-Joining-and-participating-in-a-webinar-attendee-
You will be sent a link to the webinar the day before the event.

Date and time
Location
Refund policy
Contact the organiser to request a refund.
Eventbrite's fee is nonrefundable.
Organiser of Business Talk - Business Opportunities for local businesses
What to Invest in Next - Do you need some marketing help? Want to scale your business and not sure what to do next?
Smile Marketing is a growth marketing services business which provides:
End-to-end project management

Marketing strategy development

Digital marketing

Social media

Design

Event management

Customer experience programs.
We work with you to better understand what you should invest your marketing resources in next. We have proven and robust models which allow us to understand what is working and where we should invest time and budget to achieve your objectives.
Our services create powerful and effective solutions for our B2C and B2B clients. The diverse range of services provide support for clients from strategy to execution. 
Every initiative we deliver leverages on our network of experts, which means our clients receive valuable advice and support.  
Our People
Smile is an organisation of talented people who are focused on delivering measurable impact on the achievement of business objectives.  
We are dedicated to ensuring our clients reach their goals through innovative marketing solutions.