Learn how to improve productivity and get a competitive edge through systems and automation.
About this event
Ready to dive in and establish business systems and automation into your business? It's never too early to get started. At the Business Systems, Automation and Efficiency workshop, you'll learn how to rapidly create business systems and introduce automation into your business so that you have high performance processes that increase productivity and improve profitability. You'll also get tips that will help you get your team on board with the switch.
This is a workshop you won't want to miss. Book today. Seats are limited.
PLEASE NOTE: This workshop will be held as an IN-PERSON event unless regulation changes require us to deliver it as a webinar event.
What you'll learn at this workshop:
• A process to deliver your promise, and keep your customers ordering more
• Five key areas for systems you need to know
• Where the People x Process = Profits formula fits into your business
• Policies, processes, props and procedures
• How the 80:20 rule is applied to systems
• Systems development and methodologies
• Planning your switch to automation (investment, workflows…and the bugs)
• Getting your team on-board with systems and automation (managing the change)
This workshop is suitable for:
Business owners wanting to learn how to improve their business efficiency and profitability through systems.
About the Presenters: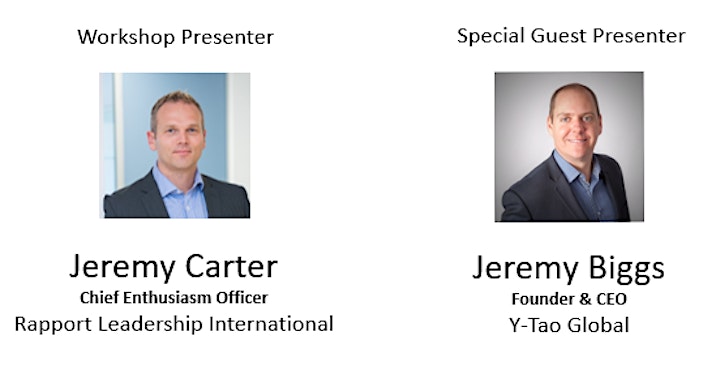 Jeremy Carter is the CEO of Rapport Leadership International in Australia. Jeremy started his career as a computer engineer and worked his way up to being the Oceania Managing Director of international technology company, National Instruments. In the subsequent two years, he increased revenue by 62% without increasing headcount.
Since leaving the corporate world, he has worked for fourteen years as a leading business and executive coach, winning numerous awards and recognition for both himself and his clients, including finalist for Outstanding Business Leader at the 2019 Western Sydney Awards for Business Excellence.
Guest presenter:
Jeremy Biggs is the founder and CEO of Y-Tao Global, an organisation dedicated to augmenting human potential with technology to help you build super-powered, happy teams.
Other information:
The Business Success Program is a series of business education workshops for businesses of the greater Blacktown area, and is an initiative of Blacktown City Council in partnership with CGU and Rapport Leadership International.
For further information about this event contact David Somerville, Head of Blacktown Council Economic Development Department on 9839 5914.
We look forward to meeting you and being of service.