Business Support Programs from the Local Government
An online event to brief local businesses on current and upcoming business support programs from the local government.
About this event
Business Support Programs from Local and State Governments
Date: Friday 24 September 2021
Time: 1:00pm - 2:00pm
Place: Zoom platform – virtual meeting
The Pyrmont Ultimo Chamber of Commerce in partnership with the City of Sydney, presents an online opportunity for local businesses to learn about the current support program available from the local government. This roundtable is the second of two in its series. Our first roundtable will be held on August 20 and will focus on state government support from NSW Government.
Participants will:
- hear about achievements so far
- become aware of the current support available from the NSW Government for local businesses leading into the new financial year
- be informed of future or upcoming projects
Speakers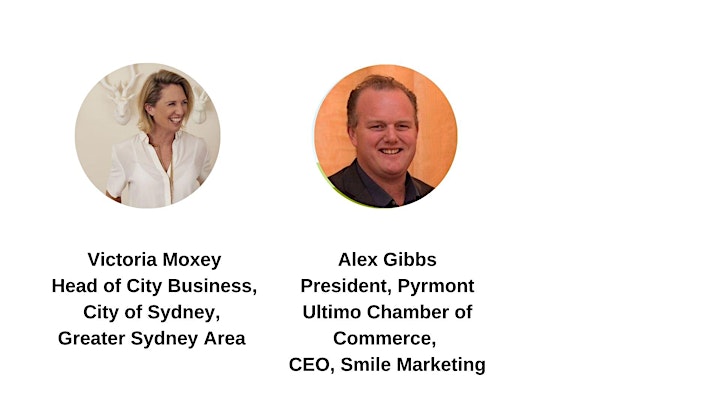 Victoria Moxey, Head of City Business at City of Sydney, Greater Sydney Area
Victoria is currently heading the City Business team at City of Sydney managing a portfolio of economic development programs across 3 key sectors of our local economy: tech & innovation, tourism and retail sectors. She has led the development and delivery of flagship initiatives including the City's Visiting Entrepreneur Program (annual 2-week program for the tech startup sector); Retail Innovation Program (12-week accelerator program for the retail & hospitality sector); The Reboot Series (capacity building recovery series for businesses), and CBD activation initiatives as part of our Alfresco City strategy.
Prior to this, Victoria was Founder and CEO at Urban Walkabout (2006-17), a digital and print media platform promoting food, fashion, design and art in major cities across Australia (Sydney, Melbourne, Brisbane, Adelaide, Perth, Newcastle & Hobart) and London.Victoria has also clocked 10 years' experience in the advertising and marketing industry, working for agencies including Izilla, JWT Argentina, Saatchi & Saatchi and EPG World as Regional Manager for South America developing marketing strategies and promotional campaigns for consumer brands such as Coca Cola, Sony, Cadbury, L'Oreal, Procter & Gamble in Uruguay, Venezuela, Argentina and Chile.Victoria holds a BA in Economics from Davidson College (USA), an MA in Journalism and Mass Communication from the University of North Carolina at Chapel Hill (USA) and a Master in Design from COFA (UNSW).
Moderator: Alex Gibbs, President of Pyrmont-Ultimo Chamber of Commerce & CEO of Smile Marketing.
Alex is a dynamic and committed marketing leader with over 20 years of experience developing and leading high-performing sales and marketing teams across a range of industries – tourism, liquor, wine, beer, government, banking, membership associations, professional services, education, IT, hospitality.
Alex is the CEO and Founder of Smile Marketing, a growth marketing services business that provides end-to-end project management, marketing strategy development, digital marketing, social media, design, event management and customer experience programs.
Alex's work is focused on consumer and service-based brands in wine, beer, agribusiness, technology and financial services. He also works in the trade and investment space in major export markets including China, US, UK and other emerging markets. His experience includes being a member of senior executive teams, boards, industry groups and advisory boards.
Alex has been on the WCA National Board of Directors for five years, including a senior executive role as their Treasurer. He has obtained several business and marketing qualifications at the Australian Graduate School of Management, UNSW, ACU National, Australian Direct Marketing Association and APM. 
Alex has worked with the Pyrmont Ultimo Chamber of Commerce for over 4 years and is currently the President. Alex has been heavily involved in local business initiatives that help promote the Pyrmont Ultimo Precinct such as the annual Pyrmont Food and Wine Festival, Pyrmont Pop-Ups, and the recent Support Local Business Program.
Webinar - Zoom - Download Zoom on Your PC, Mac or Phone
We will be using Zoom for this Virtual Meeting. Please make sure you download Zoom at:Step 1: https://zoom.us/support/downloadStep 2: Follow the steps of the setup.If you need more information about downloading Zoom go to:https://support.zoom.us/hc/en-us/articles/201362233-Where-Do-I-Download-The-Latest-Version-
How to Join and Participate in a Virtual Meeting - Zoom
For more information go to: https://support.zoom.us/hc/en-us/articles/115004954946-Joining-and-participating-in-a-webinar-attendee-
You will be sent a link to the webinar the day before the event.

Organiser of Business Support Programs from the Local Government
What to Invest in Next - Do you need some marketing help? Want to scale your business and not sure what to do next?
Smile Marketing is a growth marketing services business which provides:
End-to-end project management

Marketing strategy development

Digital marketing

Social media

Design

Event management

Customer experience programs.
We work with you to better understand what you should invest your marketing resources in next. We have proven and robust models which allow us to understand what is working and where we should invest time and budget to achieve your objectives.
Our services create powerful and effective solutions for our B2C and B2B clients. The diverse range of services provide support for clients from strategy to execution. 
Every initiative we deliver leverages on our network of experts, which means our clients receive valuable advice and support.  
Our People
Smile is an organisation of talented people who are focused on delivering measurable impact on the achievement of business objectives.  
We are dedicated to ensuring our clients reach their goals through innovative marketing solutions.