FREE business and marketing session for all business owners and their staff on how to market your business with a cost-effective strategy
About this event
At the end of the third financial quarter in 2019 Australia was heading into a retail recession with a stagnated retail sales growth of only 2.5% for the year until that point. It was not only the retail sector that was experiencing the effects of the downturn in consumer spending, the flow on effect from loss of trade due to external factors such as the drought meant that all industries were experiencing the worst level of sending since 1990.
With now 1000's of businesses in the region being directly or indirectly affected by the ongoing drought and fire crisis, the teams at Bcr8ive Media and Regional Development Australia Southern Inland knew that community collaboration with key stakeholder groups was needed to help those in need.

In an unprecedented move, we have brought together similar minds to provide businesses of the local region advice, knowledge and strategies to help them recover from this devastation.

Businesses of the Southern Inland are invited to join us at the workshop on the 28th of February. We suggest that all business owners, managers and staff attend as there will be loads of practical information, strategies and great ideas to help their business in the coming months.
Community is key to the future success of our region.

Whilst we can't physically rebuild your business, we CAN unite to grow the economy in the region with upskilling business and providing knowledge to make strategic moves.

In partnership with BDCU Alliance Bank, Goulburn Chamber of Commerce, Illawarra Business Chamber, Southern Region Business Enterprise Centre, Destination Southern NSW, Birch Restaurant, Goulburn Mulwaree Shire Council and RDASI, Bcr8ive Media are offering FREE business and marketing sessions for all business owners and their staff on how to market your business with a strategy that will enable growth through engagement. It has become clear that NO ONE channel will save businesses and it is through community and asking for HELP that will give everyone the opportunity to not only survive but also grow.
During the sessions you will learn about:
• Success stories from businesses
• 5 things you can do RIGHT NOW to help your business receiving exposure
• Local opportunities to get your business exposure
• Public relations both near and far
• Social media strategies for your business
• Collaboration with your community
• Customer service and how the customer journey is vital in your business
For more information please call Errol Brown
Mobile : 0400315962
Email: errol@bcr8ivemedia.com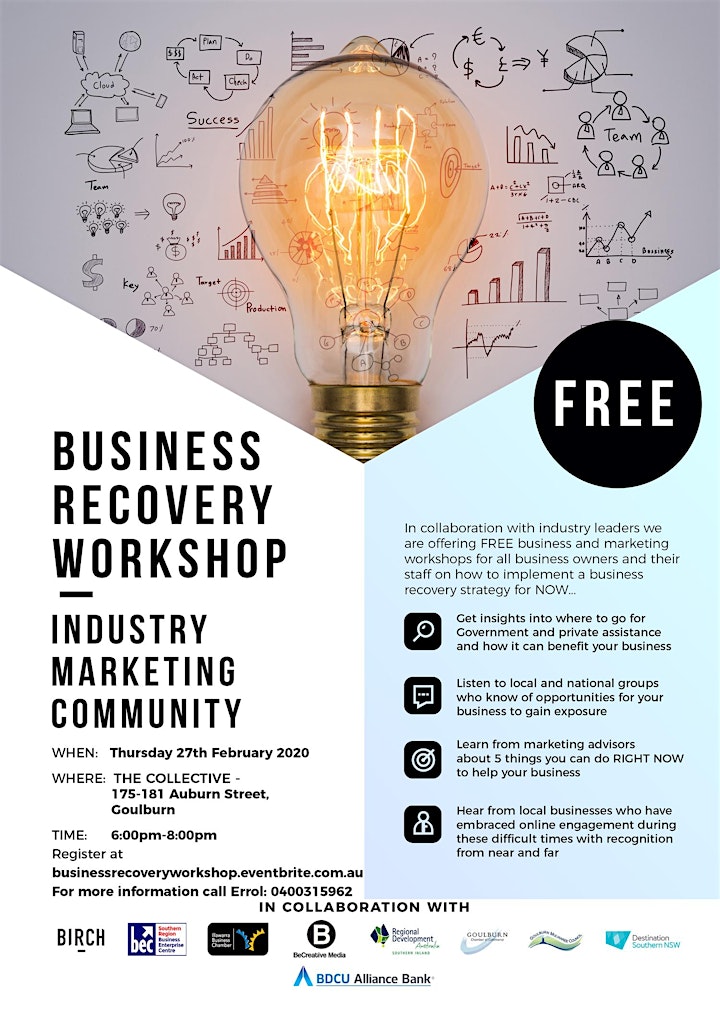 Organiser of Business Recovery Workshop
Regional Development Australia Southern Inland is funded by the Commonwealth Government. Our goal is to bring economic development to the Southern Inland region which covers seven local government areas. Part of economic development is not only attracting new industry and individuals to the region, but also supporting and celebrating local businesses and helping them to grow.