Description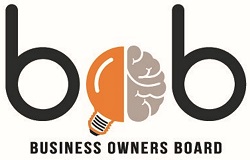 Monthly Business Owners Board Meetings provide a 'helping hand' and a forum for you to connect with other progressive business owners who want to grow their business and free up their time.
Through facilitated sessions including expert guest speakers, you will develop business building principals, techniques, ideas and tools. You will be encouraged to learn and apply those ideas in your business and report back to your Business Owners Board monthly

.
All this in a confidential support group of like-minded, positive business owners, with no competing business or 'other agendas'. No-one is there to sell you anything. It is a working group to work on all members businesses and facilitated by experienced business owners.
This month's guest expert presenter is RSM.
Details of our June expert presenter from RSM Global will appear here soon. The topic will revolve around future proofing your business and asset protection. There will be plenty of examples and war stories to make a point! Don't miss this one!
Scoll back to the top to register
"We are so confident that you will be impressed with the Business Owners Board process, that we are offering the first month's board meeting and personalised business assessment, at no cost to you except for your time."
If you are a business owner in Western Australia, apply to come along to a 'bob' advisory board meeting. You will also get to learn about 'bob' groups and how they can help you and your business get to new heights!
Scoll back to the top to register
to start your complimentary month with BOB.