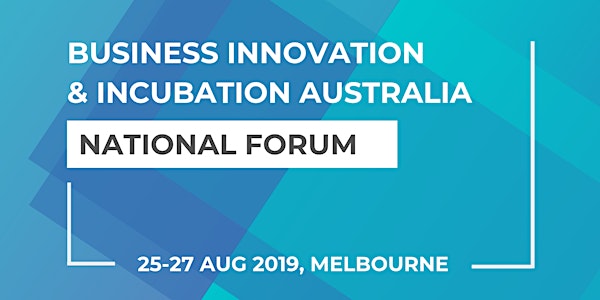 Business Innovation & Incubation Australia National Forum 2019 - Melbourne
Location
Northern Melbourne Tafe
61 Civic Drive
Greensborough, VIC 3088
Australia
Description
THE 2019 BUSINESS INNOVATION AND INCUBATION
NATIONAL FORUM
The 2019 Business Innovation & Incubation Australia Forum is THE event to talk and learn all things business incubation. Join like-minded incubator managers and program directors from Australia-wide to learn, connect and share key experience and learnings. The 2019 forum will present best practice examples of our industry, discuss trends and highlight youth entrepreneurship and food and beverage incubation.
25-27 AUGUST 2019
MELBOURNE
Forum member delegates fee $330 (GST inclusive)
Forum non-member fee $440 (GST inclusive)
1-Day Ticket (26th August) $165 (GST inclusive)
---


BIIA NATIONAL FORUM PROGRAM SPEAKERS

Melbourne Innovation Centre | David Williamson, CEO
Melbourne Innovation Centre is one of Australia's longest running business incubators. Learn from CEO David Williamson about how the incubator has expanded and evolved across multiple sites and the development of new programs partnering with all levels of government, industry, local educational institutions with an emerging focus on student entrepreneurship.

Innovation and Industry in Melbourne's North | Chris James, Executive Director, NORTHLink
NORTHLink is the key driver of economic development and growth in Melbourne's North, the organisation brings together local business, industry, incubators, educational institutions and all levels of Government. As Executive Director, Chris James will talk through how NORTHLink partners across the region to seed several key economic growth initiatives focused on growth and future industries.

The Van Diemen Project | Karina Dambergs, The Van Diemen Project
Established in 2016, the Van Diemen Project is one of Australia's newest business incubation and entrepreneurship projects. Based in northern Tasmania, the program grows entrepreneurs' confidence and aims to equip Tasmanians with the tools to turn ideas into action.

Food Melbourne's North | Tony Coppola, Operations Manager
Established in 2018, Food Melbourne's North is a fast growing industry group supporting over 400 local food and fibre enterprises in the region. Learn how they created a large local impact in a short space of time.

Albany Business Centgre | Vicki Brown, CEO, Albany Business Centre
Learn from a highly successful and sustaunable regional business incubator case study. Vicki Brown is one of Australia's most experienced and knowledgable incubator managers and leaders. Vicki will outline how Albany Business Centre has evolved since its opening in 1999, and has continues to reinvent its model to maintain relevance and thrive.
---


FOR ENQUIRIES CONTACT US
info@melbourneinnovation.com.au
(03) 9499 9100