Let us show you how to improve your cash flow, budget for profitability and access more money for your business.
About this event
Did you know that lack of cash flow is the #1 reason that businesses come unstuck? If you want to give your business the best chance of success, you need to understand the fundamentals of business financials. At the Business Financials – Cash Flow, Profits and Funding workshop, we'll explain key financial documents and show you the numbers that you need to monitor as a business owner. You'll also learn budgeting strategies that can make a world of difference to cash flow and profits when you know how. There'll also be an opportunity to practice reading financial documents in class, and you don't need to be good with numbers. All you need is a calculator, and we'll be there to help.
This is a workshop you can't afford to miss. Book today. Seats are limited.
PLEASE NOTE: This workshop will be held as an IN-PERSON event unless regulation changes require us to deliver it as a webinar event.
What you'll learn at this workshop:
• Key financial documents for every business (P&L, balance sheet and cash flow statements)
• What is your break even point, and how to calculate it
• The cash gap that can cause businesses to fail
• The difference between margin and markup
• What is a ratio analysis?
• The role of benchmarking
• Funding options for business
• How to budget to improve cash flow and profits
This workshop is suitable for:
Business owners or employees wanting to improve their understanding of business financials and cash flow.
About the Presenters: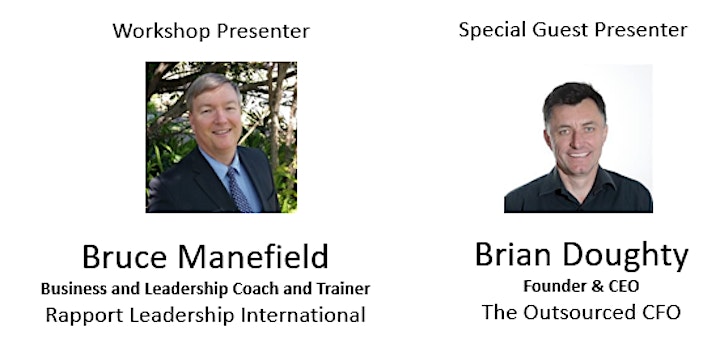 Bruce Manefield is a business and leadership coach and trainer for Rapport Leadership. Having worked for both corporate and fast growth SME companies, Bruce brings a wealth of experience to assist organisations wanting to transition through change. His passion in life is educating people and organisations to improve capability and performance.
With a diverse career, Bruce started his working life as a business analyst and has held senior management roles including General Manager of the Value Group, CEO of Redicar, Executive Officer of Childcare NSW, Board Chair of KU Childrens Services and most recently, Board Chair of Gunawirra.
Bruce understands SME businesses and the unique challenges they face having previously been a business owner himself. His collaborative leadership style and interpersonal skills gives him the ability to build rapport and trust allows him to engage employees at all levels within a business.
Bruce holds a Bachelor of Science in Mathematical Statistics and is a Fellow of the Australian Institute of Company Directors.
Guest Presenter:
Brian Doughty is the Founder and CEO at The Outsourced CFO, a specialist in helping SME Business Owners to make the most of their financial situation, capitalise on opportunities and deliver bottom line results.
Other information:
The Business Success Program is a series of business education workshops for businesses of the greater Blacktown area, and is an initiative of Blacktown City Council in partnership with CGU and Rapport Leadership International.
For further information about this event contact David Somerville, Head of Blacktown Council Economic Development Department on 9839 5914.
We look forward to meeting you and being of service.