Business Excellence: In Conversation is an opportunity to hear from Brisbane business leaders sharing their growth success stories.
About this Event
Brisbane City Council with Growth Education Institute(groei) is facilitating this free online panel discussion.
Business Excellence: In Conversation provides an excellent opportunity for the local business community to engage with an expert panel of Brisbane business owners who will share their insights. They will discuss what has contributed to their success and share their thoughts on business planning, strategy management routines and cash flow best practice. You will also get a chance to network with other business owners following the panel discussion.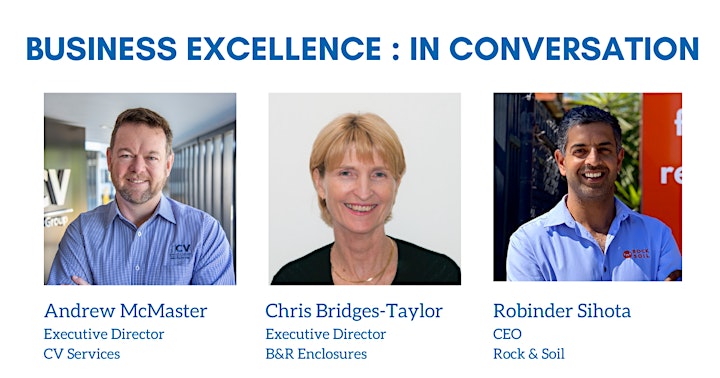 Our Speakers
Andrew McMaster - Executive Director of CV Services
Andrew McMaster acquired a small signage company on Brisbane's northside in 2004, in company with a tightly knit shareholder group. Through a combination of acquisition and organic growth, CV Services has grown from a business with 12 employees into a fully integrated trade services company covering electrical construction and infrastructure, data & communications, design, plumbing, building, fire services, and signage solutions. With four business units and over 600 team members, CV operates across Australia and New Zealand from their Hendra location.
As Executive Director, Andrew has responsibility for overseeing the on-going performance of the business units and mapping out the future strategic direction of the company. Andrew has a wealth of general management, sales, finance, and strategy experience from a range of industries. He commenced his professional career as a Chartered Accountant with Ernst and Young, working in Brisbane and New York, before joining Telecommunications provider Optus Vision as Commercial Manager, overseeing the rollout of the network and eventual merger into the Optus Communications business. He then held a variety of senior management roles within beverage multi-national Lion Nathan.
Chris Bridges-Taylor - Executive Director B&R Enclosures
Chris is currently the Executive Director of third-generation family business B&R, Australia's largest manufacturer of enclosures, racks, cabinets and switchboard building systems. B&R are an Australian-owned, family-run firm with a proven pedigree stretching back over 50 years based in Darra. She is also Executive Chair of Bridges Capital Ventures the family office and responsible for strategic project growth.
Chris defines herself first and foremost as being an engineer, her very first qualification (Bachelor of Electrical Engineering, Hons 1st Class, Adelaide) and her passion. Her life-long habit of learning and seeking knowledge across a variety of areas that includes a MBA (Adelaide), the Owners/Presidents Management Executive course at Harvard Business School and a Fellow of the Australian Institute of Company Directors.
Chris is also Chairman of QMI Solutions a Queensland-based organization dedicated to improving the competitiveness of small-to-medium enterprises (SMEs) Australia-wide and also a member of the State Government Manufacturing Ministerial Committee (MMC).
Robinder Sihota - CEO Rock & Soil
Robinder gained his Bachelor of IT & Law, before working for Clayton Utz as a commercial lawyer and was admitted as a barrister to the private Qld Bar. With diverse interests, it was his love of property which led to the acquisition of Tingalpa Landscaping Supplies.
Identifying a prime business opportunity, Robinder took over the reins in 2013, bringing the business under the umbrella of the respected Sihota Family Group, which has been in the Redlands farming industry since 1881. He's since restructured, invested, and transformed the business into Rock 'n' Soil – a Brisbane employer of choice and recognized local brand.
Robinder largely oversees the vision and direction of Rock 'n Soil. He is customer-focused, with responsibilities including overseeing customer experience, relationship building with suppliers and clients, finance, innovation, management of projects and initiating innovative software updates. He enjoys having the freedom to design Rock 'n Soil's future, and he loves interacting and sharing the energetic buzz and positive culture within our team and with our customers.