This event is for business and community to see what assistance is available and be able to talk to them in person.
About this Event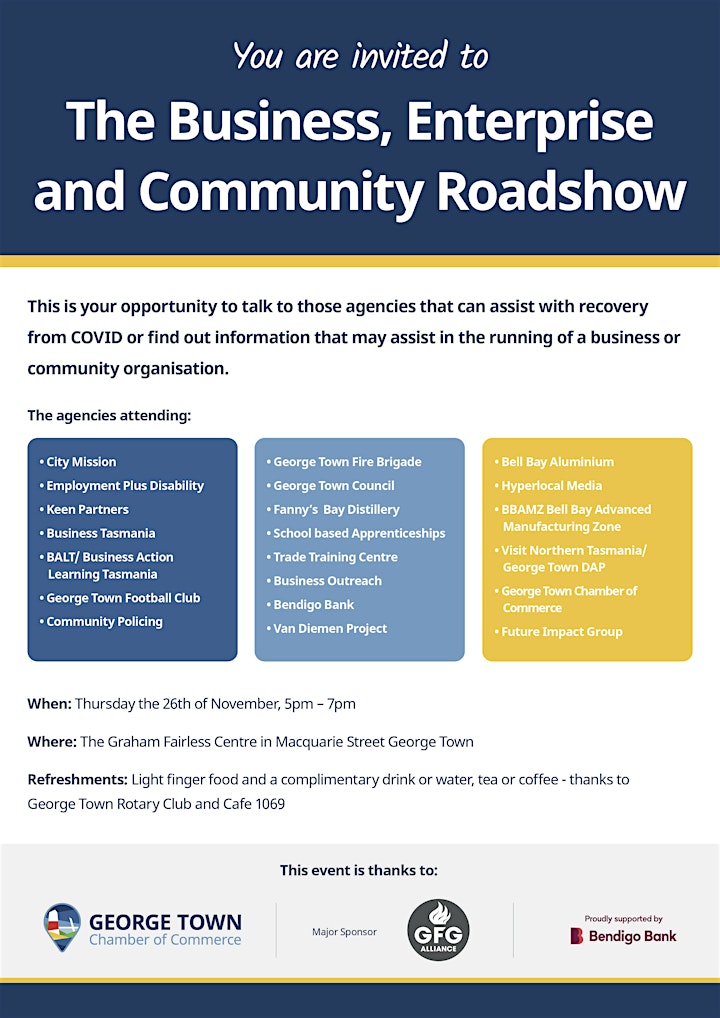 The Salvation Army – Employment Plus
About Employment Plus
As a proud member of The Salvation Army network and one of the largest government-funded employment service providers in Australia, it is our mission to change lives and communities through the power of employment.
Looking for a job?
We understand that for you, it's never just a job: it's your future. That's why we're dedicated to helping you make the most out of it, which starts with finding meaningful employment.
Looking to hire?
We understand that for you, it's never just a job: it's your business. That's why we're passionate about not only finding you a quality employee, but also the perfect fit.
Opening hours - Tuesday - Friday : 8.30am - 5.00pm
AusIndustry is the Australian Government's principal agency for delivering assistance, programmes and services which support industry, research and innovation.
AusIndustry is a division within the Department of Industry, Science, Energy and Resources.
Business Outreach | Business Outreach and Insights | AusIndustry – Support for Business
Department of Industry, Science, Energy and Resources
Business and Trade: Business Tasmania is a state government service which supports people to start and run a business by offering a range of information and access to free services and programs. Business Tasmania is the Government's point of contact for businesses that have been impacted by COVID-19. The team can assist with information regarding COVID Safety Plans, how current restrictions apply to them, also information on funding programs which may be available.
Are you a small business owner impacted by Covid-19 or under financial stress?
Rural Business Tasmania offers a FREE* service for eligible small businesses to help improve their financial position.
Eligible businesses may be able to access up to $5,000 grant for Professional Services Advice.
Our FREE* and confidential small business support service for businesses owners who are concerned about the effect of Covid-19, drought or other impacts.
Funded by the State and Federal Governments, Tasmanian small businesses are able to access this FREE* service to gain assistance with;
Marketing/Promotion to increase business potential
Planning to ensure long term viability
Improving profitability
Assistance improving financial management skills – understanding cash flow, budgeting and benchmarking.
Helping with business development and planning
KEEN Partners is an industry led private company with a mission to provide people of all abilities and experience with jobs which help them upskill. KEEN does this by partnering with other businesses who have flexible workforce needs and / or a need to employ apprentices and trainees to develop the skilled people of the future. KEEN's model of supported employment – with both on and off job training and on-job experience is unique and helps to create highly employable people while also helping businesses with their workforce needs. Are you KEEN to learn more?