Description

Join us at our December Gala Forum on Friday 7th December featuring renowned Digital

Entrepreneur Tony Surtees

as our key note speaker. At this event you will:
Get to know members from all 11 BBG

Sydney

Chapters

Learn from renowned Digital Entrepreneur Tony Surtees, as he shares some proven strategies to help you meet disruption head on and win. During his presentation, Tony will explain:




How to preserve your existing business and




Develop new options so you and your company can succeed in a disrupting market.

How to balance the "innovator's task" of engaging a disruptive business mode without putting needs of present customers at risk.

Why the new ideas which seem to make no sense are often the most valuable and

How to spot the ones that are

Enjoy a sumptuous hot breakfast

Connect with local Business leaders, movers and shakers


About Tony Surtees: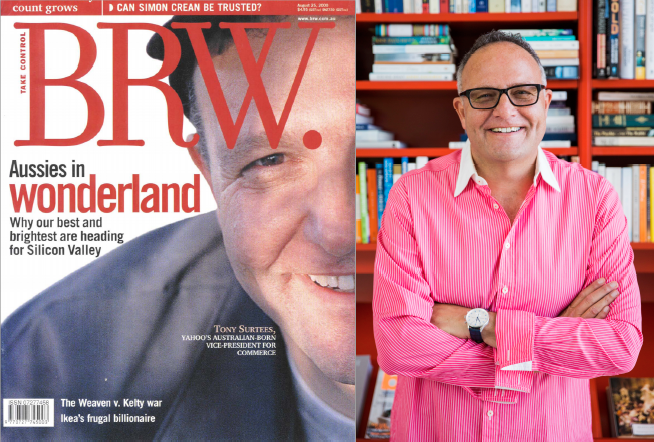 Tony Surtees is a hands-on entrepreneur and a market driven investor who gets directly involved in building and helping companies scale to take full advantage of changing markets. He is a member of the Entrepreneurs' Programme Investment Committee – for the Australian Federal Government, helping to both evaluate and provide funds across amongst Australia's largest portfolio of technology based businesses.

Tony is former Vice President and General Manager of Yahoo!'s US Commerce group, responsible for 14 business units generating over US$2.5B in gross sales.

Named as one of Australia's Top Ten Digital Entrepreneurs by Smart Company Magazine, Tony has appeared on CNBC Asia, SkyTV and a host of Australian media.

Tony is a Master of Science from the Graduate School of Business, Stanford University and cofounder of the Stanford Australia Association "Entrepreneurship Series". He has VP and CEO level international experience in investment, media and marketing with businesses both traditional and digital; operational and management experience in companies in the US, Asia and Australia; private board experience specialising in businesses that are undergoing disruption, rapid change, growth and changes in business model.




REGISTER NOW
Seating at this event is strictly limited, so please register now.
Please note the attendance cost for non-BBG members is $150.00 plus GST and booking fee.
We greatly look forward to seeing you there.
Kind Regards,
Geoff Hirsh (Founder & CEO) and Ivan Kaye (Founder & Chairman)