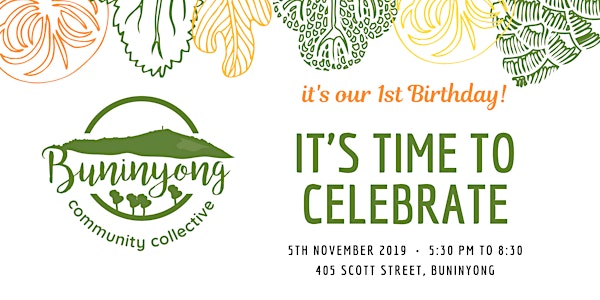 Buninyong Collective 1st Birthday!
Location
405 Scott St
405 Scott Street
Buninyong, VIC 3357
Australia
Celebrating our 1st Birthday with a pot luck get together - bring something to share.
About this event
5th November 2019
Come along for an enjoyable evening get together - a Pot Luck Dinner.
We will have tables and chairs, bring your food to share and picnic sets.
No alcohol please.
As all the food eaten is provided by fellow guests, food allergy sufferers are responsible for the food they choose to eat.
31st October 2019
The anniversary of the Buninyong Community Collective!
HISTORY
August 2018 - A group of sustainably minded people (including Boomerang Bags Buninyong volunteers, Buninyong Sustainability, and BREAZE people) discussed the possibility of a collective or co-op, with Hayley Quach (who had run a private business selling local, organic wholefoods) we set up a "Pledge" form (See below) to see how much interest there was in taking part.
September 2018- The pledge was put together, with an invitation to a "Start up" meeting on Sunday the 9th of September, at 1pm. Initially, 51 people responded and about 25 people made it to the first meeting.
October 2018 - Venue organised, Paul Duggan takes on the Purchasing Officer role, and first stock ordered, first members signed on, shelves and tubs organised, food handling certificate organised, stock collected.
March 2019 - 50 members signed up, an active collective, product list increasing. Successful grant to buy more food grade storage and shelving.