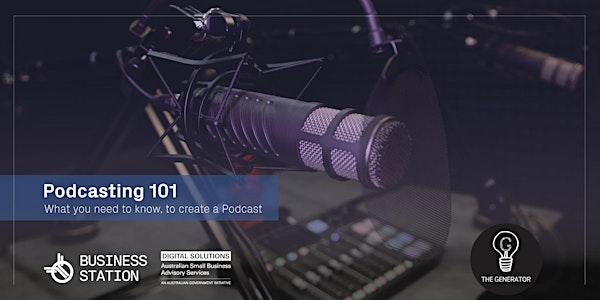 Bundaberg - Podcasting 101 – How to start a Podcast by Jarryd [FW]
Sales Have Ended
Registrations are closed
Thank you for your registration to our ASBAS Digital Solutions Event.
Event Information
Location
The Generator
155A Bourbong Street
Bundaberg, QLD 4670
Australia
Sales Have Ended
Registrations are closed
Thank you for your registration to our ASBAS Digital Solutions Event.
Podcasting 101 - What you need to know, to start a Podcast
About this event
PLEASE NOTE: To register for this event you must be a business (0-19 employees)  and provide your ABN. 
Level : Beginner
Date/Time:
Thursday 27 January 2022
QLD: 12:30 PM to 02:30 PM (AEST)
If you are considering creating a Podcast, then this workshop is for you....
In this interactive workshop we will step through the elements required to create a Podcast, but not just recording and getting onto Spotify, all the other little bits and pieces that need to be done that you might not be aware of.
Throughout the Workshop we will help you answer these questions and cover the right topics to get you started on your Podcast journey;
What is a Podcast
Podcast types
Why are Podcasts popular
Why create a Podcast
Is it easy to Podcast
How can you monetise a Podcast
Where do I start
We will also provide you with our 18 Step Podcast Checklist, to help get you started.
This Workshop is proudly supported by The Generator
This workshop is brought to you by Business Station and AusIndustry under the Digital Solutions Program supported by The Generator.
ABOUT PRESENTER
Jarryd lives and breathes business, innovation and entrepreneurship. Having created and launched several businesses, Jarryd has experienced the highs and lows of the business world and armed himself with the knowledge to support it.
Over the past few decades, Jarryd has immersed himself into various industries and environments to build knowledge and experience to support others.
A leader and activist for community development and eco-system building, Jarryd is passionate about supporting the growth of entrepreneurs, innovators and business owners throughout regional Qld.
Together with multiple degrees in Business, Marketing, Graphic & Web Design and trade qualifications as a diesel mechanic, Jarryd's firsthand experience and deep understanding of the business world and innovation positions him as an insightful and inspiring advisor.
About Digital Solutions - Australian Small Business Advisory Services
Digital Solutions is one of the most generously supported digital transformation programs for small business by the Commonwealth Government. This iteration of the program has been run by Business Station in QLD, WA and NT for three years and has had a significant positive impact on the small business community.
This event will give you the chance to learn about the details of the program, what's on offer and who can access the free or highly subsidised support, training and resources! Perhaps you will find them beneficial for yourselves, your network or your clients.
To better understand what's on offer, we will encourage each attendee to register themselves to the program before the event, or otherwise by attending this workshop, you will be registered.
Important – Participating businesses must be aware that this information will be provided to the Commonwealth Department of Industry, Science, Energy and Resources for program evaluation and reporting purposes; and businesses may be approached by a representative from the Department to complete a survey on the services provided.
Date and time
Location
The Generator
155A Bourbong Street
Bundaberg, QLD 4670
Australia