In just 90 minutes, learn how to tackle unexpected challenges, seize new opportunities and take care of yourself when the going gets tough.
About this event
If you feel like you're struggling right now, you're not alone. With major cities like Sydney and Melbourne in lockdown and business and holiday plans being thrown into disarray, it would be unusual if you weren't feeling a little out of sorts right now.
Join us for a special lunchtime webinar on personal and business resilience and discover what you can do to stay focused in times of change, identify and address challenges coming your way and seize opportunities that may be available to you.
Thanks to our sponsor CGU, this workshop is complimentary and at no cost to you.
What we will cover in this webinar:
Personal resilience – What you can do to stay calm, positive and resourceful in the face of adversity
Responding to change and loss in a productive way
The truth about "positive thinking" (and why it's not always what it's cracked up to be!)
Staying true to your values – how to keep yourself in good order
Introduction to emotional intelligence – mastering your emotional state
Mental health spectrum and symptoms
Keeping your business operating through it all
Q&A for attendees
This is one webinar you do not want to miss.
Book today. Spots are limited.
Who this webinar is for:
Business owners and employees that would like to improve their personal and business resilience.
About the presenters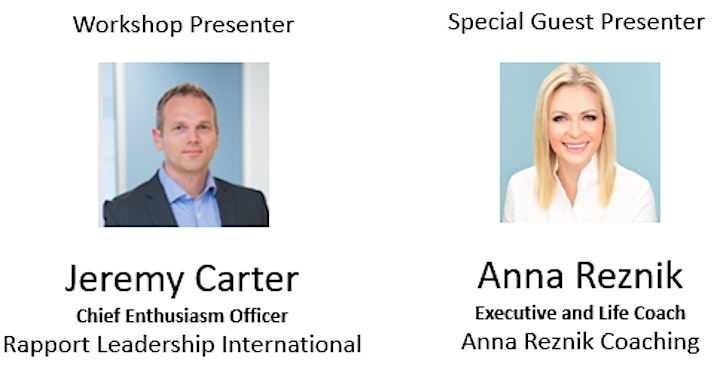 Jeremy Carter is the CEO of Rapport Leadership International in Australia. Jeremy started his career as a computer engineer and worked his way up to being the Oceania Managing Director of international technology company, National Instruments. In the subsequent two years, he increased revenue by 62% without increasing headcount.
Since leaving the corporate world, he has worked for fourteen years as a leading business and executive coach, winning numerous awards and recognition for both himself and his clients, including finalist for Outstanding Business Leader at the 2019 & 2020 Western Sydney Awards for Business Excellence.
Special guest presenter
Anna Reznik is an evidence-based coaching practitioner in Sydney and works amongst executives and corporate professionals going through career transition or experiencing life-changing events. Through her own personal challenges Anna has learned to bounce back stronger and wiser, and she is now helping her clients to expand their knowledge, possibilities, skills, and self-insight to enable them to reach their desired goals and go through career and life transformations successfully.
Anna has qualifications in counselling, coaching and psychology, holding a Bachelors' degree (Honours) in Psychology, and a Masters' Degree in Coaching Psychology at the University of Sydney.
Other information
The Business Success Program is a series of business education workshops for small businesses and community groups in the greater Blacktown area, and is an initiative of Blacktown City Council in partnership with CGU Insurance and Rapport Leadership International.
For further information about this event, send email to: info@rapportleadership.com.au.
We look forward to meeting you and being of service.
Organiser of Building Personal & Business Resilience
Blacktown City is home to over 23,000 businesses that provide over 138,500 jobs to the residents of Western Sydney. The largest proportion of this employment is in retail, followed by transport and logistics, construction, manufacturing, health and community services and then education.
Blacktown also has an increasingly skilled workforce, with relatively lower rates of unemployment than at previous times. As a home to over 366,000 residents and a strong higher education presence, Blacktown is continuing to grow and compete internationally.
Blacktown City Council Economic Development department is here to support and serve our local business community.