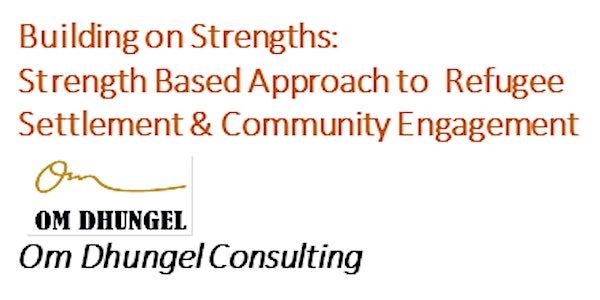 Building on Strengths: Strength Based Approach to Refugee Settlement & Comm...
Description
About the training
Organisations operating in the settlement sector and more generally in human service delivery are not only looking at meeting immediate needs but are exploring ways to achieve better outcomes and increase the impact of their work. Strength-based approach - tapping into the skills and assets of people such as newly arrived refugees and migrants is one way to achieve this.
Be it in areas of refugee settlement or other human services design and delivery, this 2-day training will assist participants to develop a clear understanding of the guiding principles and successful settlement factors that underpins community consultation and engagement as well as service development and delivery. You will be able to incorporate a strength-based approach and learn practical strategies that you can apply in your day to day work and help sustain positive outcomes in service delivery in the long term. It is underpinned by Asset Based Community Development (ABCD) Principles and collaborative Community Engagement.
Supported by theory and practical models demonstrated through Om's cross-sectoral professional expertise as well as rich lived experience and international research, key topics include:
Self-Awareness: Building Inside-out; Principles of

Personal Vision and Personal Leadership

Refugee Settlement: Guiding Principles;

Maslow's Hierarchy of Needs Applied to Refugee Settlement

Five Steps to Successful

Settlement

; Internal (Mental) and External (Physical) factors

Asset Based Community Development (ABCD) Principles; Asset Mapping;

Appreciative Inquiry

Community Engagement: Role of Service Providers, C

reating Space for Resident Action and Engagement; Role

of community organisations, Community Leadership.
Organiser of Building on Strengths: Strength Based Approach to Refugee Settlement & Community Engagement Training
Om Dhungel, JP, FAICD, MBA, B.Sc. Engg.
Om Dhungel combines his professional expertise and rich lived experience together with his cross-sectoral and cross-disciplinary experience to help shift thinking and create the momentum for change. Om is a consultant, trainer and a mentor as well as a practitioner of Strength-Based Approach to refugee settlement and community engagement. Om is passionate about helping individuals and organisations in exploring and unleashing their full potential. His lived refugee experience and active leadership in the community as well as with service providers puts him in a unique position to assist those involved in human service design and delivery including refugee support work and maximise the impact. Driven by a passion to empower individuals and communities, Om operates on a Fifty:Fifty model, committing fifty percent of his time in paid work to support the other fifty percent in volunteering focused on creating champions in the wider community. Further info: www.omdhungel.com.