Description

AlphaSys, along with our partners, Salesforce, MapAnything and GHO would like to invite you to an exclusive networking and breakfast event specifically for Associations and Membership Organisations, focussed on member engagement, retention and value.

Who should attend: CEOs, COOs, General Managers, Membership Manager, CTOs.

Associations are faced with numerous challenges to maintain relevance and prove value to their members. Loyalty is no longer guaranteed. How do you put your members needs in the centre of your strategic plans? What technologies and systems are available to you to drive digital transformation?
What to expect:
Hear from industry insiders how the changes in consumer expectations and behaviour are re-shaping the association space.

Q&A with those who are on the digital transformation journey - the challenges, opportunities, costs and the lessons learnt.

Practical demonstrations of the tools and methods associations can use to improve retention, increase engagement, gather feedback, improve efficiency, develop new revenue streams, and ensure you serve your members well.
Details:
Thursday 15th November, 2018: 8:00am – 10:00am
Hilton, Sydney
488 George St, Sydney NSW 2000
8:00 – 8:30am
Network, registration + breakfast
8:30 – 8:35am
Introductions
8:35 – 8:50am
Industry overview: What consumer behaviour is behind the 'loyalty crisis' brands are experiencing? How is it affecting what members expect from their associations and peak bodies? – James Legge. Executive Strategy Director GHO.
8:50 – 9:10am
Fireside Chat: Deb Bowden, Chief Operating Officer, Pharmaceutical Society of Australia, on their journey so far.
9:10 – 9:25am
A day in the life of a member-centric organisation -
 Solution Demonstration
9:25 – 9:45am
Panel Q&A – PSA, GHO, AlphaSys, MapAnything
9:45 – 10:00am
Coffee and networking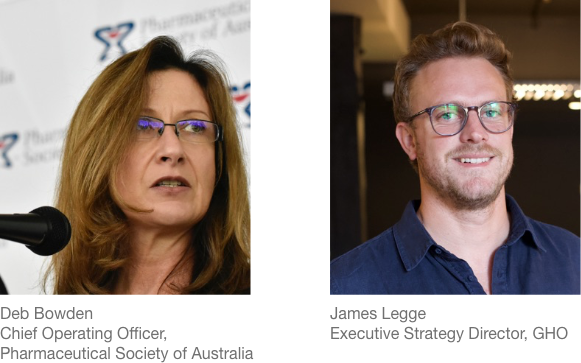 For Privacy Policy details see here.