Learn the 5 key areas for business resilience that will help you to survive and thrive when the going gets tough.
About this event
SPECIAL ANNOUNCEMENT:
Missed out on booking for this workshop? Great News! Based on feedback we will be running this workshop as a lunchtime webinar. Stay tuned for details. Secure your FREE waitlist ticket now so you're among the first invited to book.
If you're in business, you need to be ready to face unexpected challenges. Understanding the 5 key areas of business resilience will give you a greater sense of control and help you to push through when the going gets tough.
At the Building Business Resilience in Challenging Times workshop, you'll learn proven strategies that will help you manage your business continuity, financial health and viability, personal resilience, information security and legal compliance.
What you will learn at this workshop
Financial health and viability – How to ensure your business remains solvent, liquid, profitable and efficient
Personal resilience – What you can do to stay calm, positive and resourceful in the face of adversity
Information security – How to help protect your business from data breaches, hacking and employee data theft
Legal compliance – Minimising your risks by having the right legal agreements in place
Business continuity management – Identify the potential threats and risks to your organisation and the possible impacts to your business operations
This is a workshop you won't want to miss.
Book today, limited spaces.
Please note: If language is a barrier for you getting the most out of this event and you would like to bring along your own interpreter or translator, please send an email to info@rapportleadership.com.au to find out how to arrange a ticket for them. Tickets for interpreters and translators are offered free of charge when coming along with a paying attendee but are subject to seat availability so please do contact us as soon as possible. (Interpreters and translators will not be allowed to attend without a pre-arranged ticket.)
Who this workshop is for
Business owners and employees that would like to improve their business and personal resilience.
About the presenters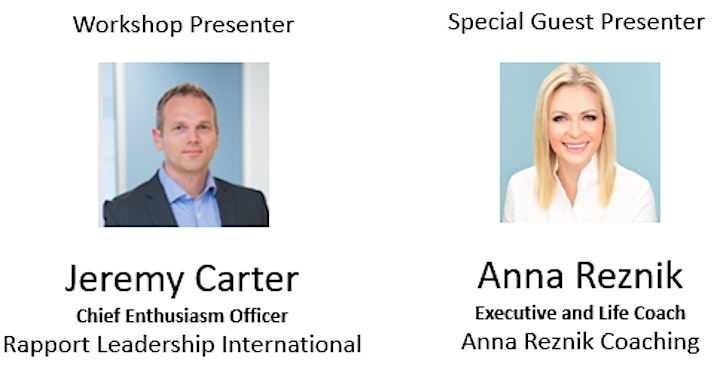 Jeremy Carter is the CEO of Rapport Leadership International in Australia. Jeremy started his career as a computer engineer and worked his way up to being the Oceania Managing Director of international technology company, National Instruments. In the subsequent two years, he increased revenue by 62% without increasing headcount.
Since leaving the corporate world, he has worked for fourteen years as a leading business and executive coach, winning numerous awards and recognition for both himself and his clients, including finalist for Outstanding Business Leader at the 2019 & 2020 Western Sydney Awards for Business Excellence.
Special guest presenter
Anna Reznik is an evidence-based coaching practitioner in Sydney and works amongst executives and corporate professionals going through career transition or experiencing life-changing events. Through her own personal challenges Anna has learned to bounce back stronger and wiser, and she is now helping her clients to expand their knowledge, possibilities, skills, and self-insight to enable them to reach their desired goals and go through career and life transformations successfully.
Anna has qualifications in counselling, coaching and psychology, holding a Bachelors' degree (Honours) in Psychology, and a Masters' Degree in Coaching Psychology at the University of Sydney.
Other information
The Business Success Program is a series of business education workshops for small businesses and community groups in the greater Blacktown area, and is an initiative of Blacktown City Council in partnership with CGU Insurance and Rapport Leadership International.
For further information about this event, send email to: info@rapportleadership.com.au.
We look forward to meeting you and being of service.
Please note: The delivery of this workshop as an in-person event and attendance numbers are subject to any COVID-19 regulation changes.