Description
Build an Australian Stingless Bee Box (Hive)

1 day for construction – 21st October 2018 + ½ day – 4th or 10th November 2018 for propagation of the colony.
This is an exciting two-part workshop:
Part 1 = learn about the life of the stingless bees, construct your box and propagate the colony in 2018 – Cost = $545 see the breakdown of the cost below, as well as payment details.

Possible Part 2 = a year later, you will have the opportunity to register for a workshop featuring harvesting the stingless bee honey in 2019 – cost to be announced.

Overview
Over the day and a half workshop, Bob Luttrell (Bob the Beeman) will take you on a journey of building your own Australian Stingless Bee box. You will not only build a home for your bees, but will also learn how to propagate the new colony into your hive and manage your bees so they are as healthy and happy as possible.
You will leave this workshop with a fully built and functional Australian Stingless Bee box, and a great deal of knowledge about how to look after your Australian Stingless bees. Important to note: 'nature' works at its own pace and whilst Bob will guarantee and support the viability of your colony for its first year, he will only release your hive to you when he considers it to be viable, usually six to eight weeks after the propagation.
You will learn all you need to manage and sustain your own Australian Stingless Bees including:
Day 1:
An education session on Australian Stingless Bees, their life style, what they need in terms of housing and where they need to be located
Step-by-step tuition on how to build an Australian Native Bee box
Working in pairs, you will each build your own box over the course of the day - meaning that each participant will have a hive to take home
All materials will be provided
The ½ day – the group of participants will be divided, so half will attend on the first ½ day and the other half on the second ½ day:
You will learn about maintaining an Australian Native Bee colony
You will learn how to 'seed' the new hive by working with Bob to propagate your colony from a donor colony
Your hive will be complete with a colony of Australian Stingless Bees. Attention: Please see the note above, to ensure the viability of the colony, Bob will care for it for the first 6 weeks to 2 months before releasing it to you.
Is this Workshop for you?
If you have seen these tiny bees in your garden already, and want to take your observations to the next level or you are just keen to venture into Australian Stingless Bee keeping, then this workshop is for you!
The knowledge you will take away . . .
In addition to taking away your own constructed Australian Stingless Bee Box that is populated with a colony, you will also understand how to care for them. You will know how to develop your Australian Stingless Bee population in the future through building more hives and propagating your current colonies.
In addition, you will meet a lot of other people interested in Australian Stingless Bee Keeping! You may choose to stay in touch with some of the other participants as a part of your Australian Stingless Bee Keeping journey.
Presenter
Bob Luttrell – Bob the Bee Man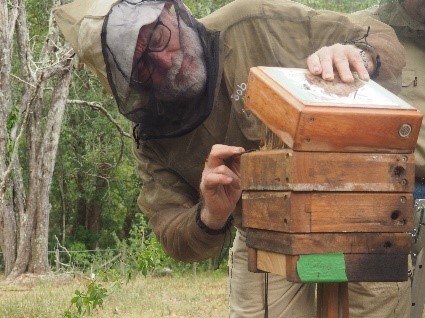 Bob the Bee Man has been a local to the Samford Valley for more than 10 years. He is a long time passionate beekeeper and describes himself as meliponiculturalist (one who raises bees), and inventor. Bob is generous with his time and knowledge, and has another passion – sharing his observations and discoveries.
Bob offers rescue services for Australian Stingless Bees that have been disturbed through trees being removed or damaged. He is passionate about rescuing and relocating these little native treasures as well as educating people about how to preserve them.
Bob has reviewed almost all literature available on Australian Stingless Bees, has attended many workshops, even internationally, and is a well-known member of the unheralded stingless beekeepers looking for ways to preserve and promote these critters. Bob's activities include boxing colonies to investigate what is needed for the domestication of these bees as well as the production of honey and researching optimum box designs.
Bob is full of dreams, that is what spurs his urge to continually observe, ponder and invent, using both low technology and high technology!! A major dream of his is to put stingless bees beside the European Honey Bee, as the true Australian honey bee, and give the quality pot honey that they produce, the recognition that it deserves. He is continually raising awareness and understanding of the life and needs of these fascinating bees.
Venue
This workshop will be held at a private residence. The address for the workshop will be provided following registration.
Inclusions
All materials to construct your Australian Stingless Bee box
An active colony of bees in your hive
Morning and afternoon teas on Day 1
Morning tea on Day 2
Lunch
Workshop Notes
What you need to bring:
A cordless drill
Hat
Sunscreen
Picnic Lunch / water bottle on Day 1
Water bottle on Day 2
Paper/pen if you are an avid note taker!
Workshop Cost and Bookings:
$545 per person, which covers:
the workshop registration = $200 – to be paid here at Eventbrite
plus materials / bee colony = $345 – to be paid direct to Millen Farm. Participants will be asked to pay the materials fee via direct deposit to Millen Farm. Participants will be emailed Millen Farm bank details after their ticket has been purchased).

**Please note, your place will only be secure when the full amount $545 has been paid**
FAQ
Do I have to bring my printed ticket to the event?
Yes, please bring along your printed ticket.
What is the refund policy?
Sometimes circumstances change and we understand that occasionally you may not be able to attend a workshop you have paid for, so unless other information has been specified on the individual workshop page and as long as we're notified 7 days before the workshop starts, your options are:
to receive a full refund of your course fee if we can find someone to take your place from our waitlist

to transfer your amount paid toward any future course

to transfer your ticket to a friend or relative
What does the waitlist do?
If the workshop sells out you can add your details to the event waitlist. In the event of a cancellation, we will look at our waitlist for the next in line. We will also use this to notify you of when/if this workshop will be held again, so please register your interest in advance.
How can I contact the organiser with further questions?
Need more information or have addition questions about the workshop? Please contact our Workshop Facilitator, Libby, at workshops@millenfarm.org.