Budget & Economic Update by David Plank - Head of Australian Economics ANZ
SIPBN Inc. Presents: Budget and Economic Update. By David Plank (Head of Australian Economics - ANZ Bank)
About this event
Sydney Investors, Professionals and Business Networking Group (SIPBN Inc.) proudly invites you to our Budget and Economic Update Event (by David Plank, Head of Australian Economics - ANZ Bank).
Also, hear from Australian of the Year 2020, Dr James Muecke, and network with Sydney's top business investors and professionals.
Our Key Speakers:
David Plank - Head of Australian Economics for ANZ
David is head of the Australian Economics team for ANZ. This group takes responsibility for forming ANZ's view on the outlook for the Australian economy and advising clients of such. David also has responsibility for the Australian fixed income strategy team.
Prior to joining ANZ, David was head of Deutsche Bank's Australia/NZ macro research and strategy for more than ten years. For the last five of these years he was also head of Fixed Income and Credit Research for the Asia-Pacific region.
David has worked for the New Zealand Treasury, in funds management, was Chief Economist for Bankers Trust New Zealand in the mid-90s and has degrees in economics from the University of Canterbury and University of California, Los Angeles.
Dr James Muecke - Australian of the Year 2020
Dr James Muecke AM is an Adelaide-based ophthalmologist. He graduated with Honors from Adelaide University Medical School in 1988. Following his internship, James lived and worked as a volunteer doctor in Kenya in 1989. After completing ophthalmology training in Adelaide in 1995, James worked as an eye surgeon in Jerusalem for 12 months. He undertook subspecialty training in eye cancer in London and then returned to Adelaide in 1998, where he has been a Visiting Consultant and Senior Lecturer at Royal Adelaide and Women's & Children's Hospitals.
James has taught the diagnosis and management of eye cancer in ten countries in Asia. He founded not-for-profit organization Sight For All in 2008, turning his boundless energy into a fight against blindness in the Aboriginal and mainstream communities of Australia and some of the poorest countries of the world. Sight For All's comprehensive and sustainable projects are now impacting on the lives of over one million people each year.
His commitment to social impact and humanitarian endeavors has earnt him a number of awards including an Order of Australia in 2012, the Australian Medical Association's President's Leadership Award in 2013, and Ernst & Young's Social Entrepreneur for Australia in 2015.
James is Australian of the Year for 2020 for his 32 years of humanitarian work. He is using this powerful platform to raise awareness of our poor diet, laden with sugar, which is devastating the health of Australians.
Raman Bhalla - RSB Hexagon Partner
Raman Bhalla is President and Chief Executive Officer of Sydney Investors, Professionals and Business Networking Group Incorporated (SIPBN). Raman is a partner of RSB Hexagon which provides end-to-end services in business advisory, accounting, tax, financing, real estate investments and wealth management. Raman is the founding principal of Proactive CFOs and Business Advisors which is a specialist provider of resident director services, capital raising, mergers and acquisitions and joint ventures advisory services.
Previously, Raman worked with several Australian and Global investment banks in senior executive management roles. Raman is a Chartered Accountant, FCPA, CIMA and holds a Bachelor of Commerce degree. Raman is hugely passionate about building businesses and facilitating international trade, business, and investment. His extensive international business, professional and political networks include Australia, the US, India, Israel, Hong Kong and China.
Raman acts as Non-Executive Director and Company Secretary for ASX listed entities, start- up enterprises, private companies and not-for-profit organisations and adds significant value for stakeholders. His hobbies include community work, politics, golf, cricket, travelling and reading.
Dean Kilby - Simplr Health Founder
Educated in biochemistry and microbiology, Dean graduated with first class honours in biotechnology and undertook subsequent post-graduate training in molecular medicine. His scientific and clinical experience has since spanned the pharmaceutical industry, medical communication, and scientific consulting from metabolic disease to regenerative medicine – both in Australia and internationally.
Further to this Dean has extensive experience in transformational performance coaching and has been a leading trainer across the ANZ region for almost 15 years. He founded Simplr Health with a commitment to contribute the possibility of being well to big people with big lives.
About SIPBN Inc.:
Sydney Investors, Professionals and Business Networking Group (SIPBN Inc) is a not for profit organisation which provides a premium platform to connect business, markets, capital and projects with investors, opportunity, and information at one place through our global contacts in the investor community, business, trade missions and government departments. Our focus is to facilitate international investment to and from Australia particularly Western Sydney.
Our members include business owners, CEOs, professionals, investors and entrepreneurs from different business sectors including not for profit organisations.
For more information on SIPBN Inc. and how to become a member please visit: www.sipbn.com.au
The event will proceed in full compliance with NSW Health Department's COVID rules and regulations.
Due to COVID restrictions the tickets are limited, book yours today.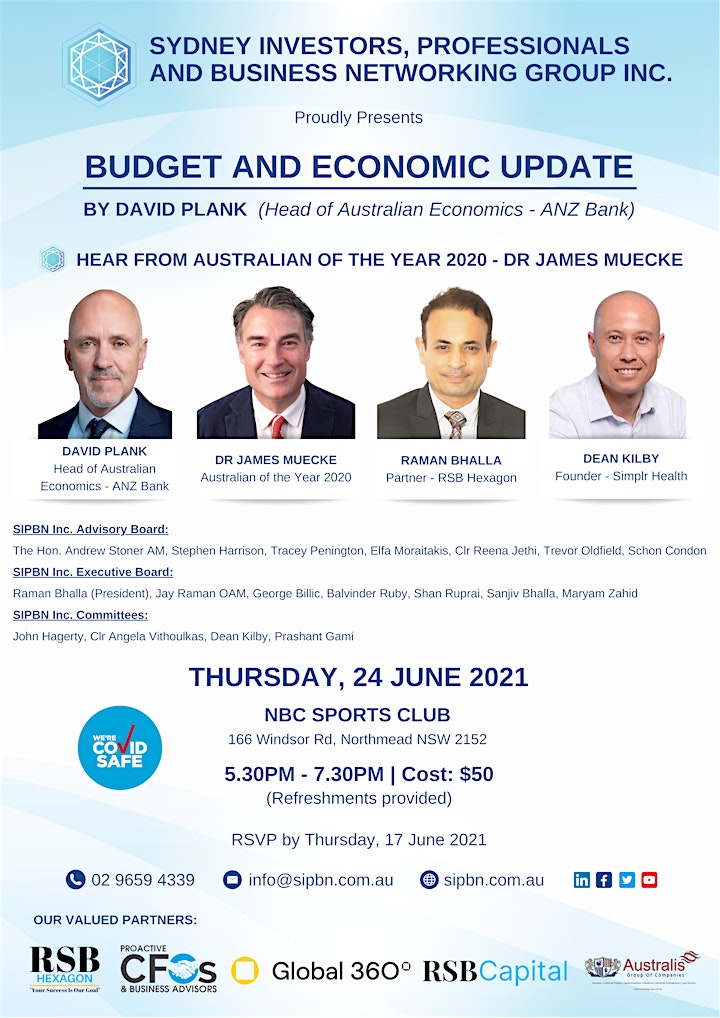 Organiser of Budget & Economic Update by David Plank - Head of Australian Economics ANZ