Description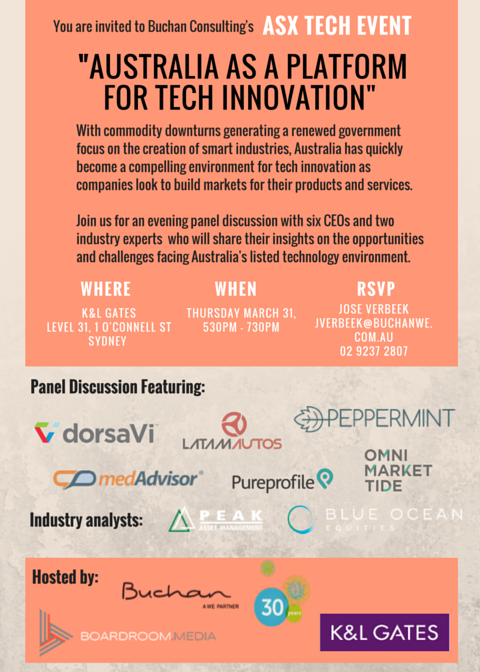 AUSTRALIA AS A PLATFORM FOR TECH INNOVATION
2016 will go down as the year the unicorn went back to being a mythical beast. But is the unicorn era over for startups? Or is this a necessary and healthy correction that will create new opportunities for the market and innovation?
Buchan Consulting is excited to host an evening panel discussion featuring six ASX technology CEOs, and two industry experts, who will share their insights on the opportunities and challenges facing Australia's listed technology environment.
Please find an overview of the panellists below.

Company CEOs:
Timothy Handley, Founder, LatAm Autos (ASX:LAA) – is a leading dedicated online auto classifieds and content platform with operations in six countries in Latin America – Mexico, Argentina, Ecuador, Peru, Panama and Bolivia.
Andrew Ronchi, Chief Executive Officer, dorsaVi (ASX:DVL) – is focused on developing revolutionary wearable technology for use in elite sports, occupational health and safety, and clinical applications. This wireless technology is designed to accurately and objectively measure and analyze the way in which people move.
Paul Chan, Founder and Chief Executive Officer, Pureprofile (ASX:PPL) – is a data insights and programmatic media company. It sits at the heart of where programmatic media, big data and quantitative research converge, providing unique consumer insights and technology to connect brands to their potential customers more effectively.
Robert Read, Chief Executive Officer, MedAdvisor (ASX:MDR) – an Australian software systems developer focused on improving health outcomes by placing patients at the centre of connected health platforms.
Megan Boston, Chief Executive Officer, Omni Market Tide Ltd (ASX:OMT) – has the only stakeholder engagement app in Australasia designed to enhance the interconnectivity between companies and stakeholders, allowing push communications, web streaming, and direct voting, among other features. 
Christopher Kain, Chief Executive Officer, Peppermint Innovation (ASX:PIL) - an Australian company that operates an established mobile phone based banking, payments and remittance platform in the Philippines.
Industry analysts:
Gregg Taylor, Senior Analyst, Blue Ocean Equities – Blue Ocean Equities is an independent and Australian owned full service advisory and securities and equities dealing firm. Gregg is responsible for research, and capital markets services for ASX listed companies, with a specialisation in technology related sectors.
Niv Dagan, Executive Director, PEAK Asset Management – PEAK Asset Management is a boutique funds management and corporate advisory firm. Niv's focus includes portfolio management and developing tailored strategies for the firm's client base with an active interest in the technology sector.
As space is limited, please RSVP by Friday March 11. There is no cost to attend
We look forward to seeing you at the event.
With regards,

Buchan