Explore brush and mark making online
About this event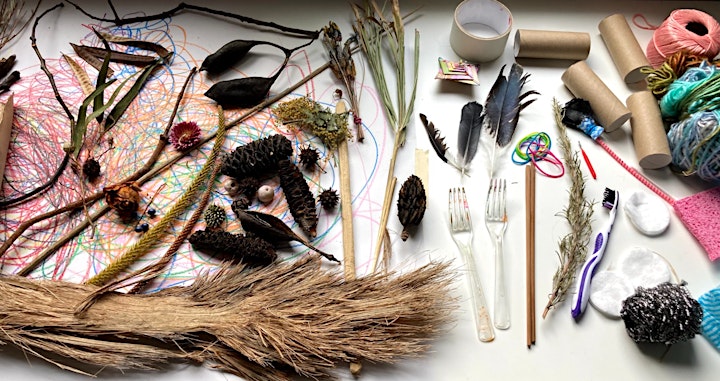 Welcome to your time and space to play with brush and mark making.
This is a hands-on, playful and messy workshop! We will focus on exploring different ways of making marks and fashion together with some makeshift brushes. Some of these brushes will only be temporary but some you might integrate into your tool kit.
This is time for YOU to invite PLAY and curiosity and wander outside the box of traditional art making tools and create your own unique marks. This is a FUN workshop, so if you are in need of some levity and creative liberation -- this is the workshop for you. The session focuses on intuitive mark making; no art experience is required.
💜 Sign up to Mark and Movement mailing list to stay in the loop 💜
*Event is listed in Sydney, Australian timezone (AEST). Please use a timezone converter if the listing does not automatically do it for you.
Cost: by donation: Minimum $5 - Maximum $30.
Duration: 150 minutes (2.5 hours)
Maximum 8 participants.
Please note this event is for ages 18+. Please make sure you read the Personal Risk Disclaimer carefully before signing up.
Session schedule:
1. Welcome and group introductions.
2. Let's make some brushes! I'll guide you in crafting a basic brush head out of yarn/wool or string and attach it to a "brush handle." We will also use this time to chat about what treasures group attendees have collected together.
Mini break (5 mins)
3. Let's make some marks! First, I'll guide you through a gentle movement meditation and we'll move into making marks. I will stream some music and offer some gentle prompts to help you access your creative flow.
4. Quick group share and close of workshop.
*This is super fun & interactive workshop; come ready to share and chat about your collected brush & mark making items and creative discoveries.
Technical stuff:
This workshop is run online via zoom. Download zoom here: https://zoom.us/download
A space/room where you will not be interrupted, have headphones nearby in case you have a noisy background environment.
Ideally a camera set up where your creative space can be seen by facilitator and participants.
Art Supplies for this workshop:
Ink (ideally water based/acrylic)
Large sheets of art or craft paper to be laid on the ground or adhered to the wall, floor or desk.
Acrylic or watercolour paint
Homemade dyes made from spices (tumeric, paprika, cinnamon etc) or frozen/fresh berries, soy sauce, brewed coffee. Check out this video I've made to help inspire your creativity Using natural dyes as ink
Scissors
Rubber bands
Jars or large containers (takeout containers, serving bowls) to decant ink/paint into and water to either dilute or wash brushes as you go. Remember the bigger your brush head the bigger the bowl you will need.
Brush Handles:
Sticks (especially wonky ones!), bamboo, curtain rod, chopsticks, pencils; anything you think could be transformed into a brush handle.
Brush heads:
Feathers, wool/yarn, string, natural/kitchen sponges, grasses, reeds, palm, ferns and bunches of leaves. I recommend you go for a walk in your neighbourhood (if you can) with some scissors and a bag and collect some things from nature that look interesting.
*Please be mindful not to take more than you need from nature; ideally take only what you need, things that are plentiful or nature that has already been 'let go' by the earth.
Check in your kitchen/bathroom cupboard and recycling bin for:
Used toilet/paper towel rolls (these can be transformed to make AMAZING mark making tools), scouring pads, sponges, tooth brushes, forks, plastic straws, fruit & veggies offcuts/scraps etc.
NOTE: The more diversity of items you have the more opportunity you have to discover and play new ways to make marks. AND you don't need all of these items, sometimes less is more!
Setting up your mark making space:
Ideally large art paper, packaging/craft paper or cardboard boxes repurposed into a canvas or a selection of smaller sheets of paper. You will find that you fill up your paper very quickly as we play with making marks, so it's a good idea to have a selection of paper to switch out as you go. Also try out different types of paper/cardboard. Rummage through your recycling bin!
Plastic sheeting or drop sheet to protect your floor/wall space.
Ideally a cleared wall/floor /desk space where you can set up.
Masking tape or painters tape to secure paper/cardboard to the wall/floor/desk.
Cleaning supplies - for tidying up afterwards, in particular a bucket/tube of soapy warm water with a sponge or chux (Yes! You will get "messy.") If you are using acrylic/waterbased mediums is easy enough to clean. Please be mindful if you use permanent ink....it's permanent.
Video Resources:
Items from around the house you can use to make brushes/marks with.
About Mark and Movement Workshops
Mark and Movement workshops are about exploring movement and mark making. The objective of these workshops is to open up and reconnect with our bodies, our inventiveness and our sense of play. We will also connect with other people by collaborating with mark making and movement. Privileging the ephemeral qualities of the process of artmaking over the end product, we dive into the process of creativity. This workshop focuses on mindful engagement with art materials and group participants.
Personal Risk Disclaimer
This workshop involves movement. Participants should be aware of their own safety. Participants are fully responsible for safety, management and care of their bodies during the workshop. Please be aware that when we make space and time to check-in with our bodies through creative practices, big emotions and memories that we have suppressed can arrive that we didn't expect. This is not an unusual experience in an art therapy session, however it can be uncomfortable. Part of doing work is to learn to sit with discomfort and move through. Please take care of yourself after these sessions. By signing up to this event you are acknowledging you have read the personal risk disclaimer, understand potential risks and are capable of taking responsibility for your own safety.
All participants must be over the age of 18 years or accompanied by an adult.
This workshop is run by Mary-Helen, Qualified Transpersonal Art Therapist and Counsellor. For more information please visit Mark and Movement wesbite.
Confidentiality
These sessions are not recorded. Please do not record any of the zoom sessions, but you are welcome to record your own creative process if you desire to - just don't film or photograph the zoom session or capture audio of any group sharing.
Cancellation policy:
Cancellations under 24 hours will not be refunded.