Sales Have Ended
Ticket sales have ended
Sorry! This session is sold out. Keep an eye on our Instagram page @brushbar.sydney for the next available session! Thank you for your interest, we hope to see you next time!
Sales Have Ended
Ticket sales have ended
Sorry! This session is sold out. Keep an eye on our Instagram page @brushbar.sydney for the next available session! Thank you for your interest, we hope to see you next time!
Treat yourself to a night of wine, groovy music, immaculate vibes, and paint!
About this event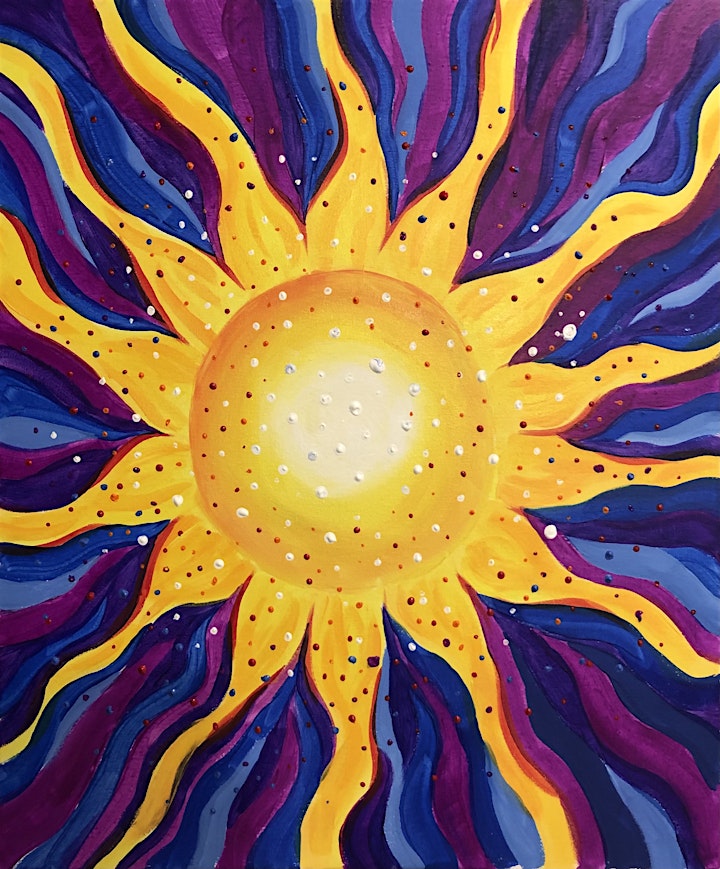 Come down to Brush Bar for a 2.5 hour step-by-step guided session hosted by Sydney's local artist, Natalia Botrous. We will be painting "Psychedelic Sun", an artwork guaranteed to add warmth to your home and keep you going throughout this Aussie winter!
Event details:
Saturday 31st July 2021 - 3:30pm-6pm
$40 pp + ($3.29 Eventbrite booking fee)
BYO only
Terms & Conditions
Bookings can be cancelled for a $20 non-negotiable fee* per transaction up to 48-hours before a scheduled session time. If rescheduling prior to that 48-hour window, a credit of $20 non-negotiable fee* will be applied to a future date. If cancelling or rescheduling within that 48-hour window, refunds will not be permitted.
Cancellation of session by Brush Bar
In the event a public session is cancelled by Brush Bar, the ticket purchaser will be notified via email or text message no later than 24 hours prior to their session scheduled start time. Ticket purchasers will be offered a reschedule to another upcoming session or credited the value of their purchase for future use.
BOOKING CONFIRMATION
Upon purchase, your booking will be submitted to Eventbrite for processing. You will receive a confirmation email describing the date, time, ticket quantity, and cost of your booking. This email confirmation of your order will be taken as proof of your acceptance of the provisions contained in these Terms and Conditions, the Privacy Policy, and the data recorded by Brush Bar on its server shall be treated as legal evidence of the transaction between Brush Bar and the Purchaser.
MINORS
This Website is not intended for individuals under the age of 18. All participants in Brush Bar public events must be 18 and over.
School Holiday, Family Friendly events and private functions are suitable for participants under the age of 18. Any all-age events will be advertised accordingly. Staff running children's events are required to hold a valid Working With Childrens Check or state equivalent.
COPYRIGHT
All artwork, paintings, photos, graphics, text, audio clips, button icons, slogans, trade names and other intellectual property contained on our website, belongs exclusively to Brush Bar. You may not use, reproduce, modify, copy, transmit, display, publish, sell, license, distribute or commercially exploit any of the content or otherwise dispose of any of the content in a way not permitted by us, without our express written consent.
CONDITIONS OF ENTRY TO STUDIO
COVID-19
During the COVID-19 pandemic, Brush Bar is taking all necessary precautions outlined by the state government. Brush Bar reserves the right to refuse entry or ask guests to leave the premises if they do not reasonably follow the below. We ask that guests assist in this by:
Practice social distancing of 1.5m between others
Washing and sanitising hands
Staying home if unwell or showing signs of the virus
Staying home if tested positive or are awaiting test results
Respect other guests and staff
Follow guidance of staff and refrain from speaking over painting instructions, hindering the experience for other guests. Customers must respect the staff and may be refused entry or asked to leave the premises if they do not follow such terms.
Personal belongings:
Brush Bar does not accept responsibility for any losses or damage incurred to personal belongings or clothing. Guests should dress appropriately to the activity.
Respect property of Brush Bar:
Guests should not cause damage to any property owned by Brush Bar.
Alcohol:
A liquor licence is not required to operate a BYO venue (Liquor Act 2007), however Brush Bar takes precautions to operate responsibly in our studio. It is illegal for a person to supply liquor and for a minor to drink liquor in a BYO venue. Brush Bar prohibits underage drinking.
Smoking:
Brush Bar premises are strictly smoke-free and smoking is not permitted under any circumstances.
Safety & Security:
For the safety and security of guests and staff, please note recorded video surveillance and silent alarms may be in use.
Photography
Brush Bar may take promotional photos or videos during a public or private event. Customers have the right to decline to have their images captured and should make this known to the staff members. Customers should also avoid taking photographs and videos of other guests, unless permission is given. No images are to be captured of minors, unless permission is granted by the parent or guardian.
Our Rights – Brush Bar reserves the right to:
Refuse guests' entry to the premises.
Request guests leave the premises without a refund, should they breach any of these conditions of entry.
DISCLAIMER AND LIMITATION OF LIABILITY
The purchaser agrees that the provision of any service, including but not limited to public painting sessions, purchased from the Eventbrite website is at the Purchaser's sole risk. To the full extent permissible by applicable law, Brush Bar will not be liable for any damages of any kind arising from the use of this site, or from any services provided from this website or establishment, including but not limited to direct, indirect, incidental, punitive, and consequential damages. No oral advice or written information given by Brush Bar nor its affiliates, nor any of their officers' directors, employees, agents, providers, or the like, shall create a warranty or legal obligation; nor shall the purchaser rely on any such information or advice.