Broken Bonds and Big Money is an international conference to draw attention to the human rights abuses committed through surrogacy.
About this Event
On 15-16 March, an international conference on surrogacy will be held at RMIT in Melbourne. Broken Bonds and Big Money will draw attention to the human rights abuses committed through surrogacy arrangements against so-called 'surrogate' mothers, egg 'donors' and the children resulting from surrogacy.
Topics covered by speakers from Australia and overseas include: highlighting the parallels between surrogacy and discredited adoption practices, discussing the profit motivation driving the huge cross-border surrogacy trade, the adverse health and psychological outcomes for so-called surrogate mothers and their children, the ethical issues raised by surrogacy, the dangers posed by new reprogenetic technologies such as CRISPR, and local and global strategies for resistance to surrogacy such as joining Stop Surrogacy Now.
A highlight of the conference will be the first Australian screening of the documentary #BigFertility: It's All About the Money and the launch of the book Broken Bonds: Surrogate Mothers Speak Out, published by Spinifex Press. An egg donor and a 'surrogate' mother, whose stories both appear in the book, will be guest speakers at the conference.
Conference organisers FINRRAGE (Australia) and Spinifex Press are supported by sponsors Stop Surrogacy Now, Women's Bioethics Alliance and the Center for Bioethics and Culture.
Friday 15 March 2019 3.00pm - 7.00pm
Saturday 16 March 2019 9.00am - 6.30pm
For more information please email:
promotions@spinifexpress.com.au
__________________________________________________________________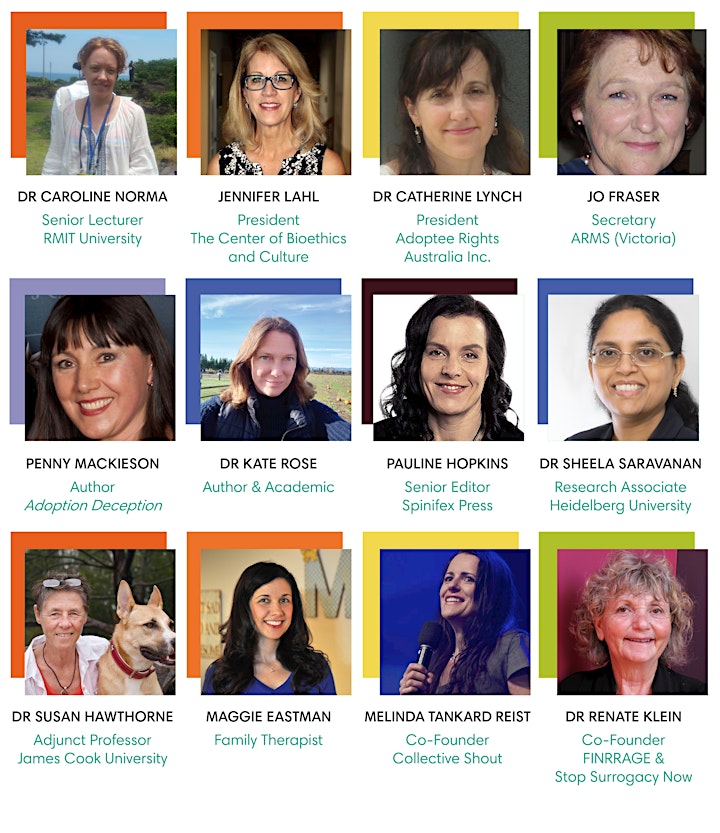 CONFERENCE PROGRAM
Friday, 15 March 2019
3.00 - 3.30 Registration
3.30 - 4.00 Setting the Scene: Conference Opening: Dr Caroline Norma
4.00 - 4.30 Jennifer Lahl on Surrogacy in the USA and the making of #Big Fertility
4.30 - 5.15 Screening of #Big Fertility: It's All about the Money
5.15 - 5.45 Audience discussion
5.45 - 7.00 Launch of Broken Bonds: Surrogate Mothers Speak Out - Launched by Professor S. Caroline Taylor AM
____________________________
Saturday, 16 March 2019
9.00 – 9.30 Registration
ADOPTION AND SURROGACY
9.30 – 9.45 Dr Catherine Lynch: Canvassing Neonatal Experience: Child rights and the intrinsic cruelty of surrogacy
9.45 – 10.00 Jo Fraser: A 'Relinquishing' Mother's Perception of Surrogacy
10.00 – 10.15 Penny Mackieson: An Adoptee's Perspective on Surrogacy
10.15 – 10.45 Discussion (with moderator)
Coffee break
WEASEL WORDS AND OTHER REVERSALS
11.15 –11.30 Associate Professor Kate Rose: Surrogacy Fact and Fiction: From Mary Daly to The Handmaid's Tale.
11.30 – 11.45 Pauline Hopkins: Surrogacy as Surrender: How surrogacy entrenches the myths of womanhood
11.45 – 12.15 Discussion
12.15 – 1.15 Lunch break
INTERNATIONAL PERSPECTIVES
1.15 – 1.30 Dr Sheela Saravanan: Alienated Bonding: Surrogacy in India.
1.30 – 1.45 Dr Susan Hawthorne: How the Charge of Homophobia Is Fuelling Misogyny: The gay lobby vs 'surrogate' mothers and egg 'donors'
1.45 – 2.15 Discussion (with moderator)
AN AUSTRALIAN SURROGATE AND A US EGG DONOR SPEAK OUT
2.30 –3.00 Odette Lees in conversation with her lawyer: Will I Ever See My Son Again?
3.00 –3.30 Maggie Eastman: Groomed for My Eggs: Anonymous no more
3.30 – 4.00 Discussion (with moderator)
4.00 – 4.15 Coffee break
WHAT'S IN STORE FOR THE FUTURE?
4.15 – 4.30 Melinda Tankard Reist: Mother Erasure
4.30 – 4.45 Dr Renate Klein: Women Erasure. The Artificial Womb and CRISPR Eugenics
4.45 – 5.15 Discussion (with moderator)
5.15 – 5.45 Panel: Where do we go from here? Local and global resistance with invited speakers and audience discussion
5.45 – 6.15 Final words by Jennifer Lahl and Launch of Abolition Surrogacy (Australia)
6.30 Close of Conference