Description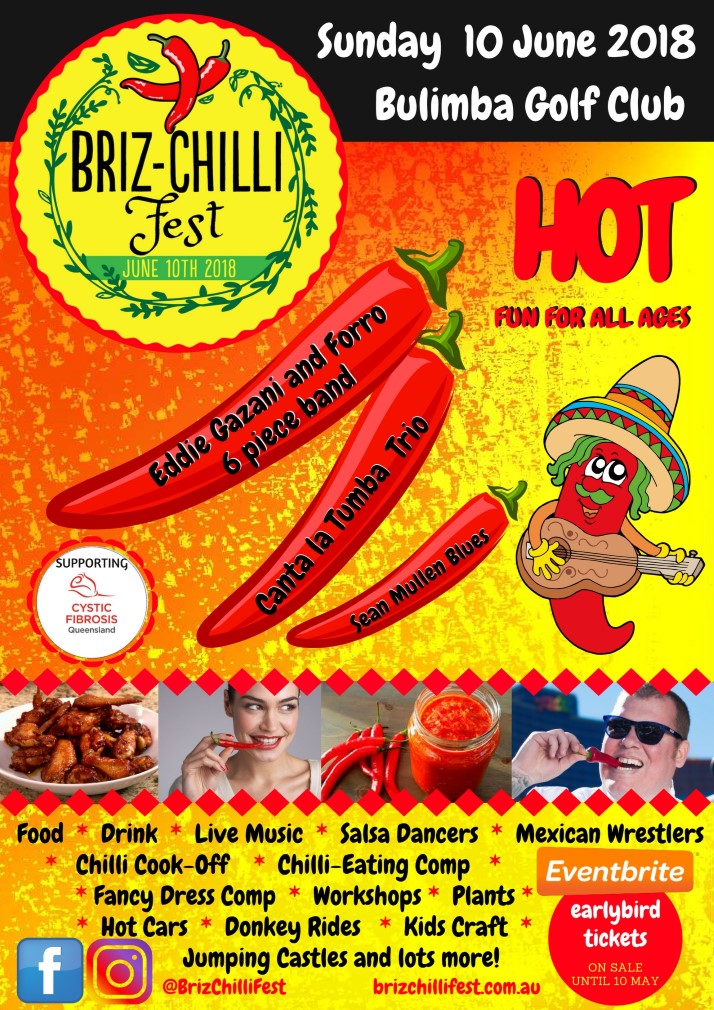 Family-friendly festival in Bulimba. http://www.brizchillifest.com.au
Fun, food, music, masked wrestlers, chilli beer, chilli cocktails, donkeys rides, jumping castles, hot bodies, hot wings, chilli dogs and all things silly......that's on the menu at Brisbane's best chilli festival.
COMPETITIONS:
Live music by two hot bands - Eddie Gazani and Forro (six piece) and Canta la Tumba Trio and Sean Mullen Guitar playing great Louisiana Blues.
Chilli Dog - dress up your four-legged friend and be in the grand parade to win prizes. Brought to you by Bulimba Vet Clinic.
Fancy Dress Comp - adult and child categories
We now have 20 amazing stall-holders coming along to make this a brilliant day of chilli adventure!
Diverse relishes, sauces, pastes, powders, rubs and jerky by Cobra ChilliSteve The Chilli Man 13 Angry Scorpions - Hot sauces Shashemane Exotic Spice Blends and Mallory's Tocino Pork , Chicken & Beef Jerky Snacks.
The victorious team from Australian Extreme Chilli Condiments. will be there to show off their trophies for their winninv range of products too! Rob will also be hosting the Cystic Fibrosis Extreme Chilli Snag Challenge for brave!
Meet the Chilli Chick from Gourmet Outfitters who will also be sharing her chilli fudge.
Jason and his mum from Seatonfire Chilli Chocolate are going to show us just how magical their products are.
laquinta Mexican Bulimba will be selling some delicious food including gluten-free and vegetarian options, and running the laquinta Mexican Bulimba Hot Wings Challenge and Sip & Shout Competition (tequila and chilli shots).
Helping us to use less plastic and be more beautiful the natural way will be Nurture Earth and Brights Natural Beeswax.
Showing us the charm and beauty of upcycling and re-using vintage and retro fabrics to create gorgeous designs for little girls is Kylie from Little Bug Dress Co.. together with hubby Luke Hart who will have a lovely range of organically grown veges from his garden to share with festival-goers.
Learn all about beekeeping with Brisbane Amateur Beekeepers' Society Inc.and solve the mystery of growing without soil as Aqua Gardening shows us how hydroponics works.
Kruse Kreations will keep the kids busy with fun and easy sand art.
Brisbane Pony Parties will be bringing along a gorgeous donkey for the kids to ride.
Kathleen Campbell Hair Design will be on hand with her team to paint your hair and nails chilli red, just for fun!
Philip John Guitar who is swapping his guitar for strawberries and chilli chocolate bark on the day.
Is that enough to excite you?? We are certainly all gearing up for a fabulous day of fun, food and excitement for the whole family.
Grab your early bird tickets before midnight May 10th!