Description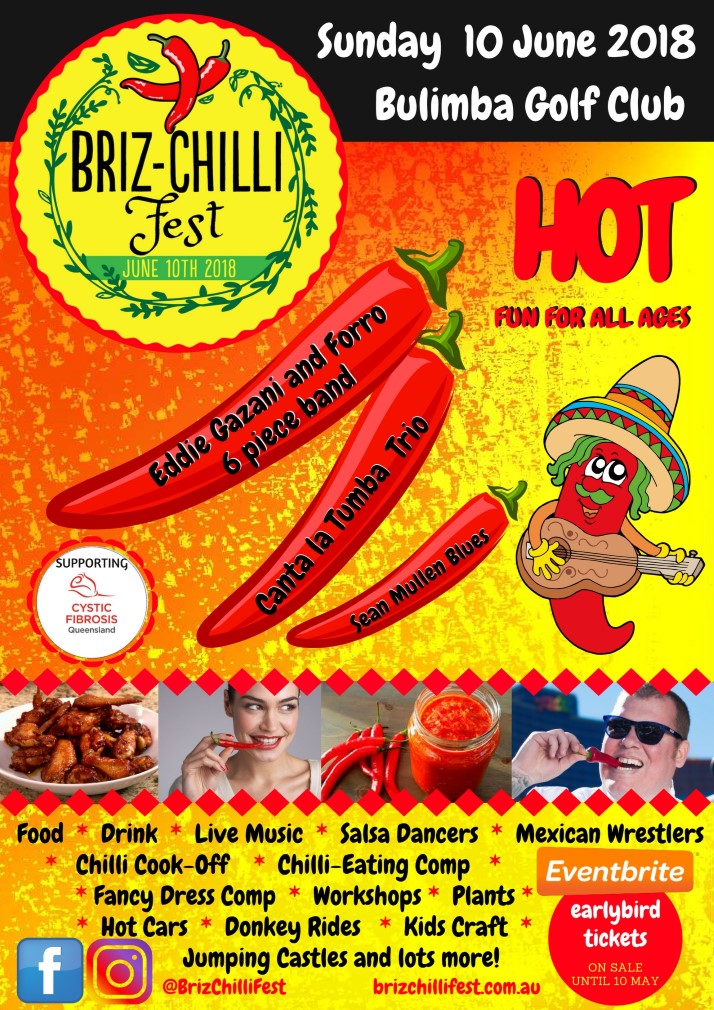 Family-friendly chilli festival in Bulimba. http://www.brizchillifest.com.au
Fun, food, live music, over 30 chilli produce stalls, chilli beer, chilli cocktails, donkeys rides, jumping castles, hot bodies, hot wings, chilli dogs and all things silly......that's on the menu at Brisbane's best chilli festival.
Live music by two hot bands - Eddie Gazani and Forro (six piece) and Canta la Tumba Trio and Sean Mullen Guitar playing great Louisiana Blues.
Meet Noodle the Dachshund - our official Briz Chilli Dog mascot - grab a photo with Noodle for a $2 donation to Cystic Fibrosis.
See the Ignite Broadband Lamborghini - we will be raffling off the chance to get up close and personal with this hottest of hot cars!
Take some pics with some Mexican Wrestlers in costume*
COMPETITIONS:
La Quinta Hot Wings Challenge
Extreme Snag Challenge by Australian Extreme Chilli Condiments - supporting Cystic Fibrosis.
Chilli Dog - dress up your four-legged friend and be in the grand parade to win prizes. Brought to you by Bulimba Vet Clinic.
Fancy Dress Comp - adult and child categories
We now have OVER 30 amazing stall-holders coming along to make this a brilliant day of chilli adventure!
Everything from beekeeping to hydroponic gardening as well as a delicious food court of delicious offerings including Malaysian, Dumplings, Mexican, Australian Fusion, Churros, Burgers, Indian Curries!
For the kids, there will be sand art by Kids Kreative Sand Art, an animal nursery and pony and donkey rides.

Kathleen Campbell Hair Design will be on hand with her team to paint your hair and nails chilli red, just for fun!
Philip John Guitar who is swapping his guitar for strawberries and chilli chocolate bark on the day.
Is that enough to excite you?? We are certainly all gearing up for a fabulous day of fun, food and excitement for the whole family.
*Wrestlers are not authentic Mexican Wrestlers but are in costume for a bit of fun!