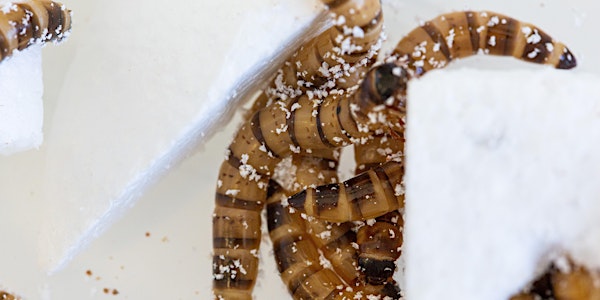 BrisScience: Superworms could help solve our plastic waste crisis
Location
State Library of Queensland, Auditorium 1
Auditorium 1
State Library of Queensland
South Bank, QLD 4101
Australia
Refund policy
Contact the organiser to request a refund.
Eventbrite's fee is nonrefundable.
At this month's BrisScience, UQ's Dr Christian Rinke will explore how the humble superworm could lead to large-scale biological recycling.
About this event
Plastic pollution has emerged as a pressing environmental issue in Australia and around the globe, but could a humble 'superworm' hold the clue to tackle this plastic waste crisis?
Plastic production has been increasing over the past decades and is estimated to reach over one billion tons per year in 2050. However, recycling rates have remained low globally and nationally.
UQ-led research has found that the darkling beetle, commonly known as superworms, can eat through polystyrene, thanks to bacterial enzymes in their gut. Superworms fed a diet of just polystyrene not only survived, but even had marginal weight gains. This suggests the worms can derive energy from the plastic, most likely with the help of their gut microbes.
At this month's BrisScience, UQ's Dr Christian Rinke will explore how this research could lead to large-scale biological recycling, through enzymatic or microbial degradation, in recycling plants around the globe.
Doors open at 6pm. Lecture commences at 6.30pm and will include an interactive Q&A session. Light refreshments between 7.30-8pm.
PLEASE NOTE: This event is to be held at Auditorium 1 at the State Library of Queensland, just around the corner from The Edge.
Meet the presenter
Dr Chris Rinke is an ARC Future Fellow and Senior Lecturer at the Australian Centre for Ecogenomics (ACE) at The University of Queensland, Australia.
He received his PhD in Zoology from the Marine Biology Department at the University of Vienna, Austria and has since shifted his focus to the microbial world.
His research interests include the phylogeny, taxonomy and ecology of free living and symbiotic bacteria and archaea. He focuses on the majority of microbes, which elude current culturing efforts.
To find out more about our speaker, visit the BrisScience website.