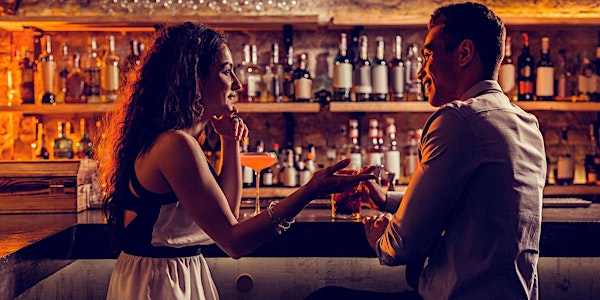 Brisbane Speed Dating Introductions (Ages 25-39) Singles Night
A place where all Brisbane singles meet and mingle all night long.
About this event
What is speed introductions?
An effective way to socialise with like-minded singles without the pressure of speed dating.
Chat the night away with singles who you may never spoken to otherwise and expand your social circle of friends.
You may find someone you'll like on the night and start something new.
How does it work?
Each light hearted introduction, gents rotates while the ladies remain at their own tables. Introduction questions can be your own or use our icebreaker question cards to assists you if you are stuck for ideas.
What's next?
Once the introduction completes, men and women mingle amongst themselves and socialised with whoever they want at their own terms. You'll get more opportunity to get to know your potential partners.
Stay connected
When both parties are feeling the same vibe, contact details are exchanged to further enhanced the connection. They have the option to stay in touch with each other as friends or something more.
Why do singles attend speed introductions?
Make new friends & expand their networks.
Mingle with lots of like minded singles who are fun and friendly that loves to chat.
You get the opportunity to meet someone you like and go on that first date.
Gain confidence and social skills.
*Ticket include one complimentary drink.
Organiser of Brisbane Speed Dating Introductions (Ages 25-39) Singles Night
Ladies & Gents,
Do you find it hard to make a connection with someone nowadays in a world where people are so addicted to Likes, Followers and Selfies? 
OR
What about when you meet someone online and the next thing you know it, that person just went cold/just disappear (with no explanation) for no logical reason and you always wonder to yourself what have you done to deserve this?
If you answer "yes", glad we are on the same page.
The truth is, it's not your fault. You are looking at the wrong places. Now it is time to do something different from the rest of the world.
Join us at Social Mingles, a new great way to meet like-minded singles who have substance like you and connect on a deeper level with no ego. 
With Social Mingles you will always feel comfortable, there will be a bit of assistance to guide the interaction along including fun singles games to play that also builds connection and personal character that the opposite sex finds attractive. 
Make your way to our singles events today!