Brisbane Launch - From Laggard to Leader - How Australia can lead the world...
Event Information
Location
166 Ann Street
Brisbane, 4000
Australia
Description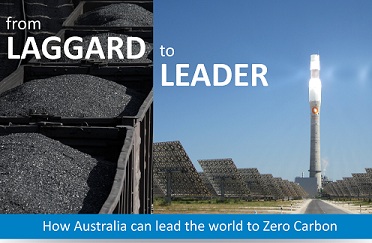 "Australia is only a small part of the climate problem"
"We shouldn't act before the rest of the world"
"Our actions won't make a difference, anyway"
Claims such as these have come to define Australia's climate change debate - but, in the words of Ross Garnaut, Australia is "not a pissant country".
Beyond Zero Emissions is challenging these excuses for inaction with a new report that makes the case for Australian leadership on climate change. The report:
highlights the true extent of Australia's influence over global emissions;

demonstrates how the practical, problem-solving approach to sectoral decarbonisation advocated in the BZE Zero Carbon Australia Plans can be leveraged by Australia to achieve major emissions reductions globally while the UN negotiations remain deadlocked; and

outlines a series of domestic and foreign policy initiatives that Australia should implement to steer the world's trajectory towards a truly clean energy future.
The Plan will be outlined by report co-author Fergus Green who will then participate in a discussion with guest speaker Dr Greg Picker (AECOM).
Find out more about the report here: http://beyondzeroemissions.org/laggardtoleader
The report will be available to purchase at the event.
About the Authors
Fergus Green is a researcher specialising in climate change law and policy. He is Chairman of the Centre for Sustainability Leadership and a 2012 General Sir John Monash Scholar.
Reuben Finighan has a multidisciplinary background spanning the physical, life and social sciences. He is a 2012 Fullbright Scholar and a 2012 Frank Knox Scholar at the Harvard Kennedy School.
This event is hosted by Beyond Zero Emissions in collaboration with the Centre for Sustainability Leadership.

Date and time
Location
166 Ann Street
Brisbane, 4000
Australia
Organizer of Brisbane Launch - From Laggard to Leader - How Australia can lead the world to Zero Carbon
Beyond Zero Emissions Inc. is a not-for-profit research and education organisation developing blueprints for the implementation of climate change solutions. Our goal is to transform Australia from a 19th century fossil fuel based economy to a 21st century renewable powered clean tech economy.
Through the Zero Carbon Australia research project BZE is encouraging climate change policy that is in line with the science. By sharing this research with thousands of Australians via the Repower Australia talks program, BZE is engaging, educating and inspiring the community with real and positive solutions to climate change.
Ph: (03) 8383 2232
www.beyondzeroemissions.org